Main article photo is the Saturday beer garden at Cates Deck. Though we haven't had our ideal summer weather so far here in North Vancouver and across the North Shore, that doesn't mean that new beer releases are slowing down! Here's a roundup of all of the exciting new brews from our local micro breweries and we will be publishing an article each month highlighting the newest flavours and types to enjoy.
Wildeye Brewing: Bière De Garde French Farmhouse Saison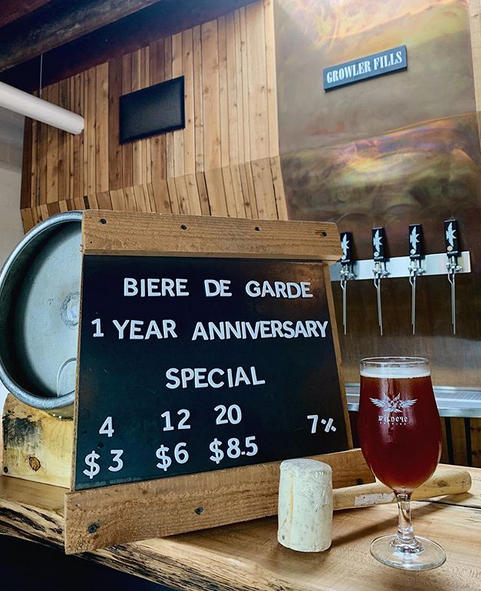 Wildeye Brewing had their first anniversary this weekend, and this unique limited edition bottle is the perfect way to celebrate. The Bière De Garde is a French Farmhouse Saison, with notes of raisin, orange peel, and clove. Its name translates to "Beer For Keeping", and will cellar for two years. Brews like this are rarely released and hard to come by, making this particular release really stand out.
I was lucky enough to get my hands on one of these bottles on Friday, and was way too excited to wait to drink it. It's easy drinking and refreshing, but packed with all of the flavour of a traditional farmhouse saison. The orange peel really stands out, giving this historical style a fresh, summer twist.
Bière De Garde is available to taste from casks for a limited time in the Wildeye tasting room, as well as in bottles to take home. Whether or not you decide to hold onto this beer for two years or drink it today, you are sure to be happy with this brew. Happy Birthday, Wildeye!
Bridge Brewing Co: The Squeeze Blood Orange Pale Ale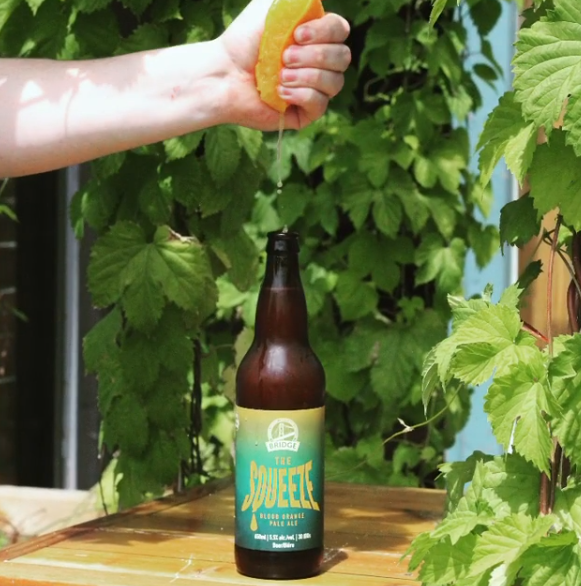 If you saw my article on the new Lonsdale Bridge Deck, you already know I'm a huge fan of this beer. If you enjoy the classic Bridge Bourbon Blood Orange Pale Ale, you will love this beer. It offers huge, juicy, orange flavours that make this beer super refreshing and crushable – the perfect patio beer! 
This brew is available both at the Bridge Brewing Co tasting room as well as the new Lonsdale Bridge Deck, as well as in liquor stores.
Deep Cove Craft Brewers & Distillers: Cucumber Pilsner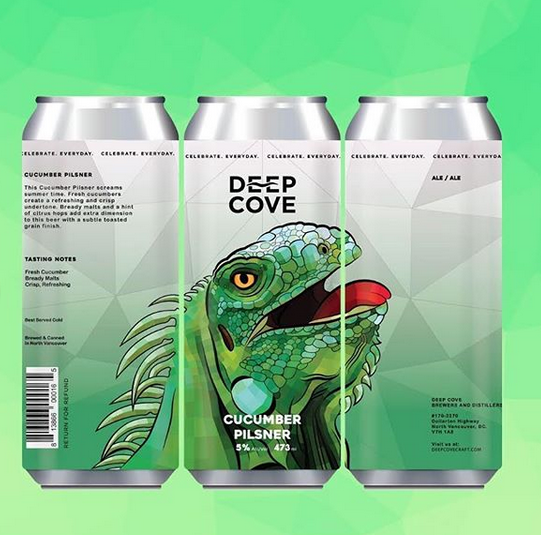 This is a new single batch brew from Deep Cove Brewers – it will only be available as long as quantities last! This beer is a collaboration with another local business – The Vancouver Juice Truck! For those looking for a thirst quenching summer beer, look no further. This beer combines the classic German Pilsner style with refreshing flavours of cold pressed cucumbers. Deep Cove Brewers describes this beer as "summertime in a glass", and I couldn't agree more. It looks like Deep Cove has a bunch of new and exciting releases on the horizon, so stay tuned for more brews from them!
Beere Brewing Co: OH MY WOW! Blackberry & Blood Orange Dry Hopped Sour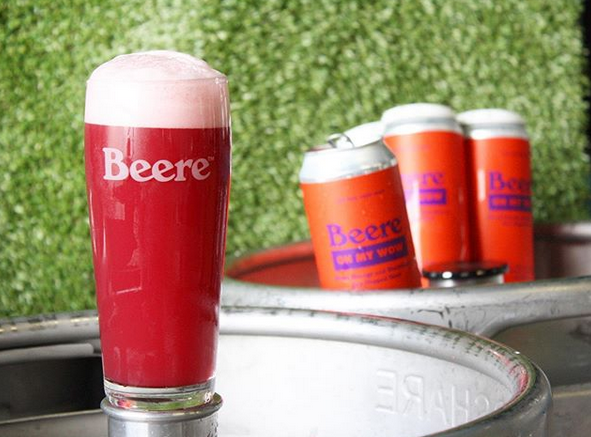 No summer beer release list is complete without a fruity sour. The "OH MY WOW!" pours a beautiful ruby red colour, and is loaded with blackberry and blood orange flavours. This is a very fruity yet approachable sour, but not too sour. Dry hopped with a touch of Sabro, this brew has a bit more complexity to it than your average sour. It's very refreshing, and is described as tasting "like blackberry pie filling". I can't think of a better place to enjoy this beer than in the sunshine on Beere's new "Beere Garden" patio. This brew is available on tap at Beere Brewing, and in 4 packs both online and at the brewery.
House of Funk: House of Lager Bavarian Lagerbier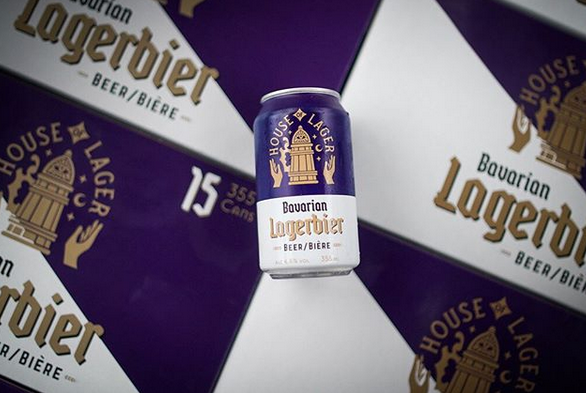 This beer may not be brand new, but it is definitely worth noting. "House of Lager" is a new side project from House of Funk that is focused on creating high quality lagers. Lagers are a huge trend in beer right now, and this new flagship lager has already made a name for itself throughout Vancouver and sells out very quickly. This is a simple, high quality, crisp, clean lager with subtle citrus notes. It's available at the House Of Funk tasting room as well as at select bars and private liquor stores.
North Point Brewing: Simple Pleasures Session IPA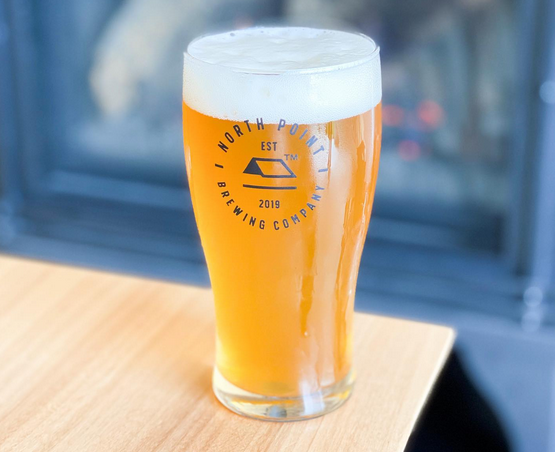 This new Session IPA from North Point Brewing was just released, and is the perfect summer beer for those who prefer something easy drinking, but a little on the hoppier side. This beer is described as super "crushable", and is hopped with Idaho 7 and Amorillo hops that give it fruity and floral notes. As far as IPAs go, this one is super light and refreshing. Simple Pleasures is now available at the North Point tasting room.
If you have a local micro brewery and would like coverage of your ongoing beer releases or need help with promoting different areas of the business such as events or announcements, contact our beer blogger below she would love to work with you on coverage in Lonsdale Avenue Magazine.
---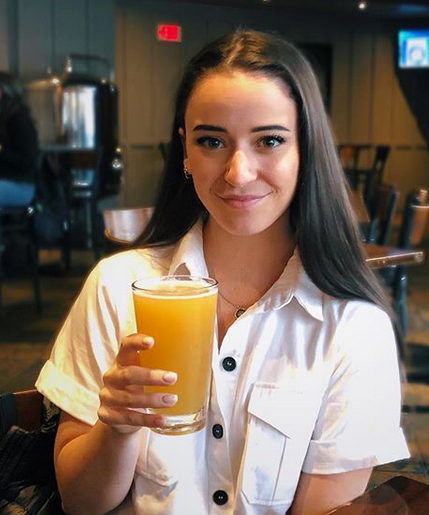 Robyn Bossons is a North Vancouver based beer blogger, known as "The Beer Bitch" on Instagram. Travelling throughout BC and beyond, Robyn is constantly searching for new and innovative beers. As a North Vancouver local, Robyn loves showcasing her neighbourhood beer scene as much as possible. You can follow along on Robyn's beer journey as she routinely contributes to Lonsdale Avenue Magazine.