The local craft beer scene in North Vancouver is growing quickly with so much to see and taste, plus not to mention all of the seasonal beers that are routinely released. We are truly blessed to have so many talented breweries locally. One of the newest places to checkout some brews is at Lonsdale BridgeDeck located in Central Lonsdale. We covered them in the past when they first launched and were called Lonsdale Tasting Room. However they had to change their name to what it is now to get approved with the liquor board.
Lonsdale BridgeDeck is a welcome, innovative addition to the Lonsdale craft beer scene. Bridge Brewing Co has been brewing in North Vancouver since 2012, but this new location makes their beer much more accessible. Located at 1211 Lonsdale Avenue, formerly The Portly Chef, this new Bridge location offers dine in, take out, offsales, and growler fills of all of your favourite Bridge beers. Their menu features tacos that we know and love from the original Bridge tasting room, along with many new menu items.
Lonsdale BridgeDeck opened for business on March 15th, but unfortunately was closed due to Covid-19 just 5 days later. They reopened on May 22nd with a new street patio and updated safety procedures. The expanded patio area is hard to miss – lively, lined with kegs, and perfect for enjoying a cold beer in the sun.
This new space offers all of your favourite Bridge beers, and features some exciting new releases. Two notable releases are the Honey Kolsch and "The Squeeze" Blood Orange Pale Ale. The Honey Kolsch offers a sweet twist on the classic Kolsch – this limited release is an easy drinking, crushable beer that is perfect for a day in the sun. "The Squeeze" is perfect for anybody who already loves the classic Bourbon Blood Orange Pale Ale from Bridge – a similar style that offers even bigger, juicier flavours. Both of these brews are best enjoyed on the patio!
Though many come for the beer, the food menu is fantastic as well. Lonsdale BridgeDeck offers classic, high quality pub fare with their own twist. The Warm Pretzel Puffs are to die for – we recommend the savoury puffs, served with a delicious cheese sauce that is made with the North Shore Pale Ale. You can't go wrong with the tacos – three for $12! The chicken tacos are braised in the Wunderbar Kolsch. No complaints came from our table – we also tried the Decked Out Burger and the Pulled Pork Sandwich.
If you're looking for some great craft brews accompanied by some great food, look no further. Lonsdale BridgeDeck is waiting for you!
---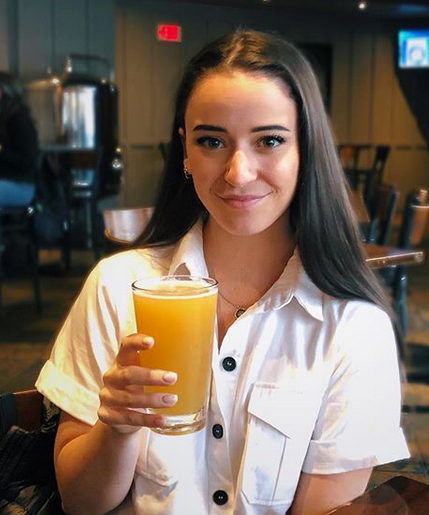 Robyn Bossons is a North Vancouver based beer blogger, known as "The Beer Bitch" on Instagram. Travelling throughout BC and beyond, Robyn is constantly searching for new and innovative beers. As a North Vancouver local, Robyn loves showcasing her neighbourhood beer scene as much as possible. You can follow along on Robyn's beer journey as she routinely contributes to Lonsdale Avenue Magazine.
---
Photos from Lonsdale bridgeDeck