The outdoor ice skating rink at The Shipyards is now open to the public and people of all ages, skating is free, skate rentals are available for $7 for adults and $5 for kids, helmets are available for free and mandatory for people under 12, hours of operation are 12noon to 7pm daily and closed on Christmas day. Located at 125 Victory Ship Way in the Lower Lonsdale Shipyards District of North Vancouver. There is plenty of underground public parking available as well as public transit from the Lonsdale Quay Seabus and Translink buses.
Contact Skate Plaza Customer Service
Phone: 604.982.8399
Email: theshipyards@cnv.org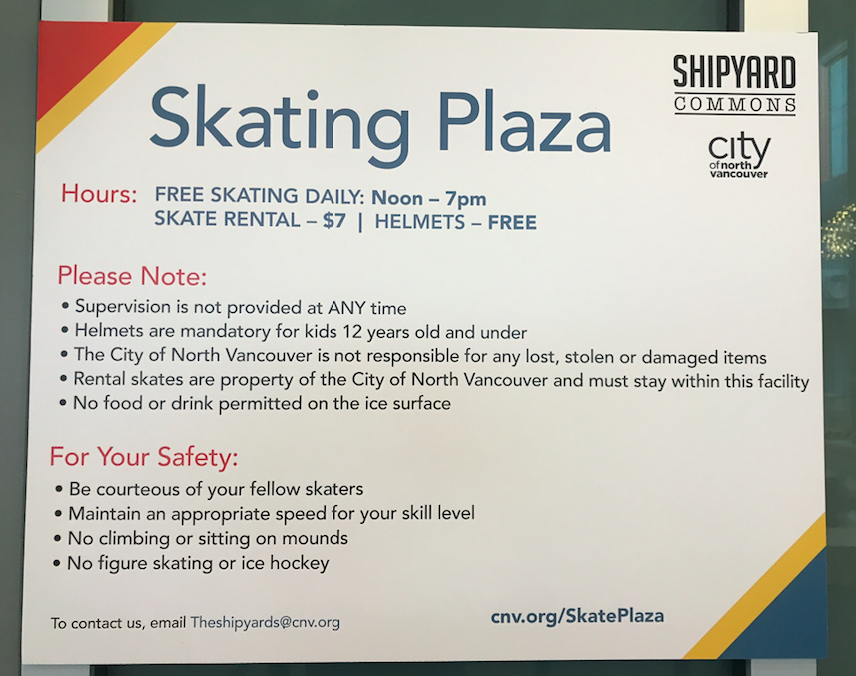 ---
Realtime Updates About the Skating Rink
Update January 7 2020: the City of North Vancouver has sent out a Tweet on Twitter that states over 11,000 people have skated at the new Skate Plaza since opening, which is a huge success for the outdoor skating rink at The Shipyards.
Update January 1 2020: New Years Day down at the Shipyards there were many people out walking around and enjoying Public Skating with the community, we have added 2 new photos below taken from today.
Update December 24 2019: we uploaded a video to Twitter of the Christmas Eve crowds at the skating rink enjoying public skating with their friends and family, as well as added a new photo below highlighting the amount of people.
Update December 19 2019: we added new photos to this article above and below, and many local news websites such as North Shore News, Vancouver is Awesome, Daily Hive, Global News, Curiocity, CTV News, News 1130, The Province, Vancouver Sun and Narcity have covered the grand opening of the largest outdoor skating rink in Metro Vancouver.
Update December 18 2019: the skating rink is now open to the public check out our video of the first skaters using the new space.
Update December 16 2019: the skating rink is near opening and the city and shipyards developer are testing the 100% electric zamboni, photos below. As well for safety reasons helmets are mandatory and available for free.
Update November 24 2019: the City of North Vancouver has created a new section of their website for the 'Skate Plaza' and we have added photos below.
Update November 14 2019: the ice surface is now installed at the skating rink and it will be opening to the public soon, check out the photo and video.
---
Original Article from September 16 2019
We have awesome news for you, some time between now and the end of November 2019 the outdoor skating rink arena will be open at The Shipyards Commons in Lower Lonsdale near Lonsdale Quay North Vancouver. We have yet to find out the rental costs, family skate prices, and schedule but we will publish information about that when it's available.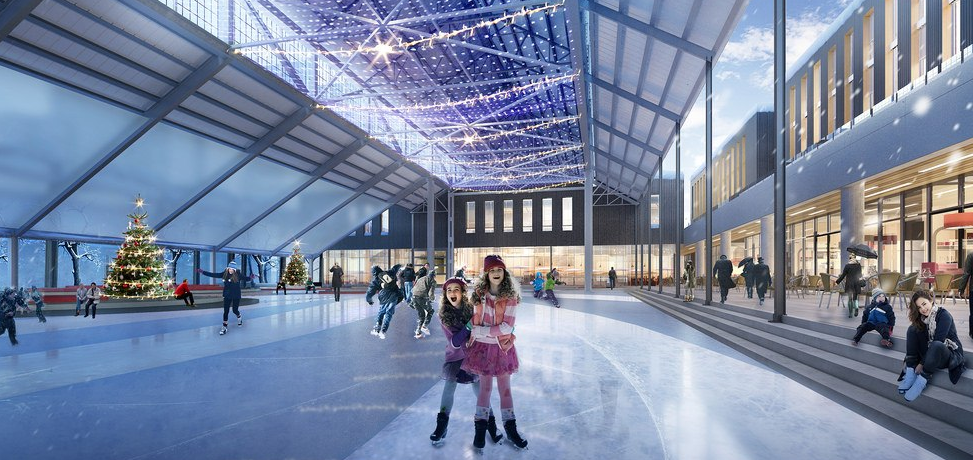 Located right where the summer water park splash zone was setup and covered by a retractable roof so during sunny days you can skate in the sunshine and have more of an outdoor skating rink experience.
The great thing about The Shipyards skating rink is there will be plenty of seating, and the ice surface is to be used by people of all ages, including kids, adults, and seniors. On top of that there are about 140 new parking spots within the vicinity and places for electric vehicle charging.
What better way to celebrate your health and fitness then going for a skating session with your friends or family, a truly Canadian tradition. In small town Canada we would flood local tennis courts and let them freeze over to play ice hockey in suburbia, this will be somewhat similar.
And on March 14th and 15th 2020 at this very skating rink will be the Rogers Hometown Hockey exhibition bringing NHL celebrities to The Shipyards.
Are you planning on making use of this new space with your family?
New Photos of the Shipyards Ice Skating Rink in Lower Lonsdale