As I initially got the inspiration for this piece, I thought about going out and trying to find the best loungewear one could get their hands on. I wanted to go through all of the different local stores, but with Covid-19 as well as my busy 9-5 work schedule, it became difficult to get the time. Also, if I can go without buying more clothes, that will be a plus. I had gone to two local stores and was not finding exactly what I was looking for.
After struggling to find the time, it dawned on me, the person who is reading this is most likely as busy if not more than I. Why don't I try to come up with a solution to try and save you some time rather than telling you a hundred different stores to go shop at which will take much of your free time? With this fresh outlook, I came up with a plan for this week's article. Ways in which we can turn our loungewear or comfy clothes into items that make us feel luxurious and amazing in, instead of being half ashamed you aren't "properly dressed." I still will be listing a few places where I have gotten great loungewear and pyjamas for those who wish but will also be giving you my favourite tips to elevate your existing wardrobe.
My best tips for getting the most from comfy clothing:
• Have a shower or bath, whatever you like the best. Scrub yourself and apply your favourite moisturizer or skip this step if you are not one to not use moisturizer. Then put on your warm, preferably you're fresh out of the dryer, pyjamas or lounge set et voila, instant comfort. You get that extra comfort from the fresh warm clothes, but you are also fresh and clean from your bath/shower. Putting on clean clothes is always nicer when you are clean. The best feeling is freshly shaved legs that have been moisturized against clean sheets.
• The second tip is to find clothes that you know fit you well. If you have something in your closet that is meant to be comfortable, it is not doing its job if it's restricting or makes you self-conscious. Build yourself a wardrobe that you know looks good, fits well, and can easily match your other pieces of clothing. The amount of grey loungewear and sleep clothes I have is incredible. My whole loungewear and sleepwear closet have been bought over a long range of time, yet they still all work together because they are the same tone, colour, or are complementary colours to one another.
• Shopping at consignment stores is wonderful for comfortable tee shirts, sweatpants, button-up shirts/ flannels, and even silk wear. I have found some amazing silk nightdresses, skirts, and robes at consignment stores that are breathtaking. When buying second hand, you also have less guilt if you don't end up wanting to keep the item in your closet for as long as expected.
• Thirdly, tailoring your clothes is an amazing way to get the exact fit that will make you look your best. A pair of wide-leg sweatpants that hit the perfect length and drape over your shoes is going to make you look and feel that much better. If your outfit is comfortable but is ill-fitting, but you don't want to discard it, that piece is the perfect candidate for a makeover. If you found the best-oversized flannel (the men's section is amazing) but the sleeves are just too wide, a little bit of tailoring can take your look from frumpy to cozy and chic.
• I love wearing my favourite underwear, perhaps a matching set, or something a little bit special underneath "at home" clothes to spice it up a bit and make myself feel more put together. I highly recommend this as you don't necessarily have to change your wardrobe to feel luxurious and pampered. You just have to put on what makes you feel your best.
• Focus on the fabric of the items, especially when you are out buying new ones. Make sure you are buying an item that will keep its softness and not lose its initial appeal. Spending a tiny bit more (or not, consignment is great for finding good quality without the price tag) will stop you from repeatedly buying and discarding pieces each season.
There is always room for putting your spin on all of these tips. After all, this is our own life and we might as well make ourselves the happiest. Being in a pandemic is hard and we can often lose ourselves in work or not taking care of ourselves as much as needed. I had spoken to a friend and they were saying many people were expressing their need to take a break and feel pampered. Whatever your gender, you are encouraged by me to find use in these tips and to take some time for yourself. Give yourself the pampering you need.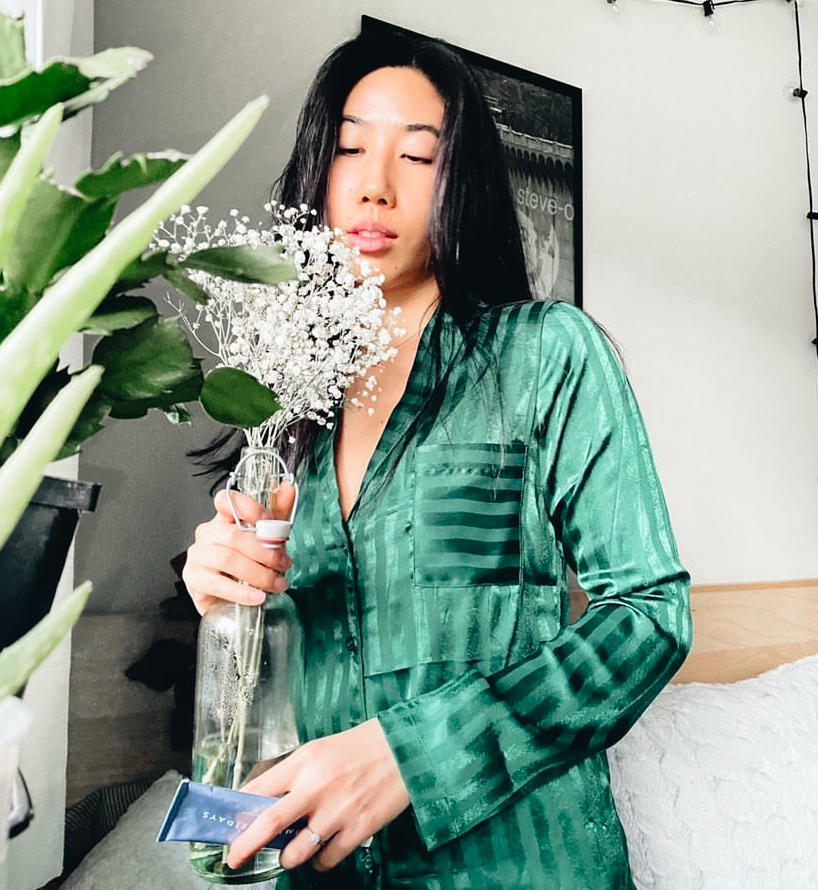 The local loungewear hotspots on Vancouver's North Shore:
• Caposhie: they consistently have sales and cater to a wide range of body types. Their loungewear is very easily able to elevate into acceptable going outwear and their sales staff are extremely attentive.
• Bluesky Clothing: they have some of the softest materials, and surprisingly have some great finds for younger age groups. I originally thought it to be mostly older demographic which is wonderful, but don't be shy in checking them out.
• Unity Clothing: they have wonderful pieces for both men and women with a very great selection for the 15-35 age group in particular. They carry BN3TH Apparel which has some of the best undergarments for men.
• Ichi, Lounge Nine and DKR and Company have some wonderful pieces and can be found at Zig Zag Boutique in Edgemont Village.
Other sources for great loungewear and pyjamas:
• Zara
• Oak and Fort
• Free People
• Gap
• Hudson's Bay
• Smash & Tess
• Hoaka Apparel
• Zahlii Sleep
• Winner's
• LazyOne
• Simon's
For more info about fashion or to have personal shopping and styling, you can email Erin Siqueira using erin@lonsdaleave.ca and also connect with her on Instagram where she shares lots of updates about fashion trends and new styles