It's that time of year again, when the weather starts to get better, less rain and more sunshine. Now is a great time to start thinking about your landscape yard design for your home or property here in North Vancouver. Whether you need a fish pond, retaining wall, custom plants and trees, a new sidewalk with stones, or any variation of things you can find them all with our friends at Innate Projects. Their main office is located in the Lower Lonsdale Shipyards District but they serve the entire community of Vancouver's North Shore. We had the distinct opportunity to sit down and chat with Matthew Meade who is a partner in the business to get to know him better for you.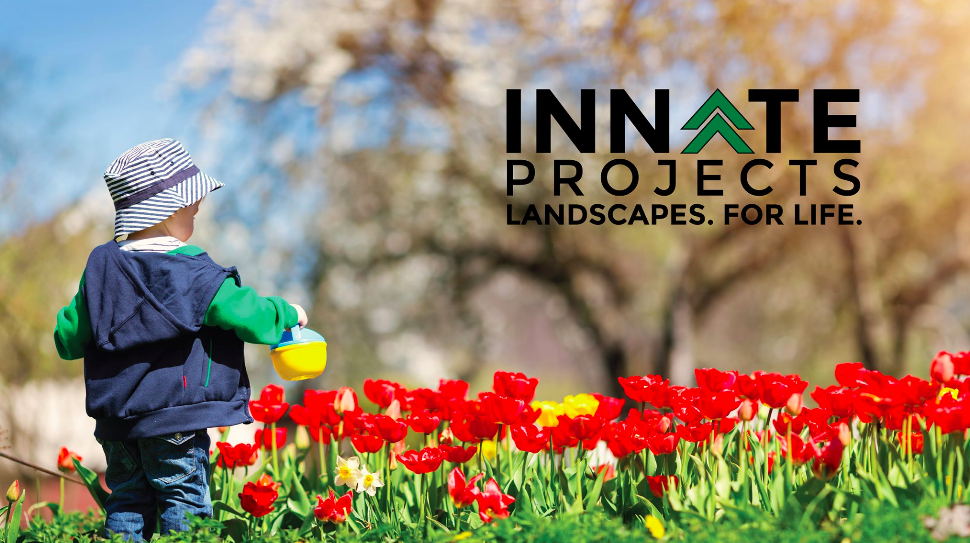 How did the business get started and what do you like about operating out of North Vancouver?
Innate Projects Inc. started because, through our years in the landscape industry, my partner and I saw a gap in the way services were provided in the landscape industry here in the Lower Mainland. In order to bridge this gap, we have sought to provide end-to-end landscape services – educated design, experienced construction, and thoughtful seasonal property services. What does this mean exactly? My business partner and I both have design educations, mine specifically in landscape and his in architecture. We also started our careers in the landscaping industry in the field on a shovel and wheelbarrow honing our skills. We were both very fortunate to have the opportunity to grow into management positions with the culmination of our careers, so far, in starting our own landscaping company. When approaching property services like garden and yard maintenance, snow removal, or irrigation startups and shut downs, we are in constant communication with our clients to ensure that their properties are receiving the level of care that we would expect for our own property. North Vancouver seemed the logical choice to operate out of because its location is central to our geographical service area of Whistler all the way to Abbotsford. Our neighbours on Esplanade have been great and we love that, within walking distance, we can get our caffeine fix, a myriad of lunch options for ourselves and our clients, and the proximity to the Spirit Trail when we need a break from spending too much time hunched over our computers.
What are some of the most popular trends right now with yard design(s) locally?
The "Whistler" aesthetic is an enduring and popular style with North Vancouver homeowners. This style is all about using natural products – a lot of stone and wood usually in the form of patios, retaining walls, and pergolas. Plants for gardens in this style tend to emphasize textures, darker colour palettes, and seasonal interest – pairing shrubs like red twig dogwoods or viburnum with grasses like miscanthus. This style also lends itself well to "outdoor living" that I'm sure your readers hear so much about. Good examples of outdoor living areas are outdoor kitchens under a heated wood pergola or an outdoor sectional couch around a natural gas firepit. This natural aesthetic has also branched out to include edible gardens, which traditionally are very functional spaces that are tucked into a back corner of a client's property. However, we're now being asked for more elegant solutions to work vegetables, fruits, and herbs into our clients' backyard. Using our knowledge of permaculture, which looks at how gardens function as a whole as opposed to in a vacuum, we have been able to weave fruit trees, vegetables, and herbs into our clients' yards in a more elegant way than raised planter boxes or containers. Some spaces, however, like condo balconies or terraces, require raised garden beds or containers, but they don't have to be limited to only vegetables or herbs – they can look good too! Of course, as we've seen over the last few years in the Metro Vancouver region, summer watering restrictions have made clients realize the importance of protecting their investment with high efficiency irrigation systems. Localized garden watering using drip irrigation systems are not restricted up to Stage 3 which can mean life or death for newly renovated gardens.
What are some of the first questions that potential clients tend to ask you?
Typically prior to meeting, the first question we get is whether we charge for our designs or the initial meeting. We do charge for our designs, however, we typically don't charge prospective clients for an initial, exploratory meeting. This meeting is where we get a better understanding of the prospective clients' needs and wants, how they currently use the space and material preferences. At this meeting it is also crucial to chat about budget, which can be scary and uncomfortable for some – but this where it's essential to be speaking with a professional, like ourselves, who can help educate the cost differences between material choices. We're often asked at the end of the meeting how much the project will be. This question is extremely difficult to answer on the spot because there's a process to determining the price of a project and each company's process is different. There are so many companies out there who appear to be cheaper but are they taking into consideration things like existing soil conditions? What effect will the proposed changes to the landscape have on existing drainage conditions on your property? What does the access to the work area look like? Or, what are the expectations for communication and decision making during the project? We look to fully understand these considerations, as well as others, for our clients' projects because we don't like surprises as much as our clients don't like surprises.
In terms of the consulting process, what does this look like for client intake?
When a potential client reaches out to us with a request for our team to help them with a new landscape or maintenance services, one of the first things we ask is what kind of timing or schedule they are on for their landscaping project to be completed. This helps us not only understand their priorities but also allows for expectations to be set and understood early in the process. The other point we seek to understand is how they value the statement of, "you get what you pay for". We do this to ensure that our prospective clients' expectations align with our own when it comes to quality and communication because we take pride in our work and want our clients to have an easy and enjoyable experience many years after the completion of their project. Far too often we are contacted by frustrated homeowners or contractors to fix other landscape companies mistakes which is unfortunate because it's a tough conversation to have when the client is now faced with the prospect of having to pay for the work again and have their space disrupted for the repairs to happen.
Outside of operating your business what kinds of things do you get up to for activities?
My wife and I prefer to stay away from the crowds, choosing to take part in all the fishing opportunities that the Lower Mainland and Fraser Valley has to offer or going on multi-day backcountry hiking trips on the island or in our wider BC backyard. We also enjoy our quiet nights in, as she runs a business as well, so we cherish the quieter moments when we get them. My business partner, Mike, and his wife, stay a little closer to home these days by spending time exploring with their toddler and dog. When they're at home, they enjoy entertaining guests – hosting games nights and brunches.   
Is there anything else you might want our readers to know about you or your business?
Landscaping is an investment, in not only your property but in your family. When you have a thoughtfully designed space or have professionals take care of your property, it allows you more time to connect with your family, friends, and community, hence our tagline "Landscapes for Life"
For more info you can visit their website or connect with them using social media on Instagram and Facebook. The office location is down at the Shipyards waterfront #177 – 171 West Esplanade.
Customer Service – connect@innateprojects.ca – 604.973.1388