The Lonsdale Avenue corridor of North Vancouver has always been a culinary mecca, but even more so after the past few years and seeing all of the new restaurants and eateries opening throughout the community. Essentially from Central Lonsdale down to the Lower Lonsdale Shipyards District and all of the surrounding side streets have amazing mom and pop places to check out and explore. If you are looking for some of the best pizza made on the North Shore you will want to stop by Farina a Legna (which means Flour and Wood in Italian) to try some of their wood fired oven pizzas. Everything is made from scratch using methods that focus on fresh sustainable ingredients. Plus with cooking in a wood fired oven you get that smokey earthy taste and crisp crusts of the pizza from the intense heat coming from the flames of the burning wood.
In this article our friend and blogger @with.rose.love lets us know what is new and exciting at this restaurant and suggests menu items for you to enjoy. Farina a Legna is a family style Italian restaurant located at the corner of 2nd street and Londale serving authentic casual Italian comfort food: antipasti, pasta, and pizza, as well as specialty wine from Italy. The restaurant is part of the Kitchen Table Restaurant group. As you walk in to the restaurant, you can see a mini Italian pantry with selections of imported wine, made in house olives, sauces, and dried pasta. Which lends itself to dining at home with friends and family as the feeling of comfort takes place.

There are traditional dining seating arrangements, with a warm and welcoming atmosphere, open kitchen concept with a huge wood oven in the heart of the kitchen. Which absolutely adds a theatrical aspect to the dining experience. And of course pizza tastes better when it's baked in a wood oven. In Farina a Legna, you can taste the pleasing charred flavor and that nice smoky roasted taste on the edge of the pizza crust. I tried one of their signature Margherita Pizza's which was straight from the oven, topped with tomato sauce, fior di latte, olive oil, and basil. Having minimal toppings but they all add up to big flavor given each of the ingredients is so fresh tasting.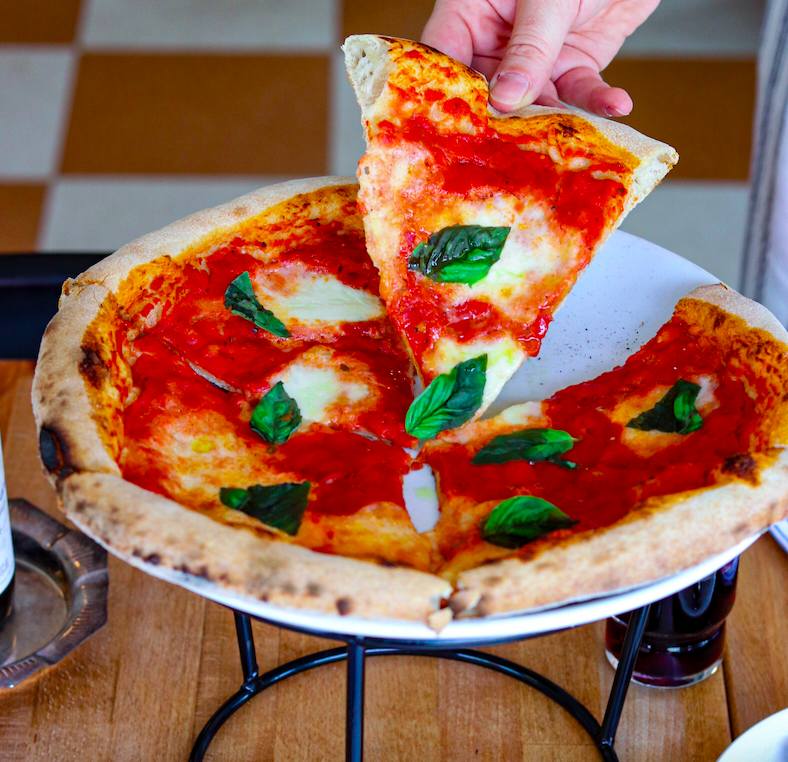 As for their handmade pastas, I tried their signature Pesto Genovese, made from scratch using campanelle, roasted garlic, pine nuts, and parmigiano reggiano. Again, this was packed with flavour and very comforting to enjoy. I highly recommend you make a visit to try their authentic Italian dishes. There is plenty of parking and public transit nearby, and after you visit the pizzeria you can explore the Brewery District and walk on the Spirit Trail. If you are coming over from downtown Vancouver use the Seabus and get off at Lonsdale Quay and then walk to Lonsdale and up the hill turning right on 2nd Street. It's very easy to get to and a simple walk for anyone. You can't miss the beautiful decor of the outside of the restaurant.
Hours of Operation:
Dinner served Tuesday to Sunday – 5pm to 10pm
Brunch served Saturday & Sunday – 10am to 2pm
For more information or to make a reservation, order takeout or delivery, you can visit their website and connect with them using social media apps on Instagram and Facebook. You can also read their reviews on Yelp and TripAdvisor.
Restaurant location is 119th 2nd Street East in North Vancouver
Customer service is reached at info@farinaalegna.com or 604-980-3300