After Christmas comes the onslaught of sales, promotions and discounts. As retailers look to offload last years styles to make room for the coming new fashion seasons. This time of year is also when I think about buying the items that I had been waiting for to go on sale. As I look on the different clothing websites, I tend to find myself getting distracted by other items of clothing and accessories that weren't necessarily on my list of needs or wants. I have quite a few of my friends, as well as others through social media, who say that they have a closet full of clothes, yet still nothing to wear.
Today I am coming to you with a guide to what I personally try and do to create a closet full of long-lasting good quality items that I am able to pair easily with my whole wardrobe. Having versatile clothing pieces are key to creating a more streamlined closet that is also less of a headache. From my knowledge and experience, most people tend to go for the same 10-ish items in their closet they feel best in, that fit well, and they know look good on them.
Keep in mind while shopping for new pieces, it's completely worth it to spend a bit more time trying on different fabrics, cuts, and colours. Don't force the process and just let the clothes speak for themselves. You could also ask a friend to come with you to get feedback from different angles while wearing the clothing you are considering buying. Below are some steps to finding what works best for you and your closet.
Find the best styles that work for your body type and physique.
Try on multiple sizes from different brands in those styles.
Find the best colours and shades within those styles that work with your skin tone and hair.
Do not be afraid to get your clothes tailored to your unique body type.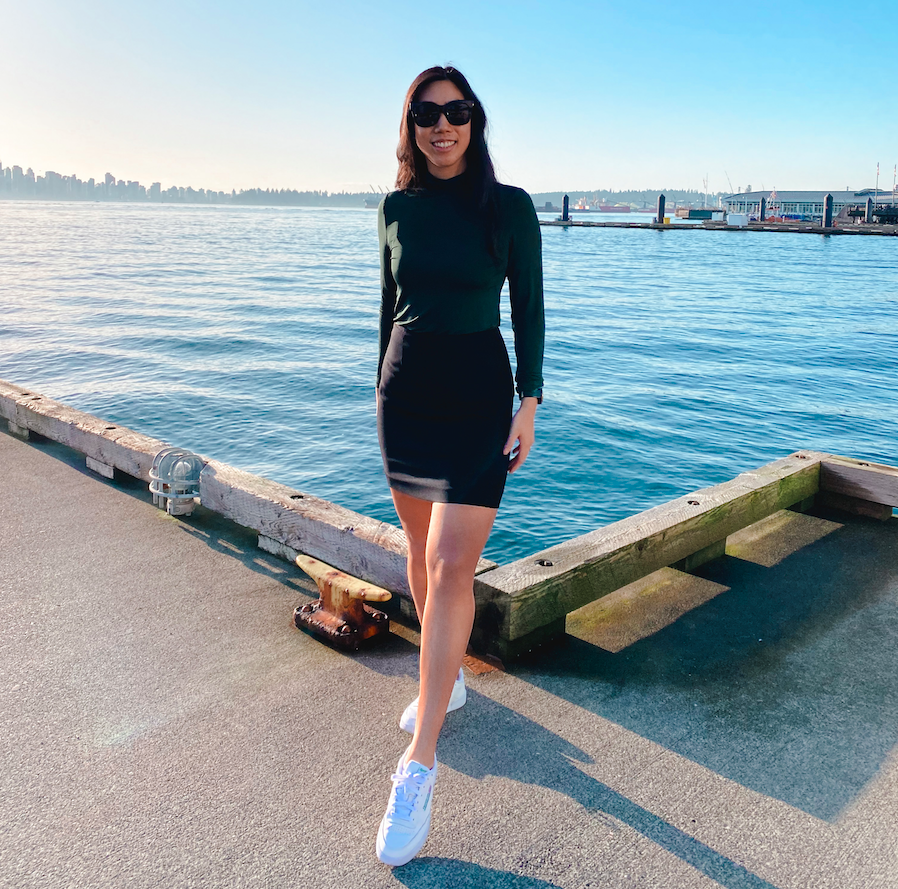 Strategies that work for me in picking specific clothing items.
Jean pants: I found the style of jeans that work best with my body are vintage Levi 501's and 550's. These have a slightly tapered leg with a wider hip and thigh area with a smaller waist. I found these after months of looking for the perfect fitting jeans. If you do not have the time and patience to find the perfect vintage pair of jeans, Topshop has a similar fit in their "Mom Jeans" style.
Tailored Pants: I find that suit pants that are high-waisted and have one or two pleats in the front look the best on me. My thighs are usually where pants fit awkwardly tight, so having the extra room with the pleating helps the pants hang well on my body. Also make sure you try and find nice fabrics as they hang better and won't cling to the parts you do not want it clinging to.
Skirts: I wear a lot of skirts for my office job, so finding the perfect skirt is one of my missions whenever I go shopping. Since Covid-19 I haven't been able to try on clothing which makes it rather hard to get the fit right. I have one perfect fitting skirt at home, so I measured it and now know the measurements I need for other skirts to fit well over my thighs and hips.
Long sleeve shirts: For work and for my everyday style, the thin long sleeve turtleneck is an essential. I found the best fitting one I have is my thrifted find and one that I got from Other Stories. I also find that I like H&M, as well as most other high street brands come out with them every fall. These tops work wonderfully if you work in an office. Slide a blazer over top and you're warm enough for cold days without the bulk that a sweater would cause.
Tank tops and tee shirts: My essentials are grey, white and black. Once you have well-fitting tee shirts and tank tops in the staple colours you can branch out into your favourite colours. I find shirts that have mostly cotton with a slight amount of elastane hang better than pure cotton. The shirts also keep their shape better when there is a bit of stretch to them.
Sweaters: These are always good to have in your closet. Good sweaters don't have to be expensive, as you can find really nice ones at thrift stores, boutique consignment stores, as well as H&M and Winners to name a few. If your budget allows, Aritzia and Revolve have a higher price point selection with great quality as well.
Before I had these staple items in my closet, I always felt a bit uncomfortable with the styles that I wore. Either the waist wasn't high enough or the thighs were too tight, but the waist was too big. The tops were the wrong fit, or just didn't sit right. The styles never worked together, and I didn't know how to dress for my body type.
It definitely took me some years to figure out what worked best with my personal style as well as my clothing needs, but now that I have streamlined my collection down (mostly) I usually find it pretty easy to put outfits together that look great. A great way to help make these discoveries a little easier on your budget is going to thrift and consignment stores. Half of my wardrobe was and is thrifted, making my transition to a more cohesive wardrobe much nicer on my finances.
For more info about fashion or to have personal shopping and styling, you can email Erin Siqueira using erin@lonsdaleave.ca and also connect with her on Instagram where she shares lots of updates about fashion trends and new styles