Vancouver's North Shore is home to many different types of talented people, the nature around us mixed with the multiculturalism of the community and access to business infrastructure allows opportunity to be bountiful for those who seek it. Over the past few years here in North Vancouver we have seen a rise in craft beer and liquor locations popping up, primarily centred around the brewery district, but also spread across the waterfront and out near Lions Gate Bridge.
The most recent addition to the scene is a company called Bamba Vodka, they were founded by Brandon McKeachie who came from years of experience in the hospitality industry in various management level positions. Using his success and momentum from that space, he started his own liquor business. Which is even more notable as he rode the wave of a startup through the covid pandemic and is coming out near the end of it with a successful enterprise that is slated to grow over time and is gaining traction at many local liquor stores. Checkout his story below in this newest magazine feature that we did together with him.
How did you come up with the idea for Bamba Vodka and what do you like about operating in North Vancouver?
I have always loved the way a drink or two can bring people together. We actually chose the name Bamba because we wanted a name that people could have fun with and create their own meaning behind.
North Vancouver has become such a community-focused area, with a ton of cool people, businesses, and stories. We are just excited to continue building relationships here… maybe over a vodka?
As a kid from Lynn Valley, who graduated from Argyle Secondary, and now lives in Lower Lonsdale, starting and operating a business in North Vancouver is a dream come true. The North Shore is where I grew up, and I'd like Bamba to grow up here too.
What makes your product and brand approach different than similar craft vodka products in British Columbia?
As a product, Bamba was crafted to shift outdated perceptions that vodka could ONLY be colourless, odourless, and flavourless. We wanted to challenge the existing connotation of neutrality by producing a naturally full flavoured vodka that can be enjoyed on its own.
As a brand, Bamba Vodka is premium AND unpretentious, elegant AND fun. We wanted to give people the opportunity to drink something a step above without having to break the bank, or change out of their jeans.
Why did you decide to use corn instead of the traditional method for distilling and how does that impact flavour?
I love myself a finger or two of bourbon, which is what initially steered me towards corn. We also wanted to go with an input that was gluten free from start to finish so everyone can feel great enjoying Bamba.
Bamba is crafted with 100% British Columbia grown organic corn. This combined with the distillation process we use gives us the flavour profile and complexity we are looking for. Vanilla and sweet corn, a fuller body, and a long smooth finish without the "eyes closed, head shaking" ethanol burn.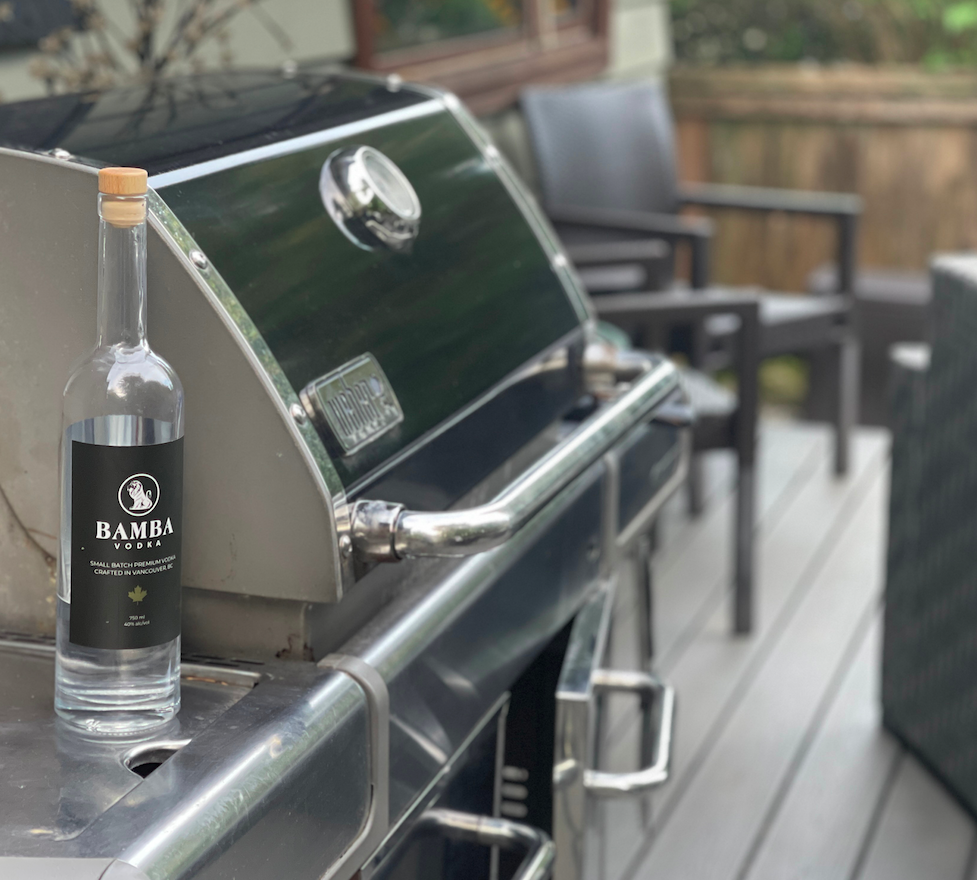 Which local distillery are you working with to produce your craft vodka and how is that coming along?
We are working with Stealth Distillery in North Vancouver, which has been awesome. The first and most important priority when starting Bamba was to find great people with a shared set of values.
Stealth is a family operated business, committed to building relationships in the community while never sacrificing quality for quantity. John and Randy continue to produce internationally award winning spirits year over year. We couldn't be more excited to continue on this journey with them.
What are your short term and long-term goals for the business and are you taking on any investors?
Right now, we're excited to be on the shelves of some great stores within 50km of our front door. Short Term, our goal is to entrench ourselves in the North Shore community, while continuing to expand across the Lower Mainland. As a young company, we are still learning, analyzing, and taking feedback from our customers and licensees. We are constantly adjusting to build a brand that the North Shore can be proud of.
Long Term, our goal is to move into new markets across Canada. We are always on the lookout for great partners to help grow our brand, while giving back to the communities in which we do business.
For local liquor stores, bars, pubs and restaurants who want to sell your vodka, how can they work with you?
Shoot us an email: thirsty@bambavodka.com or DM us on Instagram @bambavodka We would love to work with you!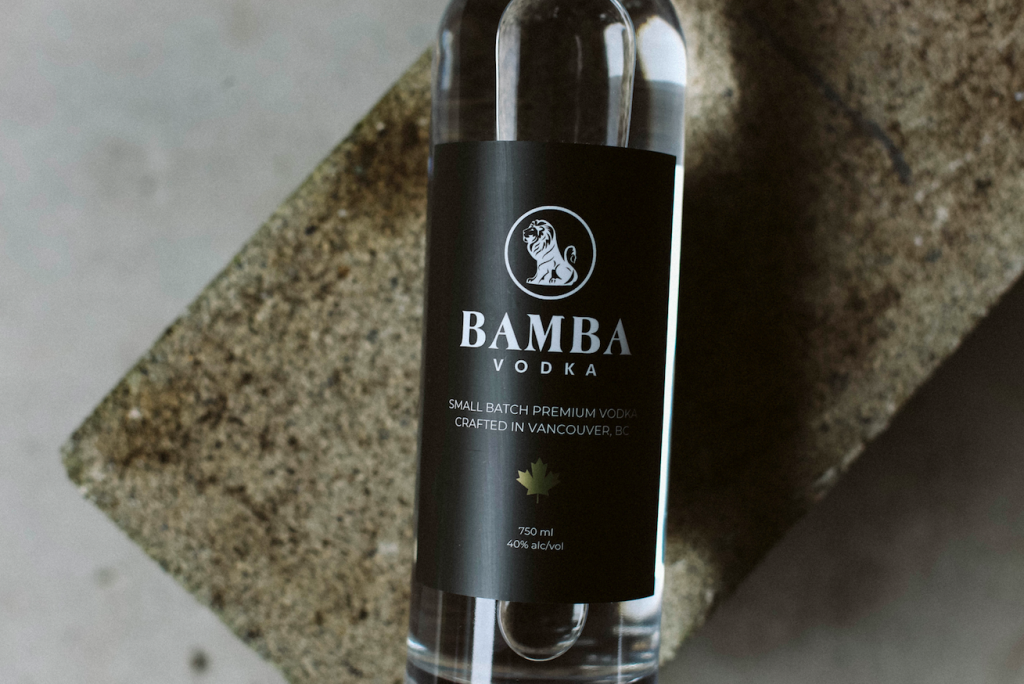 What are a few of your preferred ways to drink vodka personally and how do you use it in cocktails?
I drink Bamba on its own, on the rocks, or with soda and a squeeze of lemon.
When using Bamba in a cocktail, I really like to let the spirit shine through. Using light and bright ingredients such as citrus and fresh herbs enhance the vodka while still letting the flavour come through.
How has launching your business during a global pandemic changed or altered your business plan if at all?
Of course, the pandemic has come with a few curveballs, particularly the restrictions around indoor restaurant dining, and conducting in-store liquor tastings.
In reality, I feel more for the restaurants and all the people that work in the industry. We're hoping they can get back to business as usual soon for their sake… then hopefully we'll be able to continue to build awareness by offering Bamba in the local restaurants and bars we all love.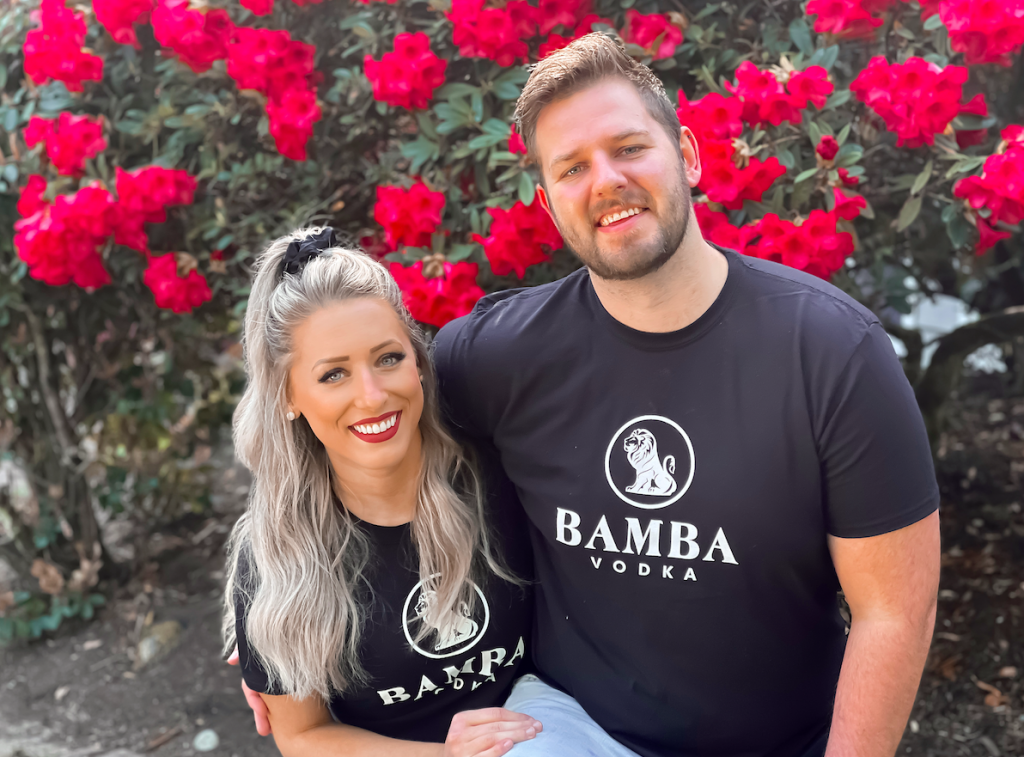 Outside of operating Bamba Vodka, what do you get up to for activities in your personal time?
I love spending time with family and friends, particularly my amazing girlfriend/partner in crime, Lauren and our one year old pup, Kodak. He loves the Spirit Trail, Lynn Headwaters, and running after his ball.
In the kitchen, I am a self-proclaimed Iron Chef… see for yourself #IronChefBrandonMcKeachie. Behind the bar, I love to play around with interesting flavours and techniques. When the weather is right, you might catch me patio hopping, story-telling, and taking in the cool spots the North Shore has to offer.
Lastly, is there anything else you would like the community to know about you or your business?
For sure. We'd love you to follow our story on social media (@bambavodka)… and be sure to treat yourself to a bottle of Bamba, currently available at:
The Gull Liquor Store (Park & Tilford)
North Shore Liquor Shop (Lynn Valley)
Hagar's Liquor Store (Lower Lonsdale)
and TAG liquor stores in Langley, White Rock, Richmond, Chilliwack and New West.
Cheers for now!