North Vancouver's brewery district is growing a lot and there are a number of new venues coming to the area, we have plenty of craft beer and liquor in the area, but now we get to try the drinks at a new local cidery. Opening on Esplanade right close to the Lonsdale Quay and the new Shipyards waterfront. Cider goes well when paired with the right food types and also makes for a great refreshing drink when you are out hiking. Many people get growler fills to use for this kind of thing as you get the cider for less money then in bottles or cans.
In this article we get to chat with Nathaly Nairn of Windfall Cider to learn more about the business and what makes them unique in the marketplace. The cidery will be sandwiched between breweries, wineries and distilleries which will make for lots of fun on weekends with friends and family. Checkout what was said below and get in contact with them at the bottom of the article if you would like to buy cider or apply for jobs.
How did Windfall Cider first get started and what are you most excited about opening in North Vancouver?
After first falling in love with each other, and then with Spanish cider on a trip to Mexico city, Jeff and I turned a years-long hobby of cider making into what became Windfall Cider. Learning what we could from old-world techniques passed down by generations of cider makers, we experimented with as many new flavours as we could find. All until the cider was just right – and totally different than anything else in British Columbia. North Vancouver is without a doubt the next craft hub after East Vancouver. The high concentration of craft producers coupled with the population density makes North Van the perfect location for Vancouver's first urban Cidery!
What makes the process of creating your ciders unique compared to other producers in British Columbia?
Windfall is unapologetically an urban cidery. Our whole approach and our ethos is very non-rural, which is fairly predominant in the category. We work closely with local farmers to not only secure our apple supply but also to ensure that they are properly compensated and reviving the heritage apple crops that we lost in BC due to both our amazing wine industry and much longer ago, Prohibition. Our ciders are also Seriously Dry, and we strive to make them food-friendly. We want people to start thinking about pairing cider with their meals. Cider can be such a compliment to most meals and when chosen properly, it can rival any traditional wine pairing.
If some of our readers want delivery or larger bulk orders is that something you offer?
Absolutely, we are ready for it! Cider lovers can shop directly from our online store below and have Cider delivered 3 times a week!
What do you recommend for food pairings for some of your most popular ciders?
Although I always get excited about our funky seasonals, my favourite cider has to be the Jackpot, basically our firstborn. Balanced and crisp with a bit of sweetness, Jackpot is made from a premium blend of BC dessert apples with a hint of tropical fruit on the palate. Like a little sip of good fortune in every can. Trusty and pairable across the board. Pair with cheese, roasted pork, charcuterie and Asian cuisine. Our seasonals are terrific with all holiday dinners such as Turkey and baked Ham.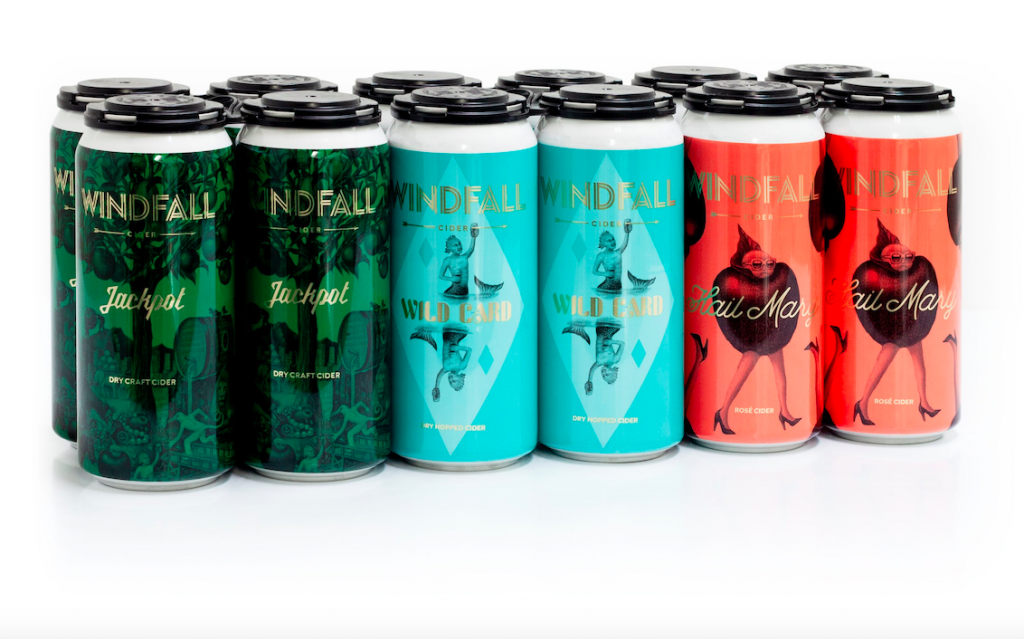 What kind of equipment and production setups do you use to create your tasty ciders?
When thinking about Cider we must think along the lines of wine… it's the same process. So for equipment, we need:
Fermentation vessel / barrels
Outside of operating Windfall Cider, what do you get up to for fun in your personal time?
We are both nature lovers. We are avid campers (both front and back-country) and passionate about Skiing. Anytime we are not running the cidery you can find us either cooking, riding our bike around the city or in the mountains.
Lastly, is there anything else you would like the community to know about you?
We are excited to meet the neighbourhood and showcase our passion to you!
For more info visit their website and connect on Instagram and Facebook
The cidery location is 238 Esplanade East in North Vancouver
Customer service is info@windfallcider.ca or 604-783-4190