What is the number one way people find local businesses, restaurants and things to do and see near them? They go into Google, search for 'sushi restaurant near me' (example) and sift through the Google map listings and reviews to see what may appeal to them. This is called proximity optimization and is the most important function for local business owners to consider as part of their marketing mix. Now more then ever, people are shopping local and supporting local businesses.
Now, if you turn that on it's head and do the inverse, you would get a curated list of pre-selected cool spots to checkout near you. This is where our friends at WandrPass come into the equation. They are developing a really useful smartphone app for iOS and Android, wherein you can take advantage of points, savings discounts, and promotional offers by using the app. As well as discover the best restaurants, pubs, bars and lifestyle things to do and see.
The best part about WandrPass is that it was founded by local North Vancouver residents, Liam Boschitsch and Rayaan Kurji, who were born and raised here. And they are signing up businesses here in the Lonsdale Avenue corridor, so if you are a business owner and want to get help with acquiring new customers and increasing your profits, we suggest you read the interview feature below and get in touch with them at the bottom of the article. For people who are seeking to use the app on the consumer side, you can download it from their website coming soon.
How did you first come up with the idea for WandrPass and has the vision changed from day one to now?
Rayaan and I, being cousins and best friends, can always be found grabbing beers together at various spots around the city. As both of us are entrepreneurial by nature with a background of summer jobs in restaurants since we were 13, we'd often come to these meetups each with a list of potential business ideas. It was a slow process and spanned over many restaurant visits as most of the ideas did not click. Except for one: a scavenger hunt event for couples to help them explore their city and save. "Okay, that's something we could run with", we agreed. We went to work and over 4 months we pivoted a number of times from the original event for couples to giving couples access to date ideas at any time through an app. We then finally pivoted to what would become WandrPass, a mobile app that lets our customers discover and support the best local restaurants, breweries, and bars whilst saving money!
At the time, another good friend of ours, Shayan Keshvadi, had just opened up Chop and Chew with his mom and we started working there with him a couple of times a week. As COVID really picked up, we realized just how vulnerable these family-owned local gems are, so we decided to really focus on promoting these smaller local businesses as opposed to the bigger chain restaurants. 
We had also realized we were getting tired of going to the same Earls, Cactus, Joeys ourselves whenever we'd go out, but didn't really have the time to search through blogs about the best local spots and rarely heard about them through word of mouth. That's when it became a passion of ours to take the time and really explore what was out there and help level the playing field for the little guys who don't have deep pockets and large marketing budgets. We realized these smaller local restaurants, breweries, and bars, usually owned by a couple of friends, parent-child duos, and even siblings were always much more fun to visit, held a ton more value, and provided a truly personal experience, but just needed to get the word out there with a small business marketing budget.
Enter WandrPass. Our slogan pretty much says it all. "Discover Local. Support Local." We built WandrPass as a platform for people to easily discover the best local restaurants, breweries, and bars and make it attractive for them to try new local spots by providing them with exclusive promotions called WandrPasses. We've spent months researching and personally meeting with the owners of some of the best local gems Vancouver has to offer to hand curate a list of partners for our customers to discover and the list is growing every day!
As for our partners, we built the app to help them gain more exposure, get bums in seats, and upsell at their point of sale by hosting these exclusive promotional WandrPasses. Sounds "salesy", we know, which is why we made it completely free for businesses because they have enough on their plate given everything that's going on, even without Covid. Again, marketing for these businesses shouldn't be about who has the deeper pockets, but instead, who offers the most value and how they can showcase that.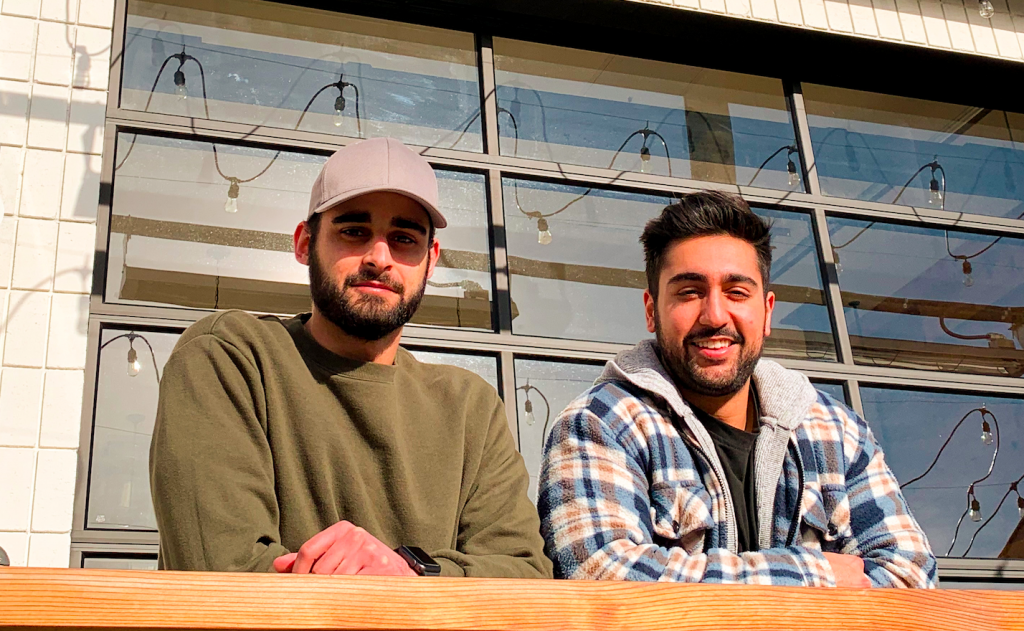 What are all of the features and value propositions that will be built into the app for users?
We will be launching the first version around March 2021 as we're hoping to really help these businesses come out of Covid and into the summer season as strongly as possible. With this version, our users, or Wanderers if you will, are able to use it to browse and discover our curated list of honestly some of the coolest local restaurants, breweries, and bars (many of which they most likely haven't even heard of but have been there for over 10-20 years!). All of these businesses have also listed WandrPasses and our users can bring them into the business when they're out exploring the city and redeem them for some awesome savings! North Point Brewing Co. in the Shipyards Brewery District, for example, is offering $4 flights of beer to WandrPass members (normally $10.50) and also offering our North Point x WandrPass Collaboration Brew 4-pack for $12 (normally $18). Wildeye Brewing is looking to give WandrPass members happy hour pricing all day during the weekdays as well! 
As we develop and work with businesses and our users to get feedback, we hope to expand into other industries (think stores that offer bike rentals and even experience itineraries) so that you can use WandrPass every time and anywhere you go out to adventure and explore Vancouver, even over the course of a full day!
What do you like about starting and building the business from right here on Vancouver's North Shore?
We have truly appreciated the opportunity to get out and explore our own backyard. This pandemic has really allowed us to focus on what is right here in the city that we grew up in. We've built so many genuine relationships with businesses and their owners, shared their struggles as we moonlight alongside them in the local hospitality industry outside of WandrPass, and have been able to help the people who depend on these businesses right here in our local community and economy.
By far our favourite part has been to experience the level of passion that comes from these business operators, many of which don't even think about the costs of what they do, financially and personally, when they're just doing what they love. That's what makes Vancouver as a market so exciting and with such an amazing hub of entrepreneurs and culture, we're so privileged to experience it firsthand and share that with our customers.

How will app users be able to take advantage of offerings and promotions when visiting local partners?
The app will be available for both Apple and Android devices! Once downloaded, it's as simple as browsing and discovering our curated list of awesome local restaurant, brewery, and bar partners and picking one! In under 5 minutes you could be heading over the spot of your choice. From there you just pick the WandrPass you want to use and have your QR code scanned through the business operators app. They will apply your promotion to the bill and you're good to go! We've made it super simple for you to discover and support local! 
We have also launched free early access available on our website (www.wandrpass.com) where we'll send you our favourite local spots and their corresponding WandrPass promotions straight to your inbox throughout the week. Not only that, but you will also have access to our early adoption team to receive free access to our beta testing of the app in March 2021 as well as a special discount on our official membership launch come the summer season!
What are some similar apps to what you are developing and how is yours different?
As we developed the concept, we really noticed the daily deal sites or coupon books such as Groupon, Living Social, and the Entertainment Book to be some of our main competitors. Over time, however, we also realized our customers would be more so interested in using the app to find those hidden gems and the WandrPass Offers was just an extra incentive. So, we really just combined the best of these models and fixed their issues, many of which were more business-facing issues.
For example, Marketing – the worst thing you can do for your brand is discount it. Groupon and LivingSocial host 95% off deals where you're selling your products on Groupon for pennies on the dollar, not to mention your food being displayed next to a foot massage advertisement just wouldn't do it for us. Not to mention paying ridiculous revenue-based fees on top of the already discounted product. It's a recipe for disaster for restaurants and we noticed it also did nothing for customer retention or upselling when the Groupon user pays in advance. 
We made WandrPass free for businesses, extremely targeted for your promotional offers as our customers are on the app for the purpose of discovering you and supporting you, and was built to promote, not discount your brand. Customers come into your business and pay you at your point of sale, giving you the ability to upsell and give the best experience possible when they walk through your doors and sit in your seats.
As for the Entertainment Company, you print a coupon in the book for the entire year. Marketing in today's digital age, businesses need marketing data and analytics in real-time to make the best decisions possible, not in a year, or even 3 years. We say 3 years because we have partners who cannot even get a hold of the company to remove a coupon they placed in the book 3 years ago. That was a huge surprise to us.
With WandrPass, businesses have complete control over adding, customizing and removing WandrPasses as they see fit through the Merchant Web Portal. They control the settings of those WandrPasses as well and can choose how and when customers can use the WandrPass. We also have an analytics dashboard so you can see how your WandrPasses are performing, how much you're upselling, and more so that you can make the best marketing decisions for your business in real-time.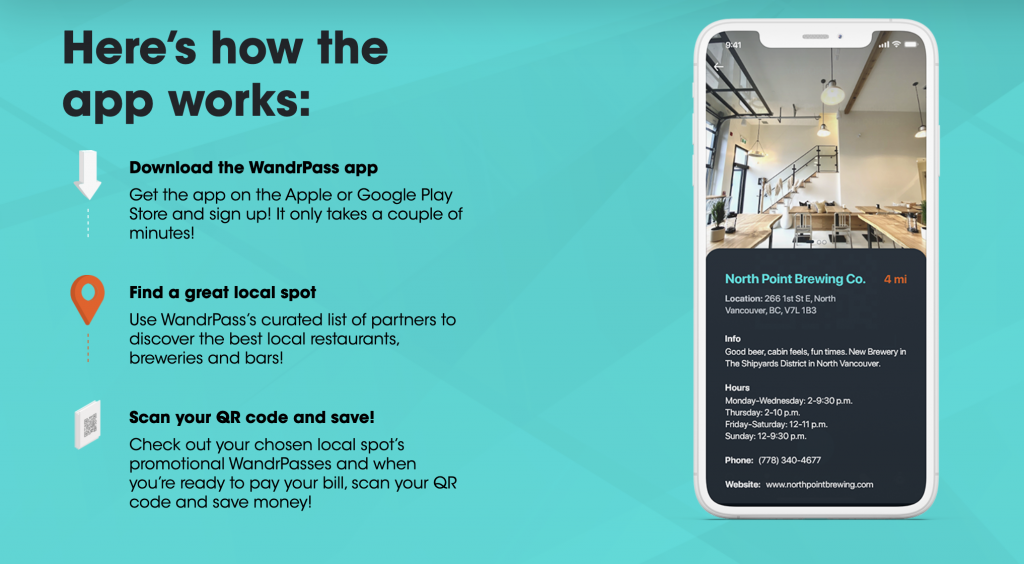 Who are some of your current business partners that are based here in North Vancouver and around the area?
We've managed to onboard roughly 25 businesses in the span of only three weeks! We're really taking the time to personally meet with each business operator and create that relationship and discuss their pain-points and gather that data to optimize WandrPass and help them as much as possible. We were blessed to have our first major onboarding push happen right here in the Shipyards District with businesses such as North Point Brewing Co., La Cerveceria Astilleros, Garden of Granite, and Welcome Parlour Ice Cream, to name a few. From there we started working to create a triangle connecting the North Shore, with the Kitsilano area, through the Downtown Core, and over to Mount Pleasant and have been working our way inwards to create partnerships centralized within the heart of Vancouver. We're just getting started and have built an amazing team to work together to really create that community. Our partner list is growing daily but we have a lot of work to do to really discover these hidden gems so that we can make it easier for our customers to do just that!
How can local restaurants, breweries, and bars contact you to join the platform as a partner?
As we work to optimize the signup process, you can send us your contact information by visiting www.wandrpass.com and checking out the "For Businesses" section of the website or you can even reach out to us personally by emailing liam@wandrpass.com.
Outside of operating the business what do you get up to for fun in your personal time?
Our favourite thing to do by far is the same thing we were doing when we started this venture. We love going out to eat, drink, and explore the amazing hospitality industry that Vancouver has to offer. Being Co-Founders, best friends, cousins, and even part-time co-workers at Chop and Chew, we spend a lot of time together. Probably too much time but we love it. Growing up in the same family, a family that values saving money, we always caught slack from our mothers (who are sisters) for constantly going out to eat and drink and spend money, especially as broke students. Now we're able to tell them we've turned that passion into a business and get to treat them to dinners at different places that we've discovered and we think it's that special time that we get to spend with them that is most exciting outside of work.
Lastly, is there anything else you would like the community to know about you or Wandrpass?
It would be just that, we'd like to share the fact that we are a community and we've built WandrPass around us as a community. The pandemic has brought some real struggles, struggles that are too lengthy to list but we have all felt in many different ways. The inability to go out and spend time with people as we did in the past has brought a whole slew of struggles both mentally and financially. As we build this app to help the local hospitality industry come out of Covid with full force, we really need to pull together as a community for that to work. We love hearing from you, the community, and getting your favourite recommendations of local restaurants, breweries, and bars that could really benefit the community as a whole by being on the WandrPass platform! Always feel free to reach out on our Instagram @wandrpass or emailing liam@wandrpass.com if you have suggestions or even ideas on how we can better the platform to help discover and support local businesses.