Well dressed and well spoken, Shayan Keshvadi looks too youthful to be the part owner and head chef of the new Central Lonsdale restaurant Chop and Chew. The ambitious 21 year old opened up the sausage house on October 17, 2020. "I had been in the food industry since the age of 14," Shayan tells me. " I realized what people wanted from hearing their feedback at the places I worked. It seemed to me that, more than anything, customers want a place they could vibe. They don't necessarily want to eat or drink, they want a place where they can have fun and relax."
When you enter the Londsale eatery you instantly understand what he's talking about. Chop and Chew is laid back with a funky edge. Sports play on the TVs but conversation and music fill the air instead of in-game commentary. Copper piping (photo below) runs underneath the marble counter topped bar and the sound of laughter wafts from the kitchen along with the smell of delicious food sourced from exclusively Vancouver vendors.
Chop and Chew's philosophy is centred around supporting local Vancouver businesses: their burger buns are from Nickol's Bakery just down the block, the gelato for their s'more cookie is from Brazza Cafe next door, and all the beers on tap are from North Vancouver breweries. For Shayan and his mother, Soheila Jamalian, their restaurant is not just about making money. Keeping capital in the local community is important to them and they make sure that the businesses around them succeed when they do. "It's all about relationship building," Shayan says. "That's something I learned from my Mom."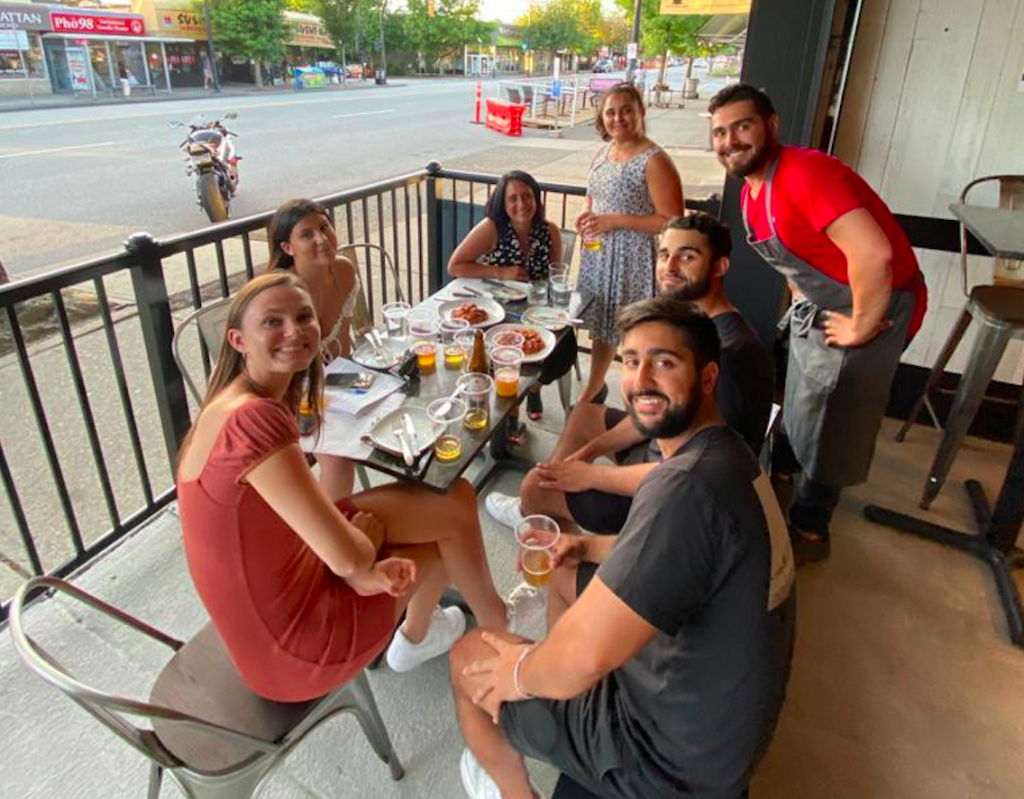 Shayan's appreciation of food is another thing he learned from his mother. Soheila started cooking with her own mother when she was eight years old. "My Mom taught me a lot of things to do [in the kitchen] and it became my passion. I delight in making things new and exciting with more flavours." When Soheila came to Canada in 2000 she started a daycare business in North Vancouver. "I was preparing food for the kids. It was a little bit challenging because I had come from Iran and the Canadian kids didn't know Persian food. They weren't used to it. But little by little they started to love it. Eventually their parents started asking for all the leftovers!."
Soheila passed her love of cooking on to her son, Shayan. She has clearly passed down many admirable traits to him, and a radiant smile spreads across her face as she talks about the vision that the two of them had for their restaurant. "Shayan is everything to Chop and Chew. It's his idea, passion, and love… he is such a creative boy and he is so sociable, warm, and welcoming."
During Shayan's childhood the family spent summers in Dusseldorf, Germany. These memories would influence the conception of Chop and Chew. "We started out as a sausage house but we are evolving," Shayan tells me. "I'm getting a taste for what the community wants from a restaurant like mine. We are going to ramp it up, make it a little more elegant. Keep it simple, but elevate it."
With a new menu coming in March, which will feature a slight overhaul and add items like a fried chicken sandwich, Chop and Chew is in the process of adjusting what they do in order to better serve the needs of their customers. "You always have to tweak your business towards what the people want," Shayan says. "You have to be able to cater to their tastes. You want engagement. At the end of the day the customer has the choice of where to go and you have to have that 'why' factor."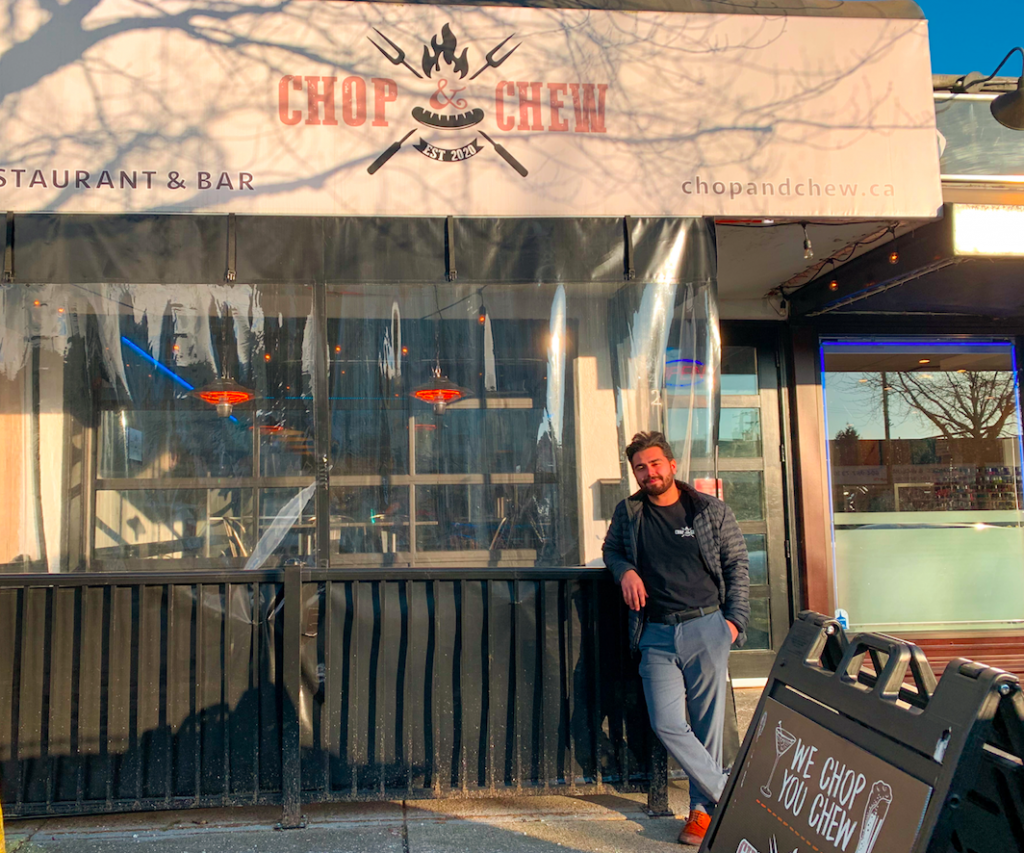 When I ask Shayan what his mother has meant to the business he glows with pride. In addition to the many recipes on the menu which were contributed by Soheila, she has been the backbone throughout the difficulties that came with buying, financing, setting up and then running a restaurant during a pandemic. "My Mom is the energy, the fuel that keeps everyone going, the glue that keeps us all together. Without her there would be no Chop and Chew. It would be a methodical dream. She's the one that pulled out the checkbook, she's the one that has the biggest balls in the city. She bought a restaurant in the middle of a pandemic… if the restaurant was a book it would be dedicated to her. It's her hard work that made this even possible. It should really be called Mama J's Chop and Chew."
If you own or operate a local restaurant and want more customers and foot traffic email liam@wandrpass.com to join the Wandrpass App as they will be working with us at Lonsdale Avenue Magazine to promote eateries on our website and within their app… users of the app get beer towers at Chop and Chew for $20 instead of $28… plus more promotions to come in the future.

For more info about the restaurant visit their website and connect on Instagram
Hours of operation are 12PM-10PM from Tuesday to Sunday
The restaurant is located at 1842 Lonsdale Avenue in North Vancouver
For reservations and takeout email info@chopandchew.ca or call (604) 971-2475