As we head into the long weekend for BC Day undoubtedly you are going to be stopping at a local liquor store for wine, beer or spirits. When doing so it's important to support businesses owned and operated by residents of the North Shore, which helps the local economy and community. If you are going to be driving over the Iron Workers Memorial bridge consider stopping by at Toby's Pub or Liquor Store. They have a great selection of all of the top national brands and many of the craft breweries and distilleries from here in North Vancouver. Plus the pub food and ambience is welcoming and fun.
In this article we get to chat with Toni Hulsch to learn more about their businesses and what they offer to consumers as well as a bit of information into their corporate culture. Check out what he had to say below and keep a look out for a new Cannabis retail store that will be opening near this liquor store in the near future.
How did Toby's get started and what do you like about operating in North Vancouver?
Toby's Liquor Store opened in 2014 to provide a North Shore location of the store that started on Commercial Drive in the early 2000's. It is also an extension of the original Lynnwood Inn which was an icon on the North Shore for 80 years.  The Priatel family wanted to keep the Liquor Store after the hotel was sold in 2012, so they moved it across Barrow Street. Toby's design pays tribute to the North Shore mountain colours and is reminiscent of the industrial days of the railroad tracks.  That is evident in the original train tracks that are displayed inside the store under a glass top and are painted on the floors. Which you can see in the photos in this article.
What are some of the premium and unique brands that you carry for discerning customers?
This list of items is long as its always been our goal to offer a wide and varied selection of options but we love adding some eclectic products that other stores may not carry. Two recent additions are Adictivo Extra Añejo Tequila from Mexico which is aged 7 years in French oak barrels. This is not your average tequila shot, but something meant to be sipped and savoured. Closer to home, Canadian Club 40 is the rarest offering in the Chronicles series and is the oldest bottling of Canadian whisky currently available, aged 42 years. We also carry some exciting Coolers like Nude, Nutrl, Pyur and White Claw. After a party with your friends you should try our new recovery drink Last Call (#lastcallbeverage) it does wonders.
You are active on social media, how do you find that helps you with community engagement?
It helps us not only to connect with our costumers who live in Greater Vancouver and the North Shore but also to find new local breweries and distilleries and get them on our shelves. We love to do Give Aways through our Social Channels which helps to increase engagement online and get new people from the neighbourhood into our store who have not been in before.
What can people experience when they come and visit your restaurant, in terms of food options, culture and ambience?
We always want you to feel welcome when coming through our doors. You get hooked on our positive and upbeat energy when walking into our store, if its our attentive and friendly staff or the awesome 80's Music playing, you will feel good. Like mentioned before you will also see some design features which will remind you of the North Shore and the neighbourhood you are in.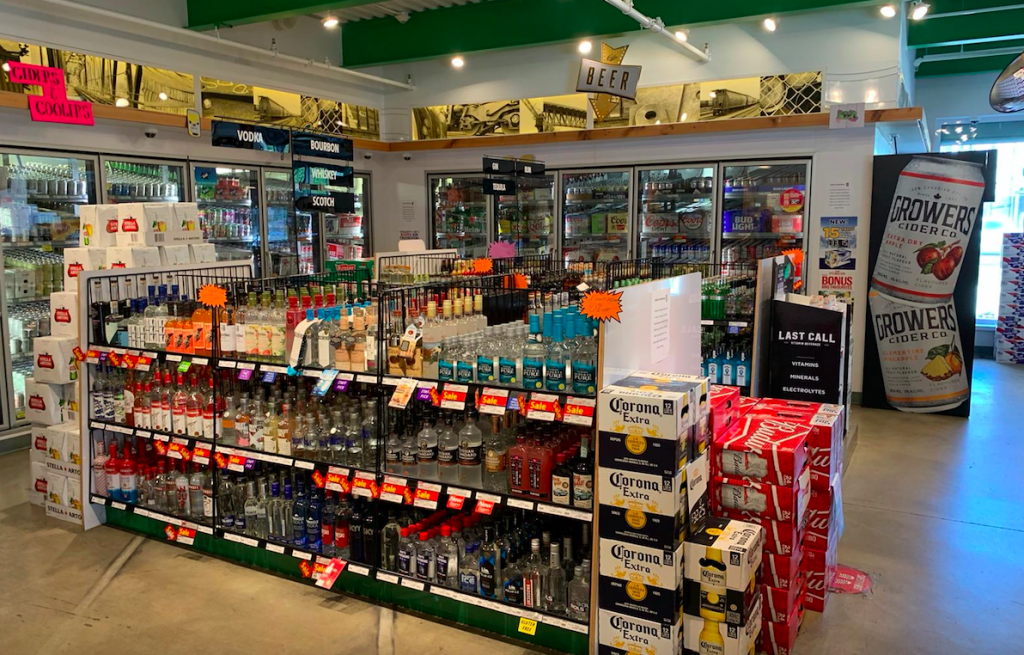 Which of the North Shore breweries and distilleries do you carry at your liquor store?
While we'd love to support and carry as many local and lower mainland brewers and distillers as possible, we are capped by our available space. That said, we do carry products from the following North Shore / Whistler region vendors as well as another dozen or some from the lower mainland and more from BC's interior. Bridge Brewing Company, Backcountry Brewing, Howe Sound Brewery, Bowen Island Brewery, Sons of Vancouver Distillery, Whistler Brewing & Woods Distillery.
Outside of operating your businesses, what do you get up to for fun in your personal time?
Being an avid golfer, living in the lower mainland is such a treat. There is such a huge range of local accessible golf options from parkland, mountain, and links style courses all within easy driving distance of the North Shore.
Lastly, is there anything else you would like the community to know about you or Toby's?
We offer ample free parking in front of the store and a bike service station with tools and an air pump. There are always items on sale within the store and if you enrol in our membership program you can collect points with your purchases and redeem for Gift Cards or amazing Prizes.
For more info about their liquor stores and pubs visit the website.
The pub is located at 1378 Main Street in North Vancouver
The liquor store is located at 1520 Barrow Street in North Vancouver
Customer service can be reached at info@tobys.ca