North Van Arts is proud to present the 10th annual North Shore Art Crawl, a free weekend event celebrating the creative energy of our local artists by inviting the public to explore North Shore artists' studios and galleries from Horseshoe Bay to Deep Cove.
On March 7 and 8 2020 from 10:00am-5:00pm, over 200 North Shore artists at 81 locations (including local artist studios, community and commercial galleries and businesses partnering with artists) will open their doors to the public to share their passion and a 'behind the scenes' glimpse of their creative process. This is your chance to discover new local artists and artisans, get your hands dirty at artist-led demonstrations and activities, and find pieces of art for your home – all without paying an admission fee!
Bring your friends and family and make a weekend of it! 'Neighbourhood studio clusters' make it easier than ever to visit as many venues as possible over the 2 day event. For the first time this year there will be an optional reception opening on Friday March 6 from 7pm-9pm (check program guide or website for details).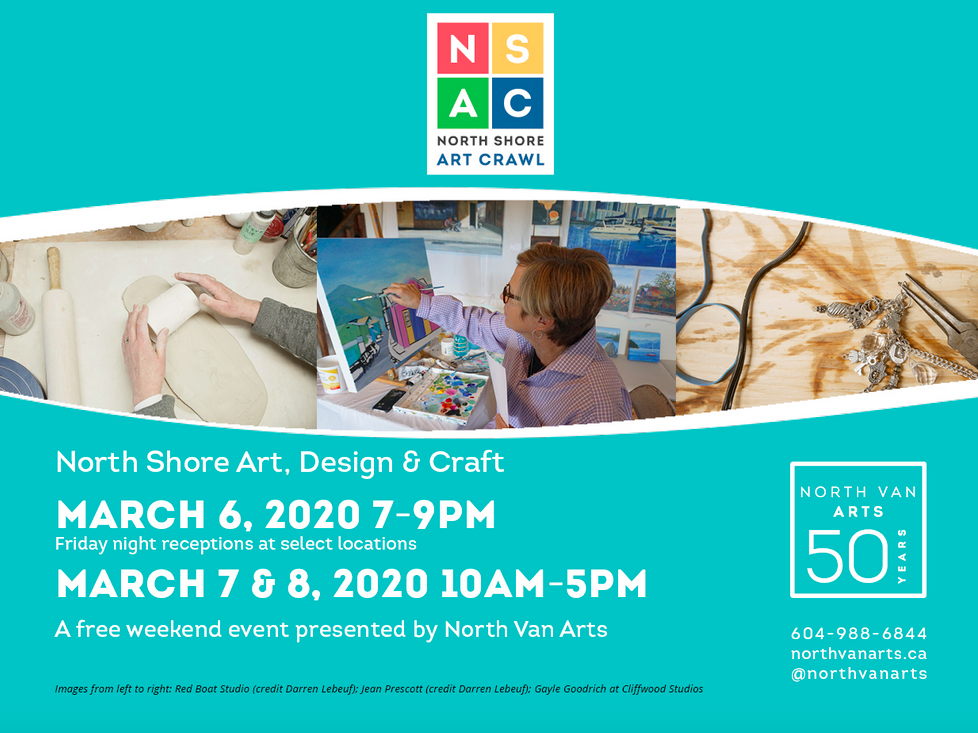 The North Shore Art Crawl was initiated in 2011 by two local artists, Sandrine Pelissier and Norman Vipond, who wanted to provide a deeper connection for the community with the wealth of local talent. The Crawl supports the local economy every year by attracting over 15,000 visitors and generating over $20,000 in art sales for participating artists. This annual event has earned its place as one of the most highly anticipated happenings on the North Shore community cultural calendar. Plan your crawl by picking up a free brochure with all participating artists' and studio details. Brochures are available at CityScape Community Art Space (335 Lonsdale Avenue in North Vancouver) and at various other locations across the North Shore, including public libraries and recreation centres.
*View a digital copy of the brochure and go to NorthVanArts.ca to find full artist profiles and images, an up-to-date list of demonstrations and activities taking place over the weekend, and an interactive Google map of all the studio locations and community partners.
After the event weekend, patrons can fill out the onsite visitor survey to tell us about their experiences and be entered to win a 1-night stay for 2 people at the new waterfront Seaside Hotel and a $50 dining credit at their onsite restaurant, Provisions. For individual artists' stories & photos, please contact the North Van Arts at 604.988.6844 or leighanne@northvanarts.ca with any questions.
Map of Art Locations: 2020 North Shore Art Crawl
---
North Van Arts was founded as The North Vancouver Community Arts Council in 1969. We are a grassroots, social-profit, charitable cultural organization dedicated to maximizing the intrinsic value of the arts in all disciplines, with a mandate of building strong and healthy communities through the arts. As well as organizing cultural events, we curate exhibitions at CityScape Community ArtSpace and three other community locations around North Vancouver; we offer arts education programmes year-round; present cultural events, special projects, an annual film series, and manage a popular Art Rental programme.