The next Nerd Nite is March 26th at 7pm at the Eagles Club, click here for tickets.
When you think of the word nerd what comes to your mind? For many it means other traits besides the literal meaning, however to us it means learning everything there is to know about something that inspires you. As an example you could be into motorcycles, craft beer, growing gardens, painting, making miniature robotics and still be a nerd in practice. At Lonsdale Avenue Magazine we are nerds for internet marketing and content publishing and may even be into Dungeons and Dragons.
We had the pleasure to sit down and chat with Crystal Baldwin from the infamous and very fun Nerd Nite North Vancouver to learn more about the events that they produce and what it's like to go to one of them. Nerd Nite is like Ted talks but with beer and a lot more interaction with the crowd. Of course there is Nerd Nite Vancouver but we needed our own local version.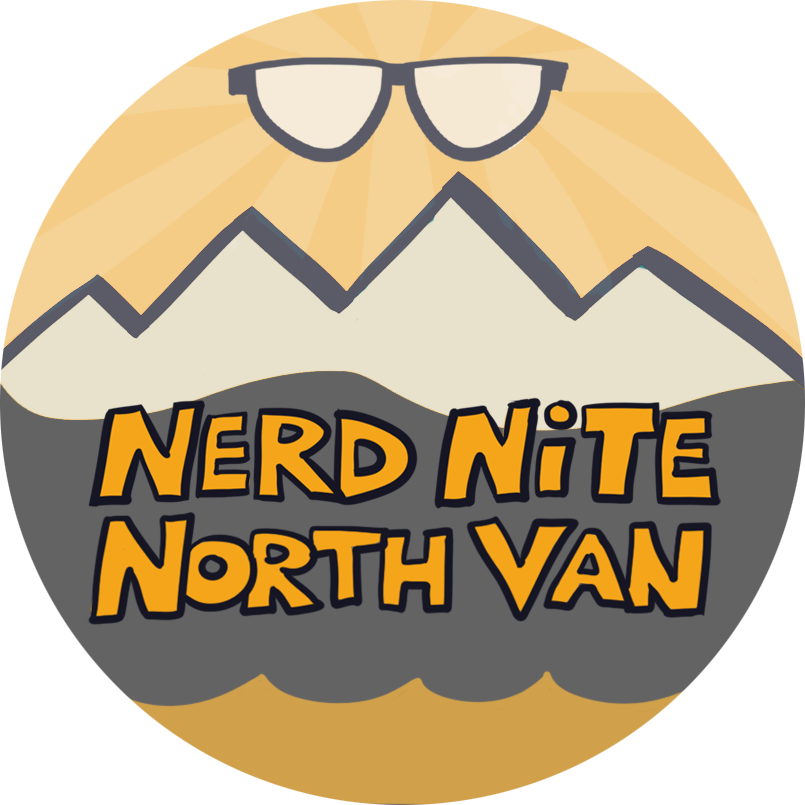 How did you get started with Nerd Nite and what do you like about doing events in North Vancouver?
I found out about Nerd Nite Vancouver from a friend and fell in love with the concept, but the bridge traffic to Main and 8th in Vancouver can be a bear some nights, so I jokingly commented North Van should have its own. After attending my second show, I got put in touch with the Nerd Nite Big Boss in NYC, as Nerd Nite is a global network of nites with over 80 locations worldwide. He granted me my own "chapter" and a handful of us started out using Nerd Nite Vancouver as a framework. Since then we've developed our own unique, interactive, quirky style.
I like holding events in North Van because we've created a brand new community here, connecting people through our shared interests. The friendships I've formed with speakers and audience members are probably my favourite result of starting our own nerd nite. The new friendships and bonds between audience members, aka "the nerd herd," are also really amazing. A lot of nerds attend the events solo, but leave with new friends. We're all about interactivity, so volunteers connect people when they arrive and we always introduce newbies to other nerds at a table they might like, upon arrival. We have a broad demographic of nerds ranging in age from 19 to 75, coming in from as far as Langley to attend our events.
The other thing I love about events in North Van is that Lower Lonsdale is such a close-knit community and we've been really lucky to connect with so many local business owners whose support has really been integral in building our new community. Lolo Hair Salon, Blvd Bistro / S'wich Cafe and Big Pete's Collectibles have been our biggest supporters and also donate trivia prizes. A lot of other local businesses in North and West Van have gotten involved by donating prizes for our themed trivia contests, like Bosley's Pet Food, David's Tea, Browns Social House, Earnest Ice Cream, Boston Pizza, Warm Buddy, Feed Me Fit and Everything Wine.
What are upcoming events taking place throughout the 2020 calendar?
We have 3 Nerd Nites left in our second season (between now and summer), as nerd nites work around the academic calendar, due to a large number of our speakers and nerds travelling over the summer. Season 3 will begin in September 2020. These are our upcoming shows in the remainder of Season 2:
January 30, 2020
Stem Cells & 3-D Printing Human Tissue (Alison Muller, M.Sc., Ph.D.)
Sustainability in Filmmaking (Farhan Umedaly)
The Truths Behind VideoGame Making (Ed Douglas)
March 26, 2020
Environmental Science (Kurtis Baute, Scientist & well-known YouTuber)
Quantum Cryptography & Black Holes (Alex May, Physicist, UBC)
3rd speaker TBA
May 28, 2020
"The Wonder Women of STEM Show" (Season Ender / All female show)
Inorganic Chemistry/CO2 Capturing Technologies (Gwen Bailey, Caltech Phd, Inorganic Chemistry)
Michelle Kunimoto, (PhD, Transit Signals/Exoplanets, Forbes 30 under 30 – Science, 2017)
3rd speaker TBA
Season 3 will begin in fall 2020 and feature two shows (September and November) with speakers to be named.
How can our readers get involved with or volunteer for Nerd Nite to help with event management?
Volunteers can reach out to us via email or social media (below). We're always looking for more volunteers to help out greeting guests at shows, and we are looking to fill positions like graphic artist (poster design), a DJ/AV master, ambassadors to help promote events, speakers and of course since we're about science, not profit, we're interested in sponsorship from local businesses to level-up our community outreach.
What does a typical Nerd Nite look like in terms of the flow of the happenings?
Doors open at 6:30 with paperless guest check in, show starts at 7pm. We usually open with a short talk on the latest Science News then straight into our first speaker in a subject across a vast range of STEM (Science, Technology Engineering & Math) topics. Each of the 3 talks is 15 minutes long and is followed by an interactive Q&A where audience members can ask speakers their questions. There are 10 minute breaks between talks, where nerds can socialize and meet speakers. After the second talk we serve complementary "space donuts" from legendary local donut shop Harmony Donuts. If the nite has a theme, we'll have a really fun trivia contest for audience members with prizes from local businesses before the final speaker.
We try to get nerds in and out by 9:30. We've had talks on some of the following subjects: Astrochemistry, Science & Unicorns, Quantum Mechanics, Math & Improv, The Canadian Space Agency, Particle Accelerators, Laugh Tracks, Muon Spin, Mental Health & Batman, Apocalyptic Party Planning and Pavilion Lake, BC. Speakers often bring props with them like space rocks or quantum devices and on occasions we have experiments on stage involving audience members.
In your spare time outside of running Nerd Nite, what do you get up to for activities?
Family, friends and fitness are my priorities outside of Nerd Nite. I'm also learning Farsi for fun…when volunteering years ago for Harvest Project I noticed the growing Persian community and thought it would be fun to learn a language. I also love super hero movies (and the physics actually involved) and I'm especially excited about Wonder Woman 1984 (only 130ish sleeps until it's out on July 5). Volunteering is paramount to me though, so the rest of my focus is on our newest project, TEEN Nerd Nite North Van. Teen Nerd Nite NV is a variation on Nerd Nite, for students ages 13-18 on the North Shore and surrounding areas. Students can attend a Sunday afternoon talk where speakers discuss things like: when they decided they wanted a career in STEM, their journey along the way, what jobs students can get with their degree and what a typical day in the speaker's job looks like. We've had interests from kids under 13 and we won't turn away any student passionate about a future career in science. Students can get Service Hours for attending and potential mentorship opportunities. There will be space donuts and prizes from local businesses for interacting and attending. Tickets are free with registration on EventBrite. We encourage students to register ahead of time as we expect a big turnout. Our pilot show on March 1, 2020 will feature:
Teen Nerd Nite
Eco Tourism (Josh Silberg)
Stem Cells (Alison Muller, M.Sc., Ph.D.)
Environmental Science (Kurtis Baute, Scientist and YouTuber)
Genetics, Dave Ng, and more subjects to be announced.
Lastly, is there anything else you might want our readers to know about you or Nerd Nite?
If readers like TED Talks, they'll love them with beer! We're a friendly, welcoming community so come think and drink with us and see how nerds party while we learn.
For more information about Nerd Nite you can visit their website or connect with them using social media on Instagram and Facebook as well as email them directly using nerdnitenorthvan@icloud.com.