As the weather starts to turn to spring and the flowers, trees and animals come alive, many local artists and craftspeople will find inspiration in this time of the year for creating amazing works of art and expression. When you walk through the North Shore mountains, forest and across the waterfront it's easy to get lost daydreaming about things that make us happy and inspire our creative side. With this in mind we are excited to chat with Monica Gewurz who creates amazing mixed media paintings right here locally, you can learn more about her below and connect with her at the bottom of the article.
How did you get started with your art business and what do you like about operating in North Vancouver?
North Vancouver is my home and studio since 1997. Having a small business in a community where I feel supported, recognized and appreciated makes it very enjoyable and satisfying. I always buy local and during the pandemic, I have done my utmost to support local businesses. I also believe in giving back to my community by being a board member at the North Van Arts for the past 3 years, doing local volunteer work and donating art and money for fundraising purposes to not for profit organizations such as; the Lions Gate Hospital, BC Cancer Society, The Loving Spoonful, The Nature Trust of BC, Pacific Salmon Foundation among many others. My studio is located amidst the rainforest with a Pacific Ocean vista. The constant changing of shapes, colours and patterns of light in the reflected water and changing skies during sunsets are an additional source of inspiration. I never paint on location but work from memory and seek inspiration from many sources, such as my own photography, inspiration from my travels, ethnic textiles and archaeological sites of ancient cultures like from my native Peru.
What are the types of artwork that you create for sale to your customers?
I create unique, affordable, highly textured mixed media paintings for sale inspired by the Pacific Northwest landscape. My art is a transformative interpretation rather than a literal rendering with the intention of eliciting the viewer's emotional response inspiring discovery, peace, calmness and mindfulness. I also do commissions. My passion has evolved into an art that connects with people's souls. I get real satisfaction when I can match a collector with one of my paintings.
What makes your art different than similar artists who work here locally?
I like to describe my artwork as semi-abstract- ethereal landscapes, that are luminous, textured, beautiful, impactful that have a universal seascape inspiration. My work is unique in the way I combine texture and washes with metallic paints and foil to conjure up a sense of mystery and ethereal light. To create it, I apply multiple layers of coloured gel mediums, mixed with textural elements, each partially revealed to create a 3D effect. I use texture to blur the line between painting and sculpture, inviting the viewer to touch them and evoke an emotional response. I also use multiple glazes of colour to produce contrast and harmony, creating lightness, fluidity, and ephemeral atmospheric effects. Initially, I started painting using the brush then I transitioned to using mainly the palette knife and unconventional tools and materials, resulting in my art becoming more abstracted and complex. I use an earthy – quiet palette echoing the colour found in metallic patinas, Raku pottery and ancient glass.

To accomplish the above, I use intense turquoises, luminous teals and yellows, haunting blues, earthy ochres and Siena's, deep burgundies and mysterious charcoals and blacks. I also use metallic paints and foils to accent textures to give my paintings more luminosity. The abstraction of the constant changing of shapes colours and patterns of light in the reflected water and changing skies and the patinas of precious minerals mesmerize me. My inspiration is pulled from nature, my surroundings, experiences and imagination. As an artist, I find the act of painting to be euphoric. I paint from the heart and intuitively and have a passion for colour, texture, movement and design that are conveyed in my paintings. Working with texture and multi-layers in my mixed media paintings gives me an opportunity to express nature and environmental issues in an abstract way, to communicate what is deep inside me and to encourage the viewer to be moved by its beauty.

I began by creating abstract shapes on the canvas with a texture medium, then the painting evolves into compositions in which colour and texture are the primary subjects. My art is a transformative interpretation rather than a literal rendering with the intention of evoking the emotion, memory, and essence of the West Coast landscape. I curate combinations of materials and techniques to abstract reality, telling a story to elicit an intimate aesthetic and emotional response. To experience this fully, the viewer must enter the multiple layers, shades and textures of my work, and be seduced into a visual and visceral encounter – a holistic meeting of minds between artist and viewer, inspiring self-discovery, empathy, meditation and mindfulness.

In addition, because of my science background, I also aim to communicate via art main issues pertaining to the environment such as climate change and our carbon footprint, to invite dialogue and discussion. I use mixed media for its capacity to reach beyond the visual, to a more tactile process and overall experience especially for the visually impaired. I invite the viewer to come closer and observe the ridges, cracks, holes, bumps like books that suggest and hint at layers of meaning.
If our readers want to purchase works of art from you what is the best way for them to do so?
In Vancouver, I am represented by Ukama Gallery a beautiful contemporary gallery located at 1802 Maritime Mews, Granville Island-Vancouver where several of my paintings and sculptural wearable jewelry (MG Designs) are showcased year-round and are available to be purchased (rental is also available for commercial entities). My complete portfolio is accessible through my website. There you can see my latest paintings in a simulated virtual gallery and via individual photographs.

Also, on my website, I have information on upcoming shows and exhibitions, an up-to-date CV listing all past juried shows and awards. If a person wants more information, they can email me via mgdesigns@shaw.ca or via direct messaging on Instagram @mgdesignsca. I encourage people to join my newsletter which I only send quarterly to be kept up to date on upcoming shows and get special discounts when they become available.

During the next few months: I am participating in the North Shore Art Crawl virtual show March 12-April 12, followed by a show with 5 paintings at the Vancouver Visual Art Foundation gallery in the Bentall centre downtown March 29 – April 27, and in the fall, I am participating with another artist at the international fair Art Vancouver scheduled for September 23-26, 2021.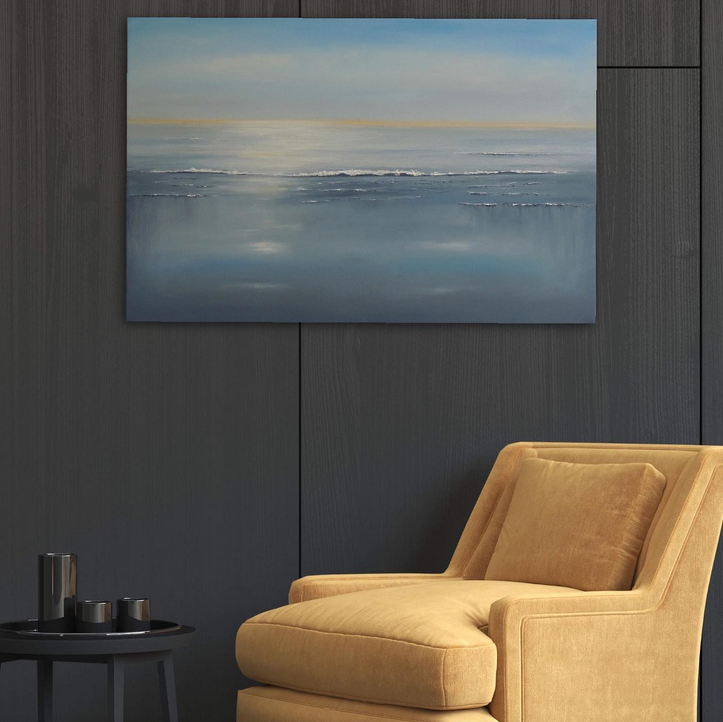 Before operating your local business what were you doing for work or a career?
I have a BSc. and a Master in Landscape Architecture and Environmental planning. I have worked in both large-scale commercial real estate development and sales; eco and cultural tourism planning and marketing; environmental assessment, and for the Canadian Federal Government dealing with Aboriginal issues in several capacities which included negotiating treaties with aboriginal people. In 2012 I started to do sculptural jewelry and painting as a hobby and attended part-time Emily Carr University of Art & Design where I received both a Fine Arts certificate (2014) and an Advanced Painting Certificate (2016).

Due to a life-threatening autoimmune illness, I had to retire early with a small pension in 2017, which gave me the opportunity to embark on a new career as a professional artist by showcasing in public and commercial galleries. I have been honoured to have two of my art pieces featured on both a wine bottle and on a line of skincare products (VinoSpa) by 40 Knots Winery in Vancouver Island. Commercially, I am represented by the following galleries; Ukama in Vancouver, Gallea Art in Montreal and virtually by Singulart in France. My paintings have been exhibited at numerous public and commercial galleries in BC's Lower Mainland and in the US, including the Federation of Canadian Artists Granville Island; Ferry Building West Vancouver, Silk Purse, International Artists and Seymour in North Vancouver. In addition, my artwork is found in corporate and private collections throughout Canada, the US, Europe, Mexico, Peru, Australia, New Zealand, China and Japan. I am a Board Director of North Van Arts for the past three years and an Active juried member of the Federation of Canadian Artists since 2014.
Outside of operating your business what do you get up to for activities in your personal time?
When I am not doing art, I enjoy both urban and natural environments. I used to horseback ride and own a horse that I rescued from the slaughterhouse who lived until 28!, but I gave it up 3 years ago (less close hard encounters with the ground). Now instead I do local hikes often with the camera on hand for later use in my art, and I golf with a group of ladies at Gleneagles golf course rain or shine once a week.

My art is rooted in my life on the west coast of British Columbia but also draws on my travelling experiences. I was born in Peru and since a teenager, I have been travelling the world. I have travelled extensively in South -Central America, the US, Europe, Asia and the Caribbean and across Canada. I have done horseback riding trips in Spain and Portugal and sailed with my husband in the Caribbean and British Columbia. Last year I was in Morocco and the year before in India. This year my husband and I were planning to go to Iceland but that got postponed… next on the bucket list is to do a partially funded residency somewhere in Europe for 2022-23.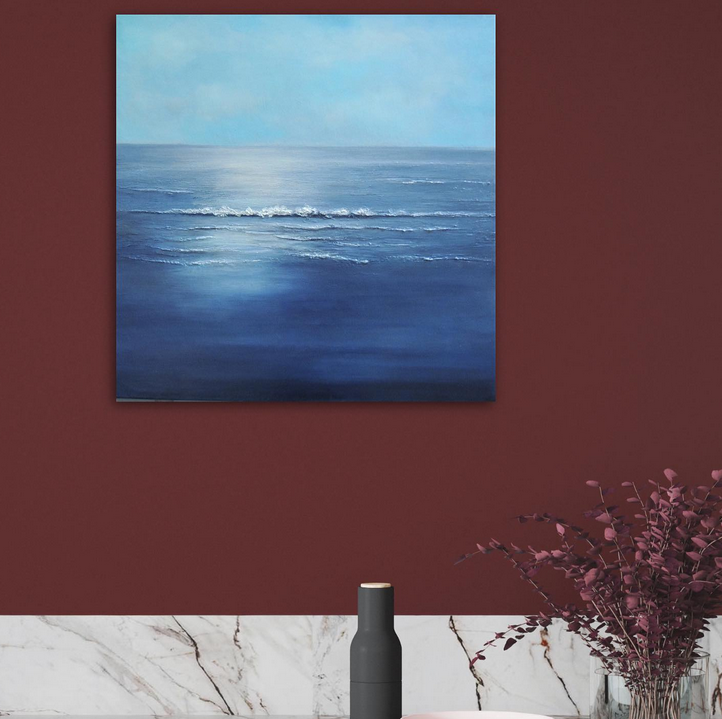 Lastly, is there anything else you might want our readers to know about you or your business?
I find it amazing and exciting the connection that some of my ethereal-like paintings illicit viewers that I have never met. At the same time, I find it humbling when viewers immerse themselves in the layers, shades and texture of my paintings and they share with me how they are seduced into a visual-tactile and emotional experience ranging from serenity to energy. When this connection is made, I feel my mission is accomplished as I inspired self-discovery, mindfulness and created connection, an encounter- a meeting of minds and souls between the viewer and myself.

I like my art to be affordable and accessible, allowing flexibility in their payment via monthly installments so it can fit many people's budgets. I also do commissions and prints on canvas. Buying art is a big decision and my motto is to make it pleasurable and enjoyable. One can purchase my art that is available on my online portfolio on my website by contacting me directly, I have Square and can take credit cards and e-transfers. Prices on my website include shipping in Canada. If the customer is based in the lower mainland, I can bring the art to their home/office so they can see how it looks in their space.

If one likes a painting but it is not the right colour or size, I am open to doing a commission based on their budget and colour scheme. We start the conversation via email or phone and sign a contract. Paintings that are showcased at Ukama Gallery can be purchased by visiting the gallery in person or contacting the gallery directly at gallery@ukama.ca. I like to paint what inspires me and hope that people enjoy looking at my paintings as much as I enjoy painting them. I want my paintings to affect people on the inside bringing them mindfulness. I hope people enjoy my artwork and they find the right piece to transform their physical space and connect with their soul!
For more info and to ask questions visit her website
Connect with her using Instagram and Facebook apps
Customer service is mgdesigns@shaw.ca or 778 628 4077