Within the last few weeks, I've started to see more colour popping into magazine articles and onto my previously neutral Instagram feed. The need for colour in everyone's lives seems strong right now. It could be something that's potentially stemming from that seasonal shift. The early signs of spring are some of my favourites. The days are getting longer, the sky is losing that greyness and becoming slightly bluer, and you can even spot (and smell) a few tiny blooms that are nearly ready to burst open. Winter's time is up, and so many of us are craving a change. I'm ready to embrace it. Ready to gently embrace it, that is. While I'm not quite at the point of needing to paint my walls a bold colour, I am here for temporary items that brighten up your space. Are you here for it too? Let's do it together! I'm here to help bring some temporary, easy, and affordable items into your home to get ready for spring, starting with your table decor. Checkout some of these easy interior design tips and ideas below.
Easy ways to bring spring to your kitchen table!
I started this exercise by jotting down the first words that came to mind when I thought of spring. Bright, fresh, and growth were my top three. I immediately knew what I could do in three easy steps to bring all of those words to life when decorating my kitchen table.
I'm a firm believer that the easiest way to decorate your table for spring is to add some fresh, natural greens. I tend to opt for eucalyptus based on the colour, shape, and texture it offers. I love laying it across the table and making a simple garland-like piece. You could also choose something like palms in vases of varying heights, textures, or colours. Another alternative would be to bring in mini fresh herb plants or tulips and have entire small-scale potted plants in bright spring-like pots on your table.
Brightness to me this year means lemons. I've found myself adding lemon juice and zest to more and more meals to add a fresh spring flavour to every bite and wanted to carry on my lemon trend by adding a literal brightness to the table. Lemons are an incredibly cost-effective way to decorate your table and add a serious pop of colour – as are limes and grapefruit. If you're not into the fruit idea, you could incorporate colour into your spring tablespace using colourful tulips, as I mentioned above. Alternatively, if you celebrate Easter and think you might have some eggs decorated, those would also be a perfect addition.
With most pieces on the table, I typically prefer everything to be matching, but I have a logical exception for glassware. Reason number one is that there is a lot of fun that can be had with mixed and matched glasses, especially in the spring on your table. I found my two brightest cups to include and think it ties in nicely. The second reason is that you never know what type of glass you might need for that mocktail/cocktail. Each beverage deserves the right glass so it can be properly enjoyed.
You'll notice the rest of my spring tablescape is relatively neutral. My placemats are a lighter, natural-looking fabric, and my napkins are white. Both items are practical all year long if you don't want to be storing various napkins and placemats in your home. If you felt so inspired, you could bring on some fun patterns and colours to both. There is absolutely something to be said for keeping it minimal to retain the versatility – I can use these for fall, winter, and summer as well.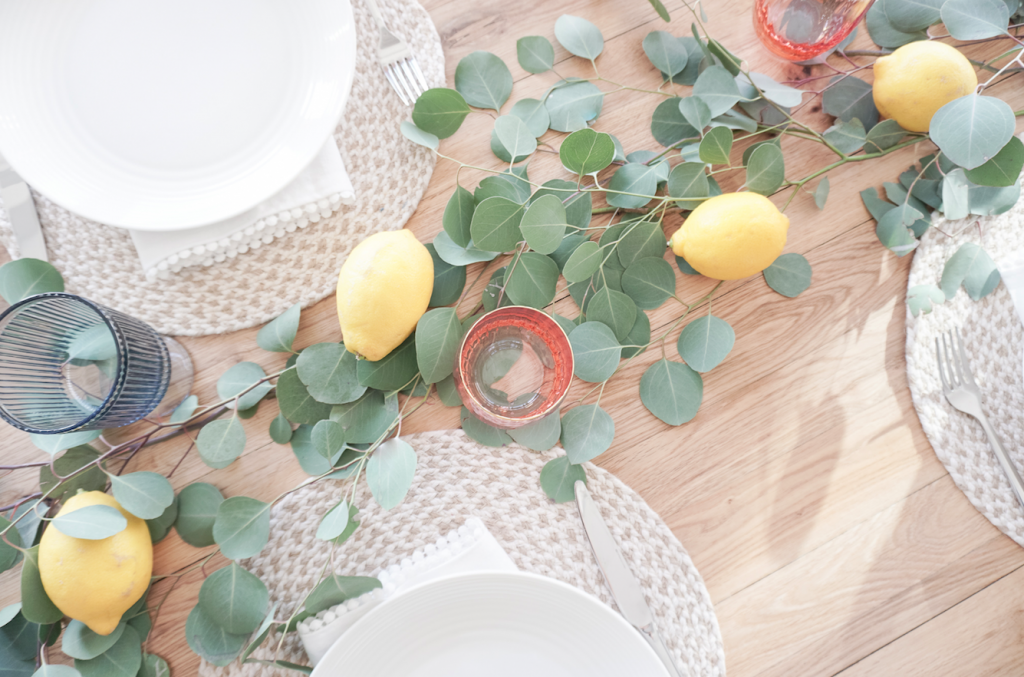 Where to get items to bring spring to your table on the North Shore?
This is where the items on my table are from:
I got my greenery at Whole Foods – a large bunch of eucalyptus was $6.00,
While I was at Whole Foods, I picked up my lemons – logical!
The blue glasses are from Superstore, and the pink ones are from Anthropologie.
Here are more suggestions for where to find plants, flowers, greenery, table settings, glassware, and etc to make your table feel like spring:
Moe's General Store
Fresh Cut Flowers
Indigo
HomeSense
Even though we've been virtually hosting our families for the past year, decorating your table can bring a little bit of magic into your dinner experience and if nothing else, it's almost like a change of scenery! Happy table decorating. Samantha Potter will be bringing more of spring into her home as the weather continues to improve. You can follow along on her website and her Instagram for more spring inspiration as well as home decor tips, DIY projects, and recipes.