When you want to get your hair cut or even just get a trim and clean up, you have many choices of barber shops and salons to choose from on Vancouver's North Shore. However, the real factor that means the most is what is the overall experience like. Culturally when you get your hair cut we like to have experiences chatting with the stylist, getting a scalp massage and wash and it doesn't hurt to be offered a drink of some kind. This is were our friends at Man Up Grooming really shine. They are located between Cactus Club Cafe and Hearthstone Brewing on Marine Drive in North Vancouver. Which means you can make an appointment with them and then go out with your friends to either one of those venues for a great night out.
When you walk into Man Up Grooming they offer you a refreshing cold drink, coffee or tea and soon they will have a liquor license, on top of providing free wifi access. The interior feels a lot like a whisky lounge or speak easy vibe, with dark wood tones, awesome seating, high ceilings, artwork and a setup that somewhat mimics a bar. If you haven't checked them out before you should definitely give them a try. In this feature we get to speak with Karen Parry who is a partner and operator of the business. She it lots of fun to speak with and very sincere about her love for this industry. If you have teens that go to Carson Graham Secondary they also offer a discount for students who go to that school. Read what we chatted about below to get to know her and the business better.
How did Man Up Grooming first get started and what do you like about operating in North Vancouver?
Alison Koch is the founder of Man Up Grooming and she opened the doors in 2013. After spending her childhood on the North Shore, she was excited to open a business where she grew up, where her friends and family are and in a place she considers to be her home.
What are all of the products and services available to clients at the business location?
Man Up Grooming is not just a Barber Shop. Yes we create some of the best fades on the North Shore but we also offer waxing, threading, foot and hand maintenance as well as facials and hot shaves. Man Up is a place of 'grooming', not just haircuts.
When it comes to products, we offer a well thought out selection of independently owned, professional hair care, skincare, shaving and beard products such as J Beverly Hills, EVO, Splendid Bastard and Davines. Our barbers, stylists and estheticians are all product educated and can assist in finding a product that works to achieve the specific look and feel desired.
We try our best to source out products that are paraben, sulphate and cruelty free because health is not only what you put in your body but also what you put on your body and we believe no animal should be poked and prodded for our safety.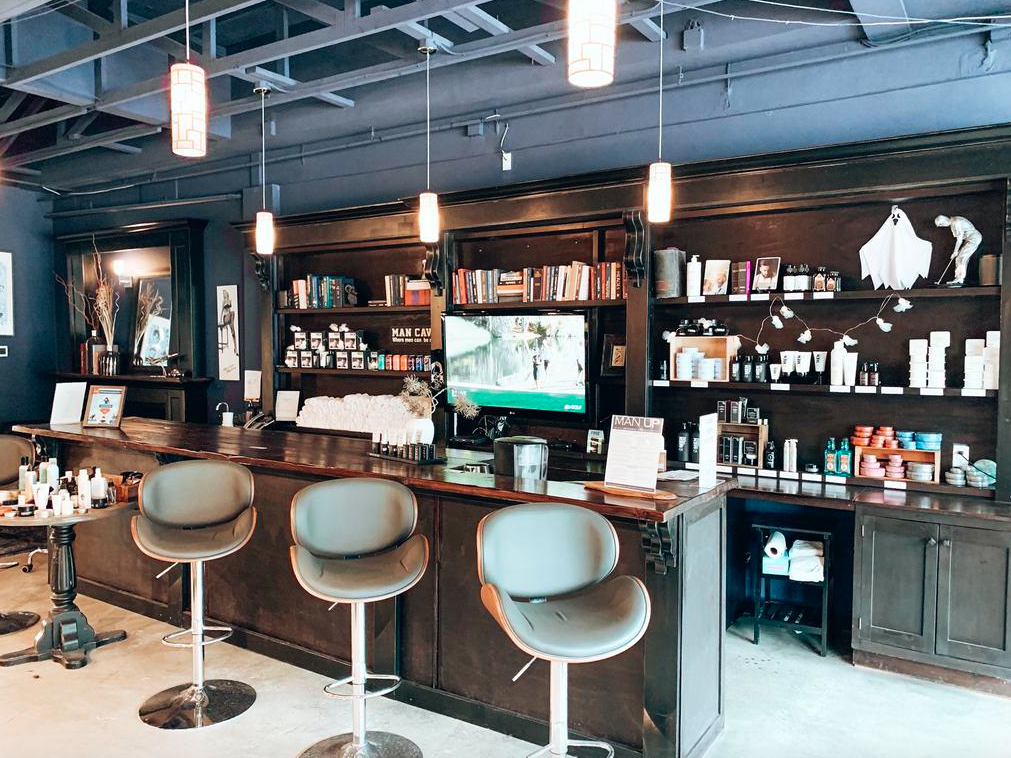 If some of our readers want to apply for jobs, how would they go about that?
We encourage talented folks from the community to pop in and see if we are a right fit. Like many businesses around the globe, we are in a bit of recovery mode due to COVID and our barbers are working extra hard to incorporate the extra precautions set forth by the government into their regular routine in order to make sure we are all safe. We want to be sure that their businesses are thriving and that they feel fully supported by us before we continue to expand like we were pre COVID.
How is Man Up Grooming different than other similar businesses in the industry?
Great question! A lot of barber shops are turn-style like operations which absolutely serves a purpose for a quick clean up and carry on. What makes us different is the time and quality we dedicate to our clients. Each of our appointments are 30 minutes and are scheduled as such. We want our guests to relax and enjoy their experience in the chair for the entire 30 minutes we set aside for them. Though we are happy to accept walk-ins, many of our customers book in advance as they prefer to be guaranteed a return to the barber that did their previous haircut or most often, they are on a time restraint and want to be sure to get a spot. Every one of our Full Monty haircuts includes a shampoo, conditioning, and head massage with a styled finish, with or without product, depending on what the individual chooses. Another unique pro about Man Up; we have no junior barbers. All our barbers have lots of experience in the barbering industry and are at the pinnacle of their careers which makes any chair a winner.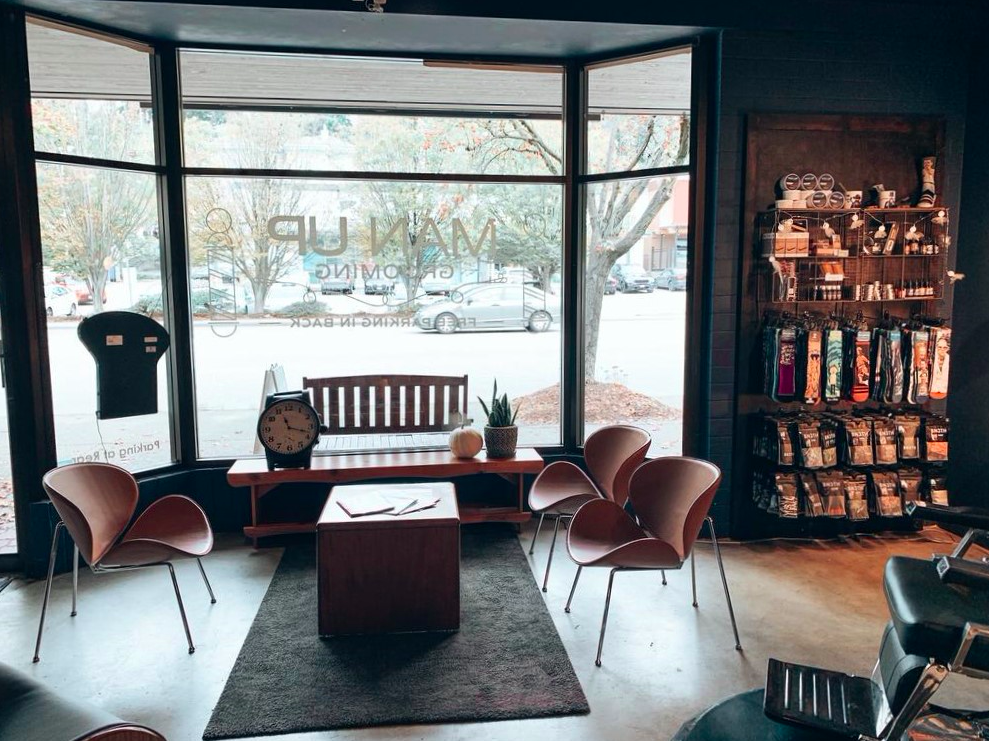 What are your long term goals for Man Up Grooming in terms of business growth or expansion?
We have both short term and long-term goals. Our short-term goals are to get Man Up thumping like it was pre COVID, get our liquor license so we can add to our clients 'Man Up' experience and to grow our aesthetics clientele. A good foot maintenance can seem intimidating at first but once you have had one…you'll be booking your next, before you even walk out the door. Our long-term goals are to expand. We would love a couple more locations on the North Shore. There is a lot of hair to be tended to in North Vancouver and West Vancouver and we are here for it!
Once you have your liquor license, do you plan on offering select beverages? What will that be like?
Another great question! We are not even guaranteed to get our liquor license but a couple girls can dream! If, and when we get it, we want to support local and we do support local whenever we can. In fact, that is how we met you! We are looking for local businesses that are rad in every sense, then we try to figure out how we can collaborate with them. When it comes to booze, I don't think we need go beyond North Vancouver for too much. With all the awesome breweries and distilleries right in our back yard, why would we go elsewhere? We'd love to serve local beer, a Whisky from the area and most definitely a signature Gin & Tonic from me (my personal fave).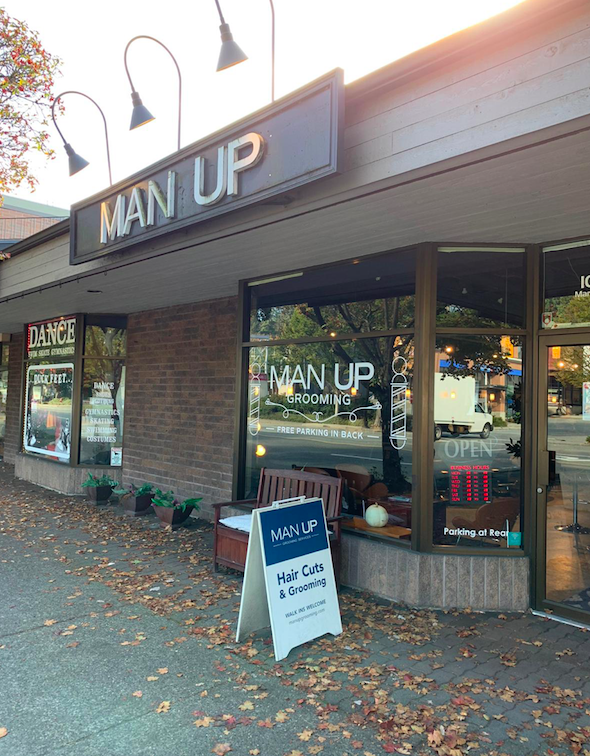 Your barber shop and hair salon is very well furnished, how'd you develop a great eye for interior design?
That's all my partner, the founder of Man Up, Alison. She initially wanted to create a space that felt a bit tucked away from the craziness of the day to day grind. A place where she could take her clients to a level of escape and relaxation they couldn't get anywhere else. The dark blue colour and rich, wooden bar make for a lounge type vibe that's cozy and a perfect place to kick your feet up and be pampered.
Outside of operating the business what do you get up to for activities in your personal time?
Well I do live on the North Shore so if I wasn't utilizing the incredible hiking trails it would be a total shame. I mean…some of the most beautiful trails in the world are right here, in our back yard and we are all SO lucky! I personally have three young sons who play sports so I spend a lot of time at soccer fields and hockey rinks across the Shore, usually not paying much attention to the game because I'm chatting someone's ear off. My husband and I often take the boys up to our cottage on the Sunshine Coast to Buccaneer Bay…it's truly a piece of paradise and the home of our Spring 2021 Man Up staff retreat. I should also add a note; you can sometimes find me and Alison at the Earls Bar in Ambleside West Van if she's in town lol! If you do see us, pop over and say hi!!
Alison has spent the past several years building Man Up and because of the entrepreneurial DNA she carries, she has another exciting venture she's pursuing but we won't say too much about that because it could be a future story for Lonsdale Avenue Magazine… wink wink 😉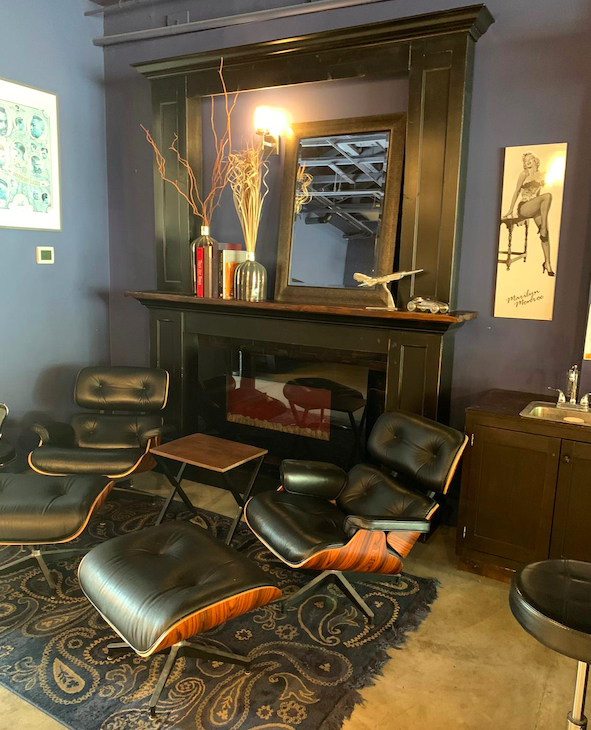 Is there anything else you might want our readers to know about you or your business?
One of the most exciting things we are doing right now is our collaboration with Carson Graham Secondary. We are offering $10 off a first haircut in the Barber Shop and $20 off any hair treatment at our sister salon Vibrant Fabulous Hair. In addition to this sweet discount, we will donate an additional $5 to the Carson Graham Scholarship Fund. If this goes as expected, we'd like to open it up to the other North Shore High Schools. We love our community and if we can grow by supporting the students and the local businesses around us, it's a WIN WIN. We want to thrive while everyone around us is thriving too!
In closing, Alison & I both grew up on the North Shore. We both know how fortunate we are to have grown up with snow capped mountains behind us, a deep blue ocean ahead of us and salty, fresh air all around us…and that's not even mentioning the incredible community we get to be a part of. Man Up is related to that legendary, North Vancouver vibe and now we want to plant ourselves into the landscape. We want everyone to know about us, utilize us and enjoy what we have to offer.
For more info or to book a hair cut or styling visit their website and connect with them using social media apps on Instagram and Facebook.
The business is located at 1083 Marine Drive in North Vancouver
Customer service is bookings@manupgrooming.com or 604-770-2223