To say the world of today is different then what it was like for us who were born in the 60's, 70's and 80's is a massive understatement. When we raise our kids and youth we tend to view the world through the lens of how things were like when we were kids. As a parent or guardian it's really important to not do that, as the rise of the internet, smartphones and social media have really changed the way people live. Much of life in general is digital and not necessarily face to face, which leads to members of generation Z spending a lot of their time in their rooms or on their tablets or phones chatting with friends globally. Social media apps like SnapChat, TikTok, ClubHouse and Discord are the core of what it means to be a teen and young adult nowadays. Now you overlap that with the rise in artificial intelligence and machine learning and you have a really different future outlook for 'Gen Z' going into the marketplace for work and careers post school graduation. And sorry to say this but Facebook is for the older generation and 'not cool' anymore, which is one of the reasons our magazine doesn't have a page.
With the above said and given the world is a strange and beautiful place, we are excited to speak with Savannah Locke who was raised here on the North Shore, and she has a podcast for generation z looking at what to do after school for work or career. The podcast is called "Well, Now What?!" and she hosts guests speakers and topics that are directly in line with what they are dealing with in life right now. This is a really cool way to empower the younger generation as transparent conversation is always a good healthy way forward. Over the years people like Joe Rogan, Mike Tyson, Gary Vee have really opened up the marketplace for podcasting to become a popular mainstay in culture for people to learn and grow. Checkout what we discussed with her below and consider connecting with her at the bottom of the article to become a guest of her podcast or ask questions. We encourage those of you who are reading this article to start your own podcast and share your thoughts with the world. Using a service like Anchor.
How did you get started with your podcast and what do you like about operating in North Vancouver?
I grew up on the North Shore and spent a lot of my teen years competitively dancing at Shift Dance Academy. Any free time that I did have in high school, was spent travelling for competitions or performing on stages. A huge part of my identity was dance and when it was time for college, I wasn't too sure what I wanted to pursue, so I decided to do my undergrad at the University of Victoria in Business. I actually specialized in Entrepreneurship and I realized how much I loved the concept of running my own business and stepping into a leadership role. When it was time to graduate, I had this feeling of.. What now? What am I supposed to do for the rest of my life and where should I go? I know a lot of my peers were feeling the same way and just unsure of what they wanted to do. We're told that we're supposed to go to high school then college then get a good job. But, it's really not that easy. We live in a time where there are SO many options and opportunities in terms of career. Most people now have multiple careers in their life. I've always LOVED podcasts and I've always been the type to reach out to other professionals on LinkedIn and ask them about their career journeys. I realized… I should be recording these conversations for others to hear. So, I bought a microphone for under $40, did some research on how to start a podcast, and then launched a few episodes within a few months. I initially only planned on maybe doing 10 episodes max, but I'm now at over 50 episodes and I am so proud of the little community I've built! I also love how supportive the North Vancouver community is with the podcast. I've partnered with a few local brands on the podcast as well.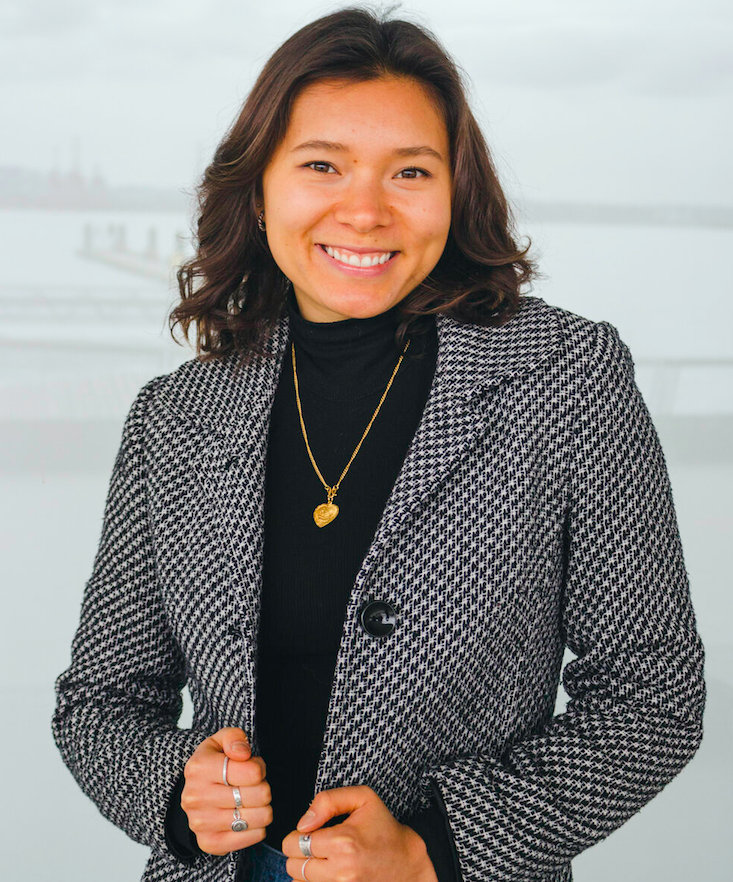 What makes your podcast different then similar platforms in your industry?
There are A LOT of podcasts out there, but I think what makes mine so unique is the diversity of guests. I've interviewed people from completely different backgrounds such as Maya Vander (Selling Sunset Realtor), Mike Sleath (Shawn Mendes' Drummer), Koa Smith (Pro Surfer), Lizzy Tabolt (Intimacy Coordinator for Bridgerton), Anna Todd (Best Selling Author), Sara Mora (Immigrant Rights Activist). There is something for everyone! I also bring in real-life topics and conversations such as disordered eating and body neutrality.
Before operating your podcast what were you doing for work or a career?
The podcast is actually a side-hustle/passion project. I work in marketing at a tech company and do social media as a content creator.
Outside of operating your podcast what do you get up to for activities in your personal time?
I love being outdoors, reading a lot, listening to podcasts, and hanging out with friends. I also love fitness and working out. Shoutout to F45 on Lonsdale!
If you would like to ask questions consider visiting her website
Connect with the podcast on Instagram and LinkedIn
Send messages to savlocke@gmail.com or 778-686-2105