Have you ever wondered what it would be like to walk around naked with other adults and enjoy the world as nature intended? Doing gardening or perhaps sun bathing, or even taking a dip in the pool and enjoying some volleyball. Well… break out the banana hammock aka speedo (or lack there of) and lets dive into this fun historical topic of conversation. There's no reason to be shy about being naked, there's only so much you can see.
North Vancouver is home to Canada's very first nudist naturist colony club located right near Upper Lynn Valley beside Mount Fromme. It's called the Van Tan Club and was founded in 1939. They are mainly open during the warmer summer months but of course with covid19 this year, they are planning to open some time in July. If you are into doing something unique and fun with other eccentric adults this might be the right thing to consider. Plus of course you can always checkout Wreck Beach or other nude places in British Columbia.
Quick Rules about BEING A NAKED NATURIST
There are growers, and there are show(ers), don't underestimate either
Never point at another persons groin area and make eye contact
What happens at Van Tan Club, stays at Van Tan Club (mostly)
Always keep an open mind and be supportive of one another
Dress however makes you the most comfortable
Don't forget to apply sun screen to your private areas
When you bend over to pick stuff up, point your butt away
You will find well trimmed and hairy regions, everyone's different
Always keep a towel around in case you need it for any reason
Ask before taking photos of other nudists, it's the classy way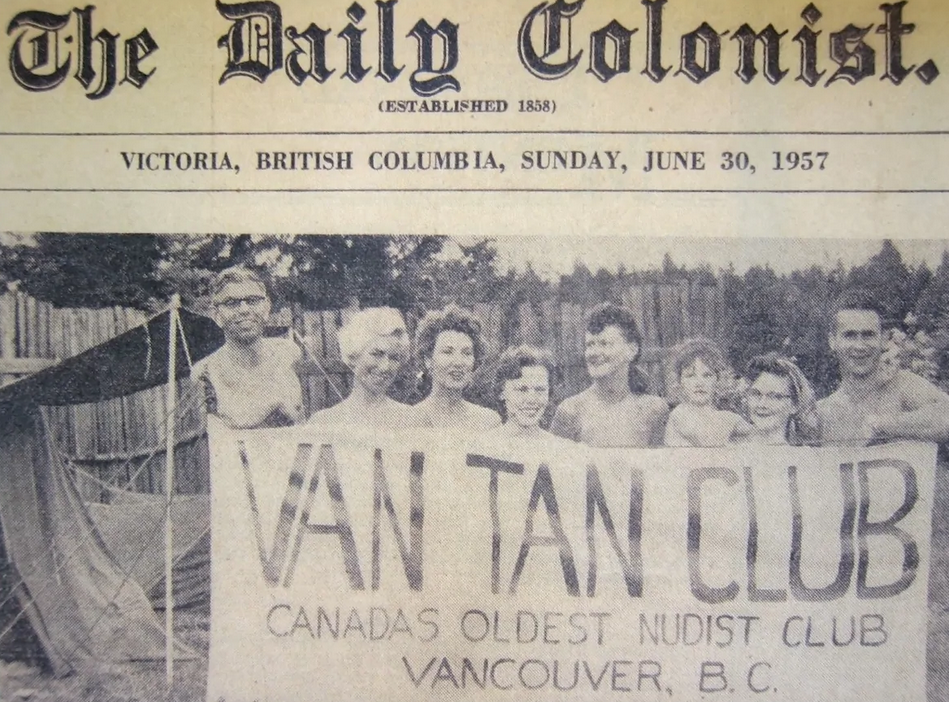 Get to know North Vancouver's nudist CLUB
The Van Tan Club is Canada's oldest nudist club with a total dedication to Naturist principles. Founded in 1939 by Ray Connett "The Father of Canadian Nudism," we are located in picturesque North Vancouver, British Columbia, Canada. The Van Tan Club provides a rustic, relaxing, and private park for the enjoyment of social nudism. The club has a wood-fired sauna and hot tub, facilities for volleyball, badminton, horseshoes, shuffleboard, croquet, bocci, children's play equipment, spacious lawns for sunning, and lots of shade trees.
The club sits on roughly three hectares, on the lower slopes of Mount Fromme, with a marvellous view of Burrard Inlet and Greater Vancouver. It is 1.8 kilometres (1.1 miles) along a private road extending from the top of Mountain Highway above Lynn Valley in North Vancouver, only 30 minutes from downtown Vancouver. The grounds have adequate parking and space for RV's and tents. One of the nicest things about the club is its distinctive atmosphere. Friendly, yet without imposing on the personal freedom and privacy of each member. The club is small and rustic. and members are proud of its park-like setting, secluded, yet close to the city.
The Van Tan Club is a member-owned club with a policy of keeping the fees as low as possible. This means that the majority of the routine maintenance and club improvements must be done by the members themselves. In addition to the annual fees, members agree to contribute work to their club! As a condition of membership, members pledge to contribute a minimum of 10 hours of work each year. Members unable to to work by reason of age or physical condition are expected to contribute by way of supplies, materials or monetary donation.
We welcome all those interested in nude recreation, and relaxation, with like minded people, in a non-intrusive family atmosphere. The club welcomes first-time visitors to nude recreation, as well as members of the American Association for Nude Recreation (A.A.N.R.), the Federation of Canadian Naturists (F.C.N.), the International Naturist Federation (I.N.F.) and The Naturist Society (N.S.).
Info for Visitors to the Van Tan Club RESORT
The Van Tan Club welcomes local visitors on a trial basis. Each prospective member is allowed up to three trial visits to meet other members and see our beautiful grounds. Prospective members must visit three times before membership application will be considered. Out of town visitors are also welcome and may be given the use of a gate key, upon payment of a $100 deposit. Access to the club is made by prior arrangement with management. You must call, write or e-mail before arriving. Visitors please note, our phone number is directed to a message service which is checked once each 24 hours. We cannot respond to requests to meet you at our gate on an immediate basis. Please call at least 24 hours in advance of arrival.
You can make an appointment to view the grounds with no obligation. Saturdays at 10am is the visiting time. Remember the other members have day time jobs just like you. (email info@vantan.ca or call the club line at 604-980-2400 to arrange a visit.) From there, arrangements will be made for someone to meet you at the gate, which is located at a mountain access road at the top end of Mountain Highway in North Vancouver. (All members have their own key for this gate.) The club grounds are located about two kilometres further up this road, made clear by a yellow gate and signs. From there, you drive onto the club property. At this time the person who met you at the gate will take you on a tour of the grounds and take your payment and sign you in. Now, you will have the option to spend some time enjoying the grounds. Plan to make a day of it, as most new visitors don't want to leave, even at sunset! We have a very relaxed atmosphere, so feel free to find an area for privacy, or socialize at your own pace! Of course, you may leave at any time. Just inform a member when you wish to leave, and someone will go down the road with you and unlock the gate.
If you would like more information visit the official Van Tan Club website.
You can find the private nudist club on social media using Facebook.
The naturist resort is located on Mountain Highway in Upper Lynn Valley.