When you think of how your master bedroom closet or main storage closets of your home function and feel, chances are they are packed with too much stuff and things are buried in there that you haven't seen for months or years. Have you thought about changing that up to make it easier to store items and keep your belongings in an orderly fashion?
Getting a custom closet system setup in your home not only increases the overall storage capacity, but it makes items stored within them more easily accessible. Which means you can downsize and streamline while being able to access your seasonal clothing and items effectively.
In this article we got to chat with the team at Cosy Closet which is based here in North Vancouver and owned and operated by a family. So when you get a custom closet done with them, you know you are directly supporting locals in the community and keeping the cash flowing through the neighbourhoods around us. They offer walk-in closets, reach-in closets, laundry rooms, pantries, built-in units, home offices, shoe organizers and wall beds.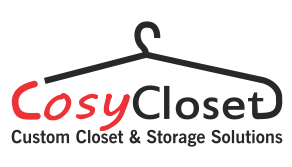 How did you get started with your business and what do you like about operating in North Vancouver?
When my wife and I decided to start our business here in North Vancouver, we studied so many options. I always loved carpentry and working with tools. So when we came across "custom closets" I thought with myself "that's my dream job!"

Making designs and transforming odd-shaped places or under stairs spaces into storage or a pantry is a very satisfying challenge for me. I always get excited when I see an odd shaped closet, because I know I can make the most storage space out of it.
What are the products, services and brands that you offer to customers?
We are designing and installing custom closets and storage units. If you need some shelving for your pantry or a small home office in your den, we are here to help you. We are making walk-in or reach-in closets, pantries, home offices, shelves and linen cabinets for laundry rooms, entrance units and mudrooms, wall beds and much more. No matter how big or small your project is, we will have a creative solution to help you store more.
If our readers want to purchase products or services from you what is the best way for them to do so?
We think about our customers and want to make it as easy as possible for them to reach us. If you decide to renovate your closet or have more storage or a home office, write an email to us or give us a call below. We will arrange a free in-home consultation for you. We come over, measure your space and learn about your needs. In a couple of days, we send you some design options and quotes. We will work on the designs together until you make sure this is the one that you wanted.

Check our website to get some ideas. You can submit your information through our website as well. We recently started an on-line quoting system. You simply need to measure your space (roughly) and fill out the form as much as you can, and we come back to you with a design and quote.
Outside of operating your business what do you get up to for activities in your personal time?
I have a passion for cooking and baking. I love baking fresh breads and trying new recipes. When I'm home, I'm either on my computer and designing closets or I'm in the kitchen and cooking something. My daughters are my biggest fans. Recently they started baking too, which made me a very proud daddy.
Lastly, is there anything else you might want our readers to know about you or your business?
Finding enough storage space at home is always a problem. Many of us are living in small condos and really want to make the most out of our space. Many of us like gardening or sports and we don't know where to store our tools or gear. Let us be worried about it. This is our job to fix your storage needs.
To get a custom closet done for your home of office head over to their website for more information and connect with them using social media on Instagram and Facebook.
Customer service is info@cosycloset.ca or 778-990-3739