When it comes to having an awesome quality of life and many things to do and see, Vancouver's North Shore is a Canadian mecca and well known around the world for action sports. Whether you are into snowboarding at Grouse Mountain, Mount Seymour or Cypress Mountain, as well as skateboarding at the many local skate parks and long boarding down hills, or if you're into wakeboarding up Indian Arm or out in the Burrard Inlet. We also have regional access to some epic surfing destinations that are here on the mainland as well as on Vancouver Island such as Tofino.
If you are looking at getting into any of the above sports or wanting to upgrade your gear, definitely checkout the homies at The Boardroom Shop on Lonsdale Avenue in North Vancouver. Situated right close to Highway 1 so you can visit them on your way to Horseshoe Bay, Squamish or Whistler and also only a few minutes on the bus from Lonsdale Quay exchange using buses 229 or 230 so you can visit from downtown Vancouver. We are stoked to have had the chance to speak with John Clendenan who is the manager at the store to get to know the business and him better for the local community. There is also a photo of him here in the article doing skateboarding at Lonsdale Skatepark as we love shameless self promotion.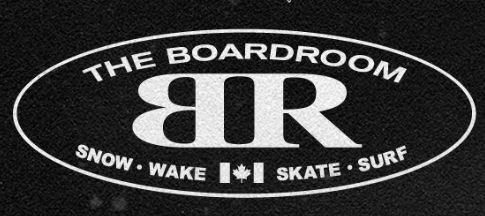 How did the Boardroom originally get started and tell us about the history of the North Vancouver location?
The Boardroom opened in 1987 in Vancouver and the North Vancouver location opened in 2000 at the location we are still in today.
If some of our readers are new to skateboarding, snowboarding, surfing or wakeboarding what can you recommend?
If you want to enjoy yourself I recommend stopping by the store, our staff use the products that we sell and are happy to share their knowledge to help get you started. Plus we can connect you with some locals who have been doing these sports for years.
What kinds of products can our readers find at your store location on Lonsdale Avenue?
We have a full selection of boards and safety equipment as well as clothing and footwear for Women and Men. We also have over 100 brand names to choose from so you will always be able to find what you need in the size and style that suits you best.
What are your current promotions that you have going on heading into the summer season for 2020?
Normally we would have already hosted a few skateboard contests or demos. Due to circumstances beyond our control we have had to postpone those events this year and are using social media to keep customers aware of new arrivals and working on ideas to give back to the community. If you have any cool ideas for us get in touch as we love to chat.
Outside of managing the business, what do you get up to for fun in your personal time?
I really enjoy skateboarding in the summer and snowboarding during the winter. Outside of that I enjoy spending time with my lovely girlfriend, playing with our cats and hiking around the North Shore. There are literally thousands of kilometres of trails to explore right here in our backyard.
Lastly, is there anything else you might want our readers or the community to know about you or Boardroom?
We are very lucky to be part of a great community on the North Shore and enjoy sharing our passion for having fun with our customers. We live in an amazing place and if you want to try something new come visit, we have the toys you need to enjoy yourself.
For more information you can visit their website and connect with them using social media on Instagram, Facebook, Twitter and Pinterest.
The store location is 2057 Lonsdale Avenue in North Vancouver
Customer service is 604-985-9669 or johnc@boardroomshop.com