As one of the original local eateries in the Lower Lonsdale Shipyards District, Thai House Restaurant offers a truly unique experience in that the food reminds you of being in Thailand and they have tons of space for seating and booths. Much of their front of house and cooking staff have worked there for a long time as well. It"s truly one of those places where you feel like everyone who works there is family.
A little known aspect of this eatery is that it's owned and operated by Desmond Chen, who we used to party with back in the day downtown Vancouver in Yaletown doing the rounds at local night spots. They also own the restaurant called Pink Elephant Thai, amongst other business holdings. Desmond is a multi-faceted investor and visionary in a lot of ways. In this article our food blogger @with.rose.love shares her experience dining here recently.
Sweet, salty and spicy are the key flavors in Thai dishes. With fresh herbs, spices, and aromatic roots in almost all their dishes, I personally find Thai comfort food tastes especially good on rainy days, like a bowl of hot spicy Tom Yum soup, simple yet flavorful. I recently visited Thai House Restaurant in North Vancouver, they provide authentic and contemporary Thai dishes with rich, bold flavors that can surely satisfy your taste buds.

As you walk in to the restaurant, you can catch a glimpse of the old-world charm décor and fragrances of Thailand. The menu offers traditional Thai dishes and some fusion infused creations like Grilled Saba fish, Fresh clams, New Zealand Lamb loin chops and Gai Yang.
We started off with crunchy deep fried tiger prawns wrapped with egg noodles dipped with sweet plum sauce. Then we had their "Thai Satay", which are skewered and marinated in amixture of Thai spices and coconut milk, dipped in peanut sauce. They were delicious! We also tried the Lettuce Wrap; Lean minced beef with fresh basil wrapped in refreshing lettuce leaves, perfectly paired with a bottle of Thai beer "Singha".

The next dish we tried was their traditional red Thai curry, you can see lots a of aromatic ingredients that are added, like onions, ginger, garlic, bamboo shoots, bell peppers, fresh basil and coconut milk, thus adds great depth of flavor.

Pad Thai is a very popular dish in all Thai cuisines, they are Thai style fried noodles sauteed together in a wok and tossed in a pad Thai sauce. Their Pad Thai is made with rice noodles, shrimps, grounded peanut, chill paste, egg, bean and their delicious Thai sauce! The sweet-savory-sour sauce scattered with grounded peanut is a perfect combo and is absolutely delicious.

For dessert, we had deep-fried banana served with coconut Ice-cream. I highly recommend checking this place out.

They are currently hosting a Christmas promotion –  where you get a FREE $25 gift card with the purchase of a $100 gift card.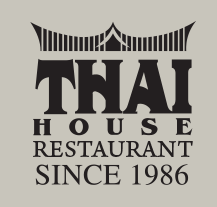 For more information you can visit their website
Connect with them on Instagram and Facebook
Restaurant is located at 116 Esplanade West in North Vancouver
Customer service call 604-987-9911 or email ree@thaihouse.com
Hours of operation: 11:30am to 10:00pm daily