This holiday season when you go to office parties, corporate events and family or friend related functions of course you want to look and feel 'supa dupa fly' and in doing so put your best foot forward. Getting your hair, nails, toes and skin all ready to rock so when you enter the room you turn heads.
To make it easy for you we have sat down with Dana Lyseng who is the owner and creative director of Supernova Salon in the Lower Lonsdale Shipyards District. She took some time to chat with us and let us learn a bit more about her business so our readers can take advantage of the services.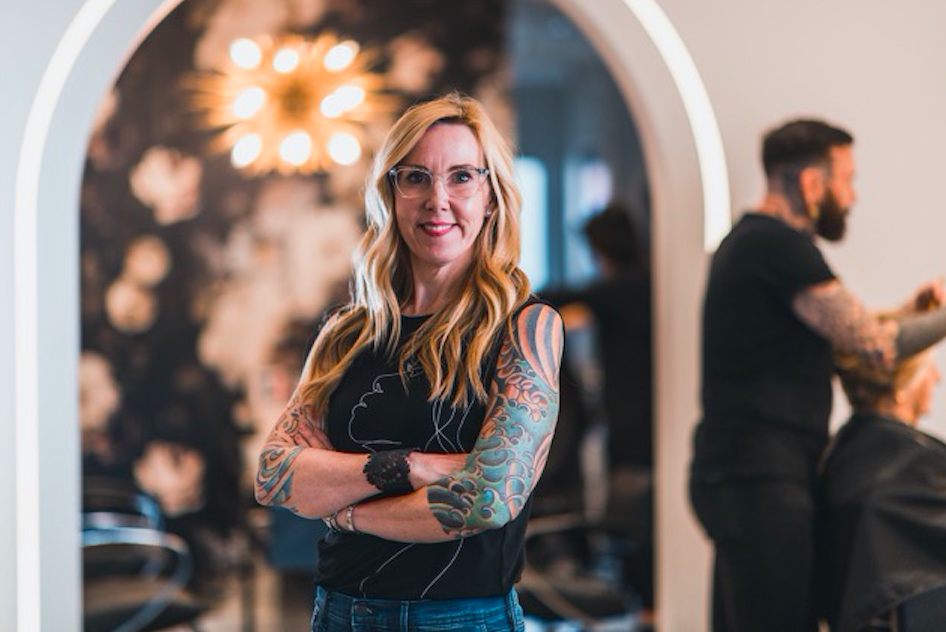 How did you get started with Supernova Salon and what do you like about operating it here in North Van?
I owned the salon downtown with one of my best friends and after many years when our lease was up I wanted to return to North Vancouver (where I grew up) and be a part of the new re-created Lower Lonsdale community. The end of that business was the beginning of my new salon so just like in space the death of one entity gives birth to the new entity, hence The Supernova. That's where the name came from. I love the North Vancouver vibe and the loving supportive community in family and business. People really care over here and I love that!
What are the most popular men's and women's hair styles for the 2019 fall season?
Fashion is so exciting this time of year. For this Fall season you can definitely feel the late 70's and early 80's vibe with a dash of 90's (notice all the crop tops out there lol). For longer hair the modern shag is a top choice. Keeping length with tons of sexy layers and a big fringe is gorgeous right now. Shags are so versatile, they look amazing with all lengths and make every face shape look its best! For shorter looks the old school barbering is still so sharp especially this time of year. Tight fades, hard parts and super tailored looks are very in for the fall. Colour work is still very monochromatic and lived in for top fashion looks but the fall is a great time to try warmer shades. Golden blondes, honey hues and gorgeous auburn's are so nice against the colder weather.  
In terms of products for hair management, what brands do you work with and have for sale?
We support 4 main professional brands at Supernova Salon. Firstly is Kerastase, my most loved hair care line. Kerastase is designed to make your hair it's most beautiful, correcting all kinds of hair challenges. We also work with R+Co which is an amazing plant based vegan, vegetarian, sulfate and paraban free line. The line is super fun, young and amazing in creating lived in, textured hair styles and modern finishes. They also have the best dry shampoos on the market #truth! The salon also supports a really cool line from Sweden called Sacha Juan. This line has an ocean algae technology that strengthens hair and creates beautiful natural looking finishes. The line is clean (also vegan) and holds up to European standards of health and beauty. Lastly we are aligned with Wella Professionals. I am a global ambassador for Wella, I lead the Canadian team and work in all kind of amazing places educating and presenting at shows for their team. We use their products as well. The Wella line is an awesome support to our colour as we use Wella colour in the salon.
What are all of the services that you offer within your salon space on Lonsdale?
We are 100% hair, all day and all night baby! Hair cut design for all people, we love cutting hair! If I'm allowed to brag my team kicks ass at hair colour too. Dark hair, light hair and everything in between, correcting it from being to dark or correcting it from being too light. We love classic colour work and all kinds of modern lived in Balayage, Foilyage and more! We have a texture team that are experts in modern perming services as well as we love doing KeraSmooth treatments to get the frizz out of hair and helping all people from our rainy weather that just kills a good blow out. We host a Blowdry Bar and Dry Bar in the salon for clients that want finishing services for special occasions or just because its so nice to have someone else blow out your hair. We have a second floor so we can also offer a private area for women who are not able to have their hair done in view of any men. This I am very happy about everyone deserves an amazing in salon experience and I feel good that we can support women who need more privacy. We have a strong wedding team and if we need to do weddings we do have some amazing make up artists that we work with to support the wedding.
If some of our readers are stylists, how would they apply for a job if they are interested?
We are always looking to grow our team. We have many different job opportunities for many different roles. You don't have to be a stylist or a hair student to work with our salon family. Send us an email using info@supernovasalon.com or phone us 604-904-8448 or come by with your resume. We have a strong team, amazing culture and it's a super fun place to work.
What do you get up to in your spare time outside of running your salon?
Haha, I get asked this all the time and it's more hair dressing. I compete in national hair competitions as a hobby so I do a lot of that when I am off. I am a mom so I spend as much time as I can with my smalls xo I also love to spin I go to Ride Cycle Club (love them), hike and be outside in all the amazing places North Van has to offer. I have a big family and spend the rest of the time with my brothers and sisters.
Lastly, is there anything else you might want our readers to know about you or the business?
Supernova Salon is my first baby and I love it like a baby. I wanted to create an environment where like minded stylists and people could be together, learning, supporting each other, being awesome and developing their craft every day. We are an education minded business and I want everyone in every roll to be empowered and be their best self. I have always and always will host apprentice programs for hair students. I truly believe that those who have been taught should teach, the education and experience our team has is meant to be passed on to the new talent. In any skill based trade we are all a result of what we have learned from others and we love supporting the learning and development of young talented stylists. I love having a room of experienced professionals and new talent all in the same salon. We learn and are inspired from them and they learn and are inspired from us. It's magical. We are much more than a salon we are a team and a family. 
If you would like more info about Supernova Salon visit their website or connect with them on social media using Instagram and Facebook and of course you can visit the salon which is located at 232 Lonsdale Avenue.