All across the North Shore stretching between Horseshoe Bay through West Vancouver into North Vancouver and over to Deep Cove there are tons of amazing local artists and artisans creating world class works of art and expression. We have such an inspiring backdrop with the North Shore mountains and ocean surrounding us, it just makes sense to have an abundance of local art.
In this interview article we get to learn about the North Shore Artists Guild (NSAG) and what they offer as an organization in supporting the local art scene. We had the opportunity to chat with Lilie Rutter who volunteers with the Guild working in the promotions department for the group. Check out what she has to say below about the North Shore art scene.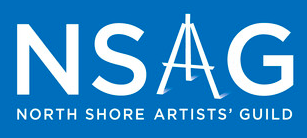 What is the North Shore Artists Guild and how did it get started?
The Guild was founded in 1947. Our goal is to increase the interest and appreciation of original art in our communities. Our focus is on developing our member artists through demonstrations, courses, and workshops. You can learn about the history of the Guild by watching this YouTube video.
How can local artists and designers join the Guild to showcase their work?
We have approximately 325 members across the North Shore from Howe Sound to Deep Cove. To join you simply need to download and return an application form from our website. Annual dues are currently $75 for an Active Membership in the Guild. And we look forward to welcoming new local artists to join our group.
What do you offer in terms of support for local artists?
Although, many support services are currently on pause, we normally offer: Monthly Demonstrations & Meetings, Workshops, and Painting Groups. We also stage a number of shows to present our art to the communities and to give our members an opportunity to sell their paintings. Our two feature shows are the Winter Art Sale – a one-day event in November showing hundreds of beautiful paintings in North Vancouver and the Spring Art Show – a one-day event in May showing about 400 paintings at the West Vancouver Community Centre.
You have a virtual spring art sale happening, how can people buy local
art?
During this period of Covid-19 physical distancing, the North Shore
Artists Guild is changing their popular Spring Art Sale into a virtual
experience. This Spring Art Sale hosts 50 paintings from members of the Guild. Paintings start at $100. The online show runs May 2 – June 13 and you can check out the works of art here.
What do you hope to see after the social distancing lock down is over
for the art scene?
Continue to adapt to meet our mission and community needs and welcome new local artists to join our Guild. We have a wealth of knowledge to share with new upcoming talent and look forward to working together to support the local art scene. A big part of being an artist is monetizing your works, which can take a bit of training and education for people new to the industry.
What is your official role with the artist Guild and who else works
within the management team?
I am an active volunteer and part of the promotion team, working with Jennifer Demery. Others in the Guild are:
Susan Thomas, President
Edith Warner, Treasurer and Past President
Arlene MacAulay, Membership
Jennifer Demery, Exhibitions
Jim Foreman, Rec Secretary
Ingrid Gutzmann, V. President
Jacquie Manning, Past President
Maureen Coles, Education
Kaarina McGivney, Member at Large
Outside of working with the artists Guild, what do you get up to for activities?
I enjoy painting and raising my family and so naturally living on the North Shore I enjoy outdoor activities and sports. There's so much to do and explore across this area, from hiking to biking and water sports. We truly live in one of the most beautiful areas on earth.
Lastly, is there anything else you might want our readers to know about
yourself or the Guild?
The North Shore Artists Guild is more than an artist group, members have been able to build strong, supportive and lasting friendships and share the joy of a common passion. We look forward to welcoming new artists into our Guild and are happy to answer all of your questions.
If you would like more info about the Guild visit their website and connect with them using social media on Instagram and Facebook.
To contact them directly use email – contact@nsartists.ca