Cooking a great meal through quality preparation and processes is a function of experience, ingredients and of course the tools you are using. Having excellent knives for your kitchen or restaurant is paramount for efficiency and the display of the food on the plates to customers. But you don't have to settle for a knife that just functions well, it can also look amazing and be one of a kind or part of a custom set made just for you.
Lynn Valley Forge is based in North Vancouver and is owned and operated by master metal craftsman Casey Vilensky. His work speaks for itself and he ships tons of custom knives and knife sets around the world and in particular into the United States. However, he would like to supply knives to local restaurants and eateries here in North Vancouver and across the North Shore.
If you own or manage one of these food locations and want the best knives you have ever seen, consider contacting him below. As well if you have a sushi restaurant or a place where there is an open kitchen, these knives will be stunning for your customers to see and enjoy. They make for great discussion pieces.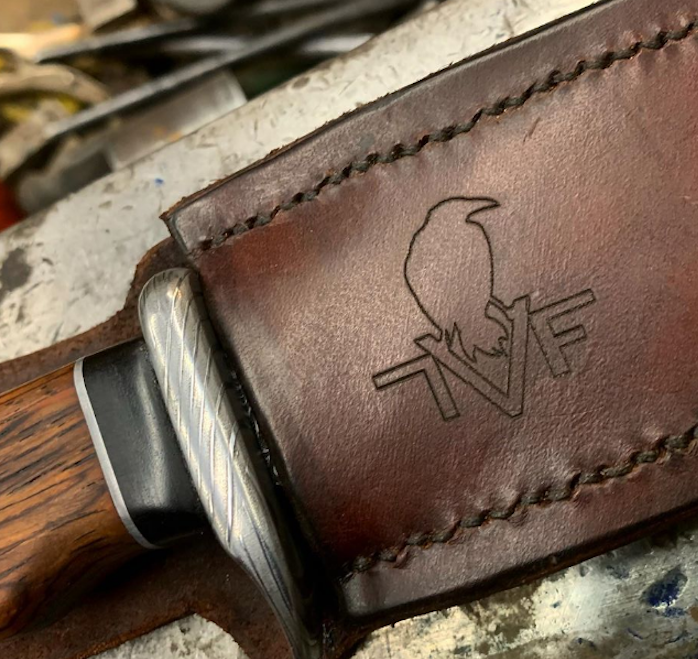 How did you get started with Lynn Valley Forge and what do you like about operating in North Vancouver?
I started forging knives a couple years ago out of boredom really. At the time i was doing a lot of wood working like turned salad bowls and vessels. After 8 years there wasn't a style I hadn't tried. One day while looking on YouTube I came across a channel of an English Blacksmith Alec Steele. Alec makes his own pattern welded steel and forges everything from door pull handles to $20,000 swords. I went deep down the YouTube rabbit hole for a week. Watching every knife makers channel out there and I knew what had to be done.
At the time I didn't own a welder or have any metal working experience. But a spark was lit. I bought an inexpensive welder and learned to use it while making my own belt grinder. An essential tool in knife making. Once that was complete I built a propane forge and purchased a small anvil. 2 weeks later I had my first knife. Completely addicted to my new hobby, I started collecting Blacksmiths tools and building more of my own. Knife after knife they got better and my custom works spread.
Having my shop and my home in North Vancouver is great for me. There is an awesome community feeling on the North Shore that I didn't feel living in downtown Vancouver previously. Having the mountains and the forest at my front step is a bonus.
Where do you see yourself taking your business both locally and internationally?
Though I hope my name gets out in the world I am not planning on hiring any employees or ever doing high production volume. I love being able to create one off heirloom quality pieces that will outlast me in this world and be handed down through generations.
What does the process look like for making your own knives here locally and do you work with North Vancouver restaurants?
I always start by making my own pattern welded steel before forging anything. This can take a week of work sometimes. From this steel I make kitchen cutlery and camp/hunting knives. Most of my work is done by custom order. Since all my pieces are sole authorship they can take a while to complete. But if you're so inclined one can purchase ready made pieces on www.eatingtools.com and soon at Ai & OM here in Vancouver.
I would love to develop relationships with local chefs and restaurants. Perhaps collaborating with them on custom pieces.
In your spare time outside of operating Lynn Valley Forge what do you get up to for activities?
When I am not in the knife shop or enjoying the North Shore with my wife and two young kids, I enjoy snowmobiling and dirt-biking in the Sea to Sky back country between here and Pemberton.
For more info you can connect with them on Instagram and Facebook.
Customer service is casey.vilensky@gmail.com or 604-317-2420