As one of the first brewing companies to setup shop in the Lower Lonsdale Brewery District, the operators of Green Leaf Brewing are making the venue accessible and high value, offering different happy hour drink specials throughout the week. Plus of course you can fill your growler and buy cans of beer. The first company on the North Shore doing micro brewing was Sailor Hagar's back in 1984.
You can find them at the Lonsdale Quay Market adjacent to the Seabus and Transit Exchange. The waterfront boardwalk out front has views to downtown Vancouver and over to Lions Gate Bridge and West Vancouver, as well as the North Shore mountains from the 'Q' tower lookout.
When you walk off the seabus and walk past this brewery you will see a sign outside in the corridor that says "husband daycare centre, drop off your husband and he can enjoy beer while you shop in the Lonsdale Quay Market", which we found quite funny. Good placement for the advertising.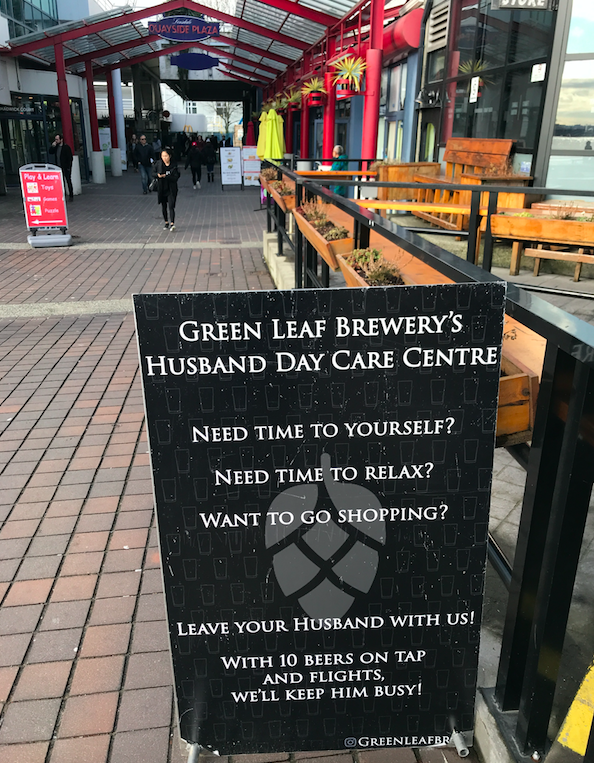 The interior of the micro brewery has a long bar area with stools for sitting on, plus a variety of high top tables and benches near the front windows, outside there is a patio area for about 25 people. Overall the venue can comfortably accommodate 60 – 80 people. Friday nights are busy but not too crowded where it's hard to move around.
From time to time they have $5 pints on their menu, keep an eye out for that if you walk past the area. They brew beer right on location and serve it as fresh as possible. You can get 4 pack cans of beer to take home as they have off sales. Out front of the brewery there is Bowen Island Pizza which is definitely one of the best places to get eats anywhere on the North Shore. They recently introduced a vegan menu at the pizzeria.
Take a day trip from downtown Vancouver and walk around the Shipyards District to check out the shops, new museum, art gallery and other activities to do. Then on your way back to downtown stop at Green Leaf Brewing for a pint of beer and pickup a pack of cans to take home for the fridge. One of the most central and easily accessible breweries in North Vancouver. There is plenty of parking if you want to drive from anywhere in Metro Vancouver.
For more info checkout their website or Yelp reviews and connect with them using social media apps Instagram, Twitter and Facebook. The address is at the Lonsdale Quay Market on the south side – 123 Carrie Cates Court.
When you walk off the Seabus in North Vancouver stay right while walking.
Promo Video for Green Leaf Brewing
Photos of Green Leaf Brewing