Living here on the North Shore and around the Sea to Sky corridor is such a treat, especially with the wild game, salmon, shell fish, grouse, morel mushrooms, berries and similar to use for creating amazing eating experiences. When you combine what grows here naturally with locally sourced and made spices, you get a truly legendary dining experience. Great food made with purpose and love that is both nourishing and delicious as well as paying homage to the lands and first nations heritage.
Ethical Table is owned and operated by Mike Sonier and to be honest, he is one of the most hard working and devoted local food professionals that we have ever had the privilege to know. You can find him all over the North Shore, up into Squamish and Whistler and across southern British Columbia. Meeting with local food producers and creatives in the culinary space to always be on the cutting edge of cuisine. His social media is super engaging and you can tell that he loves devoting himself to private dining experiences and delicious spices that make your food explode with flavours. Checkout what he had to say below and consider buying his seasonings and using his services for private events and parties. He also does various types of food consulting and teaching classes.
How did you get started with Ethical Table and what do you like about operating in North Vancouver?
I offer private dining experiences and have a locally inspired spice company using 100% compostable packaging and 100% organic and local ingredients. I absolutely love North Vancouver as I'm an avid mountain biker and snowboarder. Being a part city and part mountain life explains North Van perfectly and this is why I'm here!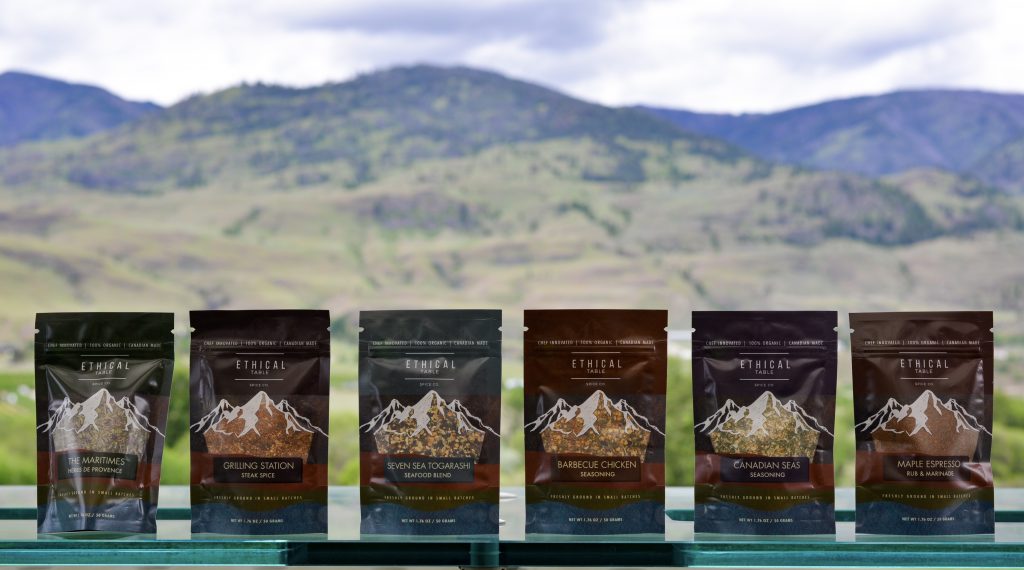 What are your most popular food or drink items and your inspiration(s) in creating them?
I am known for both coastal cuisine and wild game, fitting the part of being based in North Vancouver as well, really capturing the sea to sky in my cuisine. We take motivation from the local lands and culture.
Before operating Ethical Table what were you doing for work or a career?
I have been running my own restaurants and catering companies since a very early age. Before that I was a Sous Chef. Having been in the industry since the age of 14 starting from the bottom working my way up.
Outside of operating your business what do you get up to for activities in your personal time?
Mountain biking across the North Shore, snowboarding on the local mountains such as Grouse Mountain or Mt Seymour, skateboarding at some of the skate parks around the area and cooking back country completely off-grid meals.
Lastly, is there anything else you might want our readers to know about you or Ethical Table?
Yes! I'm about to set off on a coast to coast tour. After launching my spice company I had a tour planned with a ton of events, which most of them are now cancelled. So I held off and reshaped my trip and will be still cooking my way across the country. I just started out here in Nootka Sound fishing for a week on the ocean and landing right in Newfoundland!
For more information you can visit his website and connect with them using social media apps on Instagram, Facebook and Twitter.
Customer service is info@ethicaltable.ca or 250 486 5555