When you are planning a wedding, birthday, graduation, anniversary party or similar, everyone knows how important it is to have a centre piece for the room and people who attend to enjoy. For the most part this is usually a custom made cake or cupcakes that look and taste the way the party planner wants them to for the special people who are celebrating. Getting your cake just right is incredibly important, everyone will remember how it tasted and lots of photos will be taken in and around this area of the event. Working with a local company to plan and design your special cake is the easiest way to do this, as you can sample some cake types and flavours and meet with the baker prior to agreeing to working with them. Plus of course shopping and supporting local helps everyone in the community of North Vancouver.
In this way, we are very excited to chat with our friend Molly Dobie of Blue Jay Bakes, who is a self taught baker with tons of skill and really loves to wow her customers with unique and tasty cakes and cupcakes. We first started chatting with her on Instagram and she has been so easy to speak with and work with to do this magazine feature. Get to know her and her approach to baking cakes below, and consider contacting her at the bottom of the article to ask questions and get a quote for your special event needs. Much like many local small business owners, what started as a hobby has turned into a business, and together we can celebrate and encourage that within our community.
How did you get started with your custom cake business and what do you like about operating in North Vancouver?
To be honest my business started completely by fluke! I had originally started baking cakes and cupcakes for friends and family as a way to contribute to celebrations. I started posting a few photos of my cakes to my personal IG page, which is when someone I grew up with (nearly 20 years ago, wow) reached out to me and asked if I would be a sponsor for one of their major events in Vancouver. I was equally thrilled and taken aback by this offer. This is when I started to realize that my little passion project could truly be something more! I quickly started working on 150+ cupcakes for the event, and Blue Jay Bakes was created. North Vancouver has always had a special place in my heart as it is where my family and I have grown up, my parents are even Argyle and Carson Graham alum! Nostalgia aside though, I have always loved how community based North Vancouver is. And by that I mean, the people of North Van love to support the people of North Van. Everyone wants to see each other succeed, even if you've never met them before! If you hear of a new local coffee shop, brewery, or general store, you show up to support your fellow neighbours!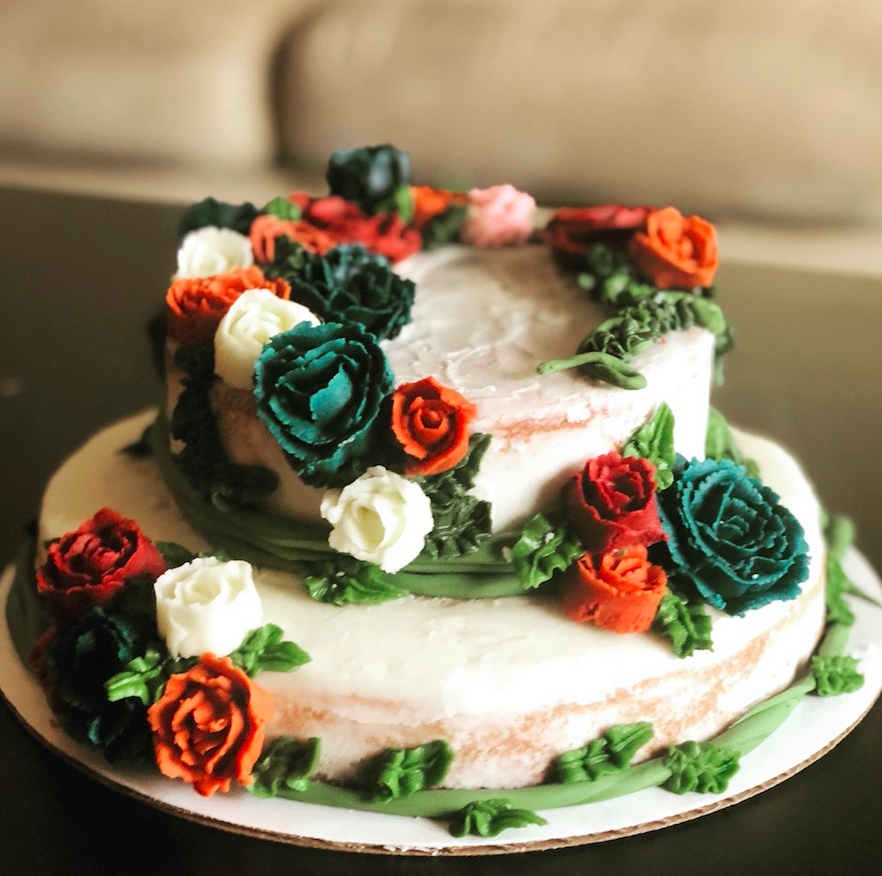 What are your most popular types of cakes and your inspiration(s) in creating them?
I think my most popular items so far have been anything baked with booze! From whisky barrel cakes, mint julep cupcakes and most recently, a Nanaimo bar cake baked with the Nanaimo bar liqueur! I have also received quite a few orders for sugar flowers recently too! They are such a delicate and elegant touch to any cake, and have been so much fun to create!
What makes your baking company different then other businesses in your industry?
Well, cakes and cupcakes can be made to be so incredibly personable! Whether it's a wedding cake, a 50th birthday celebration, a graduation, or any specific holiday or special event; the cake will likely be a main focus or centre piece. It's so important for the receiver of the cake, and the guests at the event to see the representation and the thought that went into it from the person who placed the order. This is where I come in. Myself and the customer placing the order will work in close communication to ensure that the the full vision is being brought to life through the cake! I believe that nothing makes someone feel more appreciated than receiving something that has been created for them specifically in mind. And it is my own personal goal that customers feel the love, personality, and thought that goes into each bite.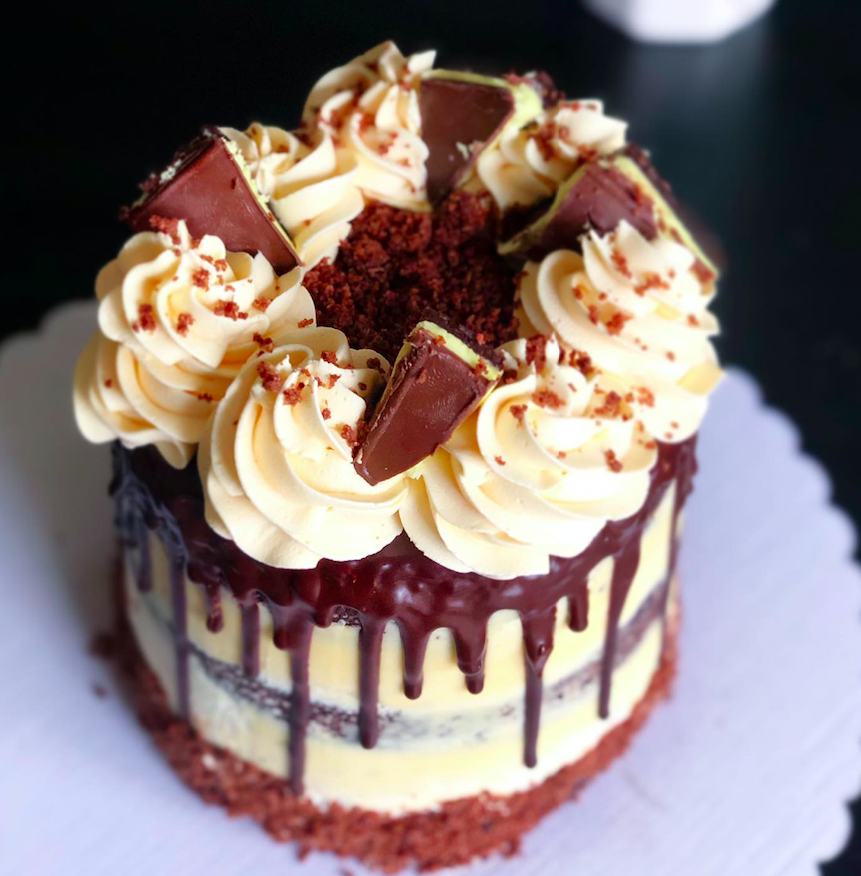 What do you currently offer for promotions on custom cakes this time of year?
I currently have a Valentines Day promotion going on, where customers can take 15% off any Valentine themed order from now through to February 5th and 10% off any order from now to February 14th.
Before operating your local cake business what were you doing for work or a career?
For the past decade I have been working within the restaurant industry in the majority of front of house positions. From hosting, serving, and bar-tending, to full time management. I find myself incredibly fortunate to have worked in the hospitality industry as it has really showed me the extreme importance of integrity, communication and compassion…and what happens when those key components are lacking. I 100% feel that my skills acquired through my previous careers have properly equipped me for my own business endeavours.
Outside of creating amazing baked items what do you get up to for activities in your personal time?
I consider myself extremely lucky, as I truly love doing what I do! When I don't have a current order, I am still working at creating new designs and exploring new techniques and styles. However, when I am not in the kitchen or the baking aisle, I can be found exploring the trails and the beaches of this beautiful city, or grabbing a cheeky pint with a pal at a local North Van brewery!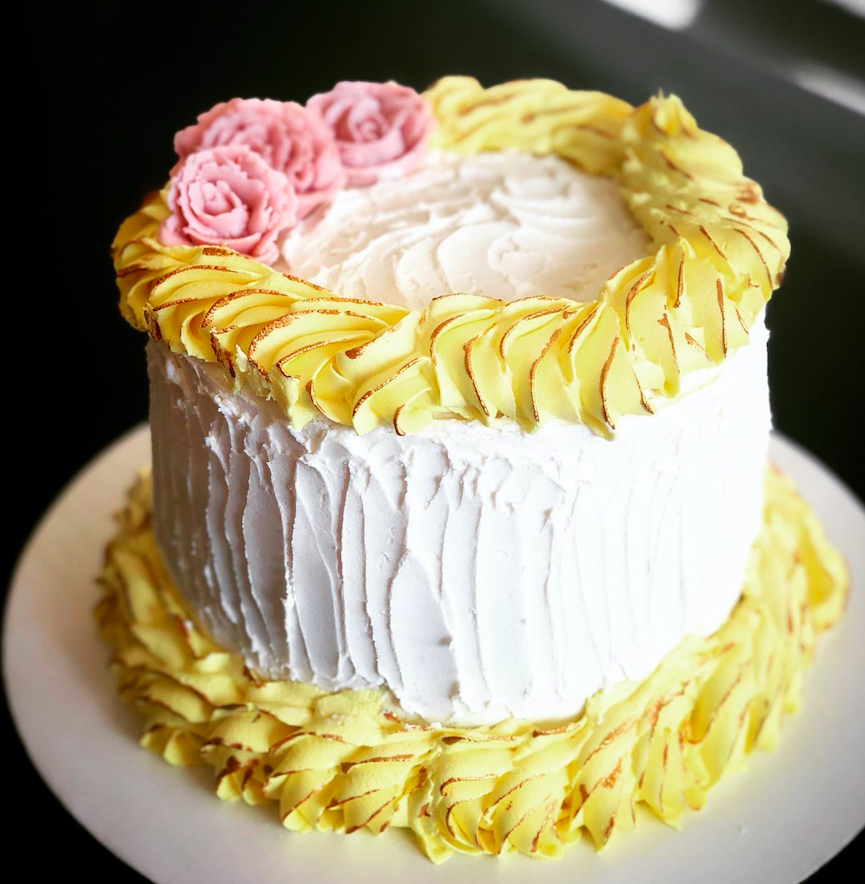 Lastly, is there anything else you might want our readers to know about you or your business?
I am a self-taught baker, and still new to the baking scene! Baking was something that was always being done in my late grandma's kitchen, and is where my own passion began. I love that I can continue to honour her through a namesake business (her place was always flooded with stellar jays) and through baking in general. Who knows, maybe her famous peanut-butter cookies will come to the product offering soon! I really do consider myself so lucky to have been able to turn a passion into something more! I have always heard that when you support a small local business the owners do a "little happy dance"; and it wasn't until I received my first order that I truly knew the meaning and the joy behind the LHD!
For more information you can connect with her on Instagram
Get quotes for cakes: mollydobie91@gmail.com or 604-375-5441