As we approach the final day for voting in the elections on October 21st, we are very happy to provide this interview below with North Vancouver People's Party candidate Azmairnin Jadavji. He took the time to answer our interview questions and his team sent us some photos from their political office on Lonsdale Avenue.
As you know from a previous article a few weeks ago and another one recently, we invited all of the political party candidates in North Vancouver to do an interview with us so our readers can better get to know them as politicians but also as members of the community.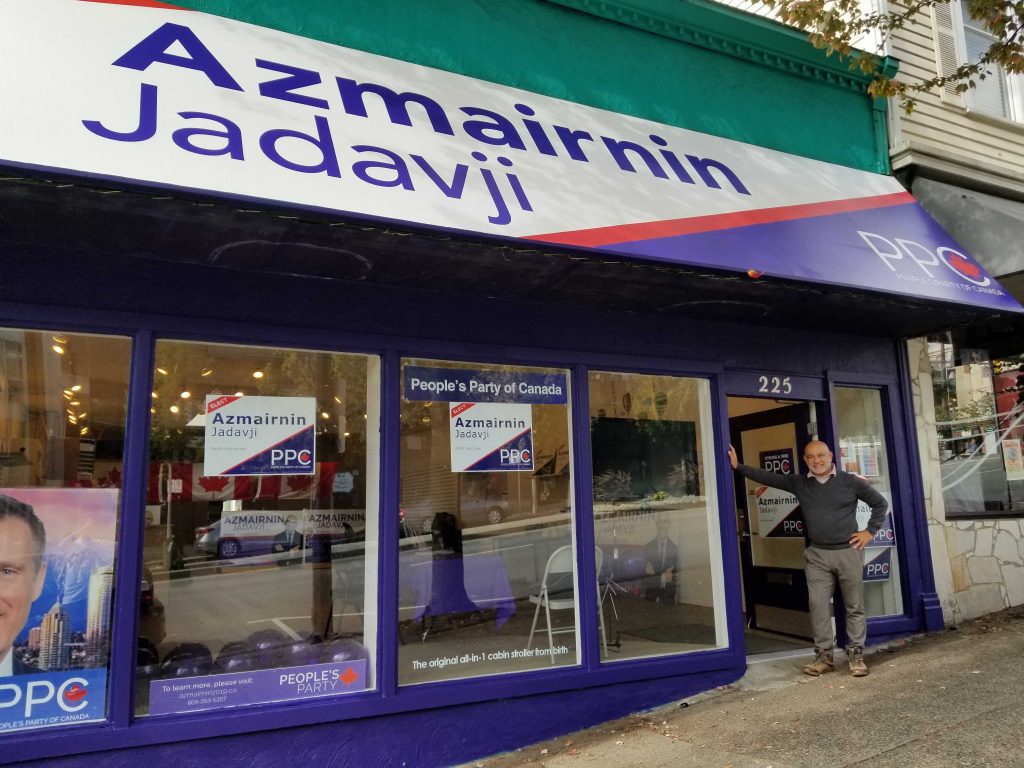 Question. How did you get started with politics here in North Vancouver?
Azmairnin. I am a father of four. I am concerned about the direction of our country. Canada is at a crossroads and we need honest debate. The problem is a lack of vision and political correctness getting in the way of truth and getting in the way of enduring solutions. The poet Rumi wrote: "Out beyond ideas of wrongdoing and righting, there is a field. I'll meet you there". And here I am.
Question. What do you like most about living and working in North Vancouver?
Azmairnin. I am an outdoorsman. My family and I love living in this forest we call the North Shore. Fresh air, mountains, the sea, rushing streams, good people – we need to protect it.
Question. What are the main areas that are inspiring you in your political journey? What do you hope to change?
Azmairnin. I am Canadian. I want to stand up for free speech and work to repeal Acts, such as Section 13, which censors what people may find politically incorrect. Just like Diefenbaker said: "I am a Canadian, free to speak without fear, free to worship in my own way, free to stand for what I think right, free to oppose what I believe wrong, or free to choose those who shall govern my country. This heritage of freedom I pledge to uphold for myself and all mankind."
Question. When you have free time what do you like to do in terms of activities?
Azmairnin. I am an avid skiier and a grouse grinder. I try to coordinate family time with activities so we go hiking, bike riding and are big on board games.
Question. How can people get involved and meet with you?
Azmairnin. Our campaign office is centrally located on Lonsdale at 3rd. I also have Thursday morning coffee meetings at Delbrook Community Centre. People more often communicate through digital media and I am available through Facebook, Instagram and Twitter.
Question. Lastly, is there anything you would like to say to the business community of North Vancouver?
Azmairnin. Canada's business climate is less and less welcoming to investors, entrepreneurs and innovators who grow the economy by creating jobs and prosperity. More government intervention in our economy is no answer to economic challenges. One answer: eliminate capital gains tax to encourage/reward risk.
If you have any questions or comments do not hesitate to contact us.