Recently we met up with Greg Holmes who is the Executive Director of the Lower Lonsdale Business Improvement Association to learn more about him from the perspective of being a family man and member of the community. Allowing our readers to gain insights into the day to day operations of the BIA and see the human side of Greg and how he is working tirelessly to serve the community of Lower Lonsdale North Vancouver.
What a fun experience getting to know him better and we are very excited for this interview, which is outlined below along with HD photos.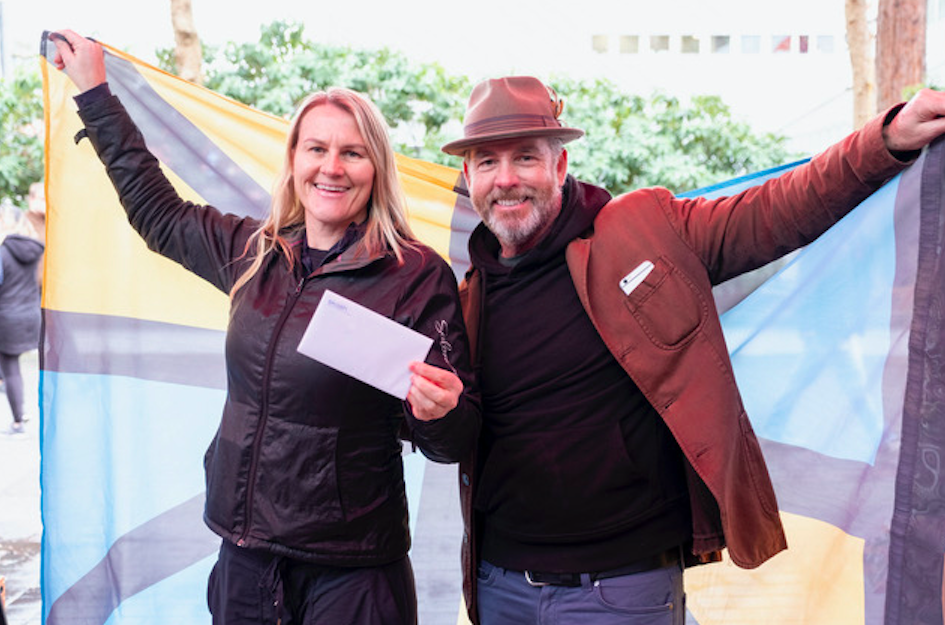 Q. How did you become the Executive Director of the Lower Lonsdale BIA?
Greg. A good friend of mine with The Polygon Gallery, Faye Bednarczyk, recognized this opportunity fit with my skill set and employment evolution and was kind enough to share.

Q. What are some of the most often asked questions from local business owners in Lower Lonsdale?
Greg. Can you explain and assist with the burdensome commercial property tax increase? What is happening with building for RapidBus (aka B-Line) and when will it be complete? How can I participate in Shipyard Garden District initiatives?

Q. What is a day in the life like for you in terms of facilitating the needs of the BIA?
Greg. My role is about engaging the community and this is best accomplished being "in" the community. I would spend the start of the day returning emails and various administrative tasks. Mid-day through early afternoon in the community, walking, talking and listening to what the business community needs. Later part of the day, organizing meetings for the following day to meet the needs of community.
Q. What are some of your personal goals to help realize as the Executive Director of the BIA?
Greg. To ensure that The Shipyards District is the most visited and talked about neighbourhood destination in Metro Vancouver. To expand the BIA's boundary east to include light industrial, retail and the emerging Craft Brewery precinct.

Q. In your off time away from your busy career what kind of activities do you get up too?
Greg. Kayaking and camping trips with my wife, Alexandra. Leading international tour groups on explorations through Italy and the river ways of Europe.
Q. You come from a military family background, what was that like growing up with so much traveling?
Greg. Fascinating and never boring. It allowed me an appreciation of many cultures, and to not pre-judge peoples decisions until you fully understand motives and reasons.
Q. Wearing really nice hats is part of your personal brand, which ones do you prefer to wear the most?
Greg. Yes, I have a fedora for all occasions. I prefer my royal blue fedora, the world needs more colour.

Q. How can local business owners meet with you to discuss their business needs or have questions answered?
Greg. Simply call, text, email or stop me on the street. I pride myself on being very responsive and approachable. I am here to serve.
Q. What is the biggest challenge the Lower Lonsdale BIA will face in the next 5 to 10 years?
Greg. The Shipyards District in Lower Lonsdale is growing and transforming at a rapid pace. The entire business community needs to be vigilante to protect what we have, "A caring and connected community, largely made up of small, local, independent business owners". As the word gets out that The Shipyards District is a great place to do business, we need to curate that business mix to ensure we don't follow the path of other neighbourhoods, that are mere collections of corporate brands and franchises.
Q. Is there anything else that you would like our readers to know about yourself or the BIA?
Greg. We are only the second BIA on the North Shore, and just one of fifty BIA's in the province. Although our work is primarily about Marketing, Promotion, Events and Street Beautification we also are a voice for businesses at a municipal level, aka lobbying and advocacy with City of North Vancouver on issues important to your business.
Speak with Greg Holmes by visiting the Lower Lonsdale BIA website.