Disclosure: In this article below we interview Justine Bell who is the candidate for the NDP party here in North Vancouver during the 2019 elections. One of our staff members was walking past her and her team on Lonsdale Avenue last week and we got inspired to allow her to tell more about herself to the community of Lonsdale Avenue. It's important to mention that we are not involved with politics and we welcome members of the other political parties in North Vancouver to come forward and speak with us so we can publish an interview with you too. Transparency, authenticity, and honesty are at the core of what we are building on our media website and as a result staying neutral is absolutely paramount.
We sent an email to Justine Bell at her office to ask some questions that she answered below. And we tried to ask questions that are outside of the typical spectrum for local politics as we want our readers to be able to connect with Justine the human being not just the politician. We hope you like this content style and of course let us know if you have any feedback as we will potentially do interviews with other political parties here in North Vancouver.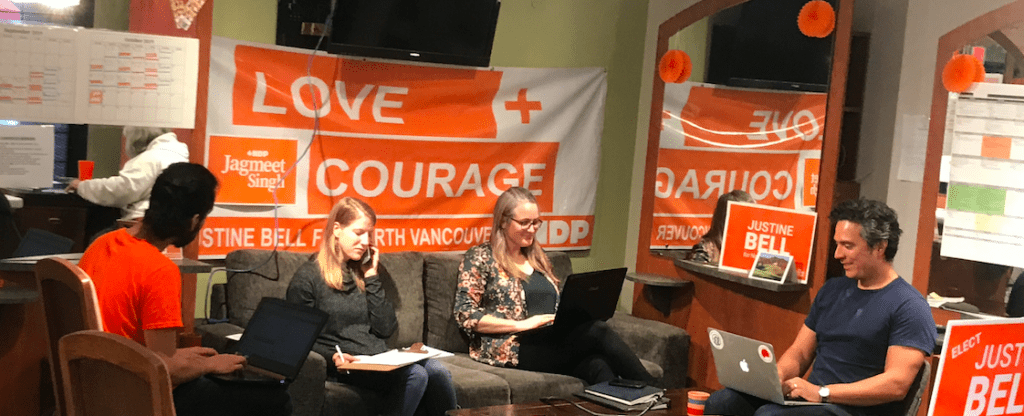 Question. How did you get started with politics here in North Vancouver?
Justine. I come from a long line of activists/allies here in North Vancouver. My Great Grandmother Maisie Hurley and Grandmother Kitty Bell-Sparrow fought hard for Indigenous Rights and supported the first indigenous peoples national newspaper, the Native Voice. My family spent my first ten years in Nana Kitty's house on East 6th. That was where my father Bill Bell first ran for City Council. I learned from a young age the importance of standing up for people's rights. Fast forward to today, I am a senior advisor at Global Affairs Canada and have been working on poverty reduction and climate change for the past 15 years. I have seen firsthand how government works and how it doesn't. We need leadership that walks the talk. 
Question. What do you like most about living and working in North Vancouver?
Justine. The best thing about living in North Van is being so close to nature at every turn. The incredible landscapes, the mountains, the ocean, the skyline of Vancouver… The diversity of our community, our restaurants, stores, that is why it's so important to make this community AFFORDABLE for EVERYONE!  I also love how the daycare of my daughter is like the united nations with kids from everywhere! How the library is always finding new activities, and how the new shipyards have brought a new cool vibe to the community. 
Question. What are the main areas that are inspiring you in your political journey? What do you hope to change?
Justine. My daughter is inspiring me to take action! And the future of all the youth! We cannot wait to take bold action on climate crisis and rising inequality. Our response must not leave anyone behind and it must include development and implementation with indigenous peoples – as equal partners. Our response must be based in social justice, and take into account immigration, healthcare, etc.. What I am hoping to change is how politics works, I will not be influenced by oil and gas lobbyists. I will be influenced by YOU, by the front line workers, the local business community, seniors, families and our future generations…  
Question. When you have free time what do you like to do in terms of activities?
Justine. We haven't had so much free time recently as you can imagine. Every spare moment is spent with my family. My husband, daughter and I are big fans of cycling, we really enjoy long rides during the weekends. I love my 6am walks with my Mom along the spirit trail. The Polygon Gallery, CitySpace, Presentation House, Centennial Theatre – we have an amazing art scene. I also love a great cappuccino and craft beer.  
Question. How can people get involved and meet with you?
Justine. Come to the office at 322 Lonsdale Avenue!!! I try to be there as much as possible when I am not knocking on doors! I am also really active on social media! I have Instagram, Facebook, Twitter and I try to respond to everyone, even the trolls. We are out in the community every day and can always use more people! The more the merrier, and that also makes for more bodies for our random dance parties.
Question. Lastly, is there anything you would like to say to the business community of North Vancouver?
Justine. Yes, that the NDP and myself are on your side. We want to incentivize growth for small businesses and support the diversity and richness of our communities. I am familiar with the life of a small business owner, my husband is an artist and I know how some years are better than others. Affordable housing will allow people to live where they work, and our social programs will set the stage for small businesses to thrive. By bringing in universal pharmacare and dentalcare, investing in affordable daycare and making sure that post secondary education is not a debt sentence, we will ensure people here can focus their minds on their work and play.
Thank you for reading and if you have any comments or questions contact us.