Recently we were invited to come and try out the food at a local cafe in Lower Lonsdale that has been in business since 2012 and who are truly championing organic raw vegan food culture. Now, the word vegan can be off-putting to some as there is a lot of misinformation about eating a plant based diet, however the science shows that eating more fruits, vegetables, nuts, legumes, seeds, herbs, and similar is very important to keeping your body in homeostasis. Which of course ensures a strong immune system and organ function and lends itself to increased health and wellness. As organic raw vegan food has all the enzymes and micro nutrients in tact.
The food at Tao Cafe Organic Plant Cuisine is prepared by hand from the mother and daughter team who founded and operate the cafe, and they even share their recipes online for people to bring the cooking style into their own homes. When you eat the meals here you feel as if they were truly made with love, and on the dietary information part of each food item the first ingredient is actually listed as being love, which truly warms the heart and makes you feel like you are supporting something special in the community by eating here.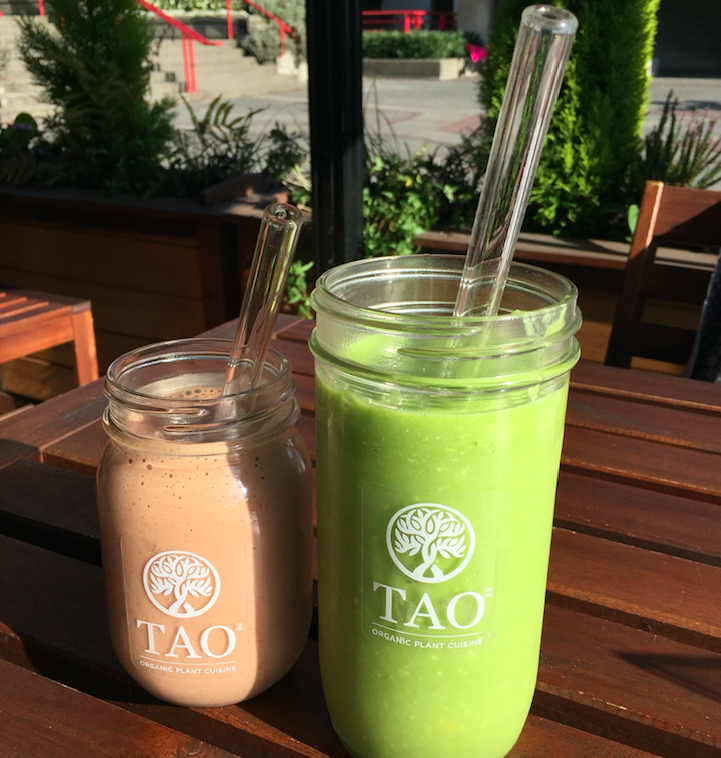 When we visited Tao we were able to try quite a few items on the menu including their smoothies which are hand made in house and use a glass straw which ensures zero waste is created as a function of the smoothie preparation. And the appetizers and main course were absolutely divine and very filling. We have included photos of the food that we sampled throughout the article.
The ambiance at Tao (3D tour) is also quite pleasing with soft jazz like music on the speakers, the space is meticulously clean and there is plenty of seating outside on the patio and inside as well. As Tao is located only a few minutes walk from the Lonsdale Quay Seabus it is ideally situated for commuters coming to and from work, and right in the middle of high density condo buildings.
We spoke with one of the customers in Tao when we were there trying the food and she mentioned that she drives all the way from Langley just to eat the organic raw vegan food here. Which says a lot about the food given that is not an easy drive to do coming all the way from Langley to North Vancouver.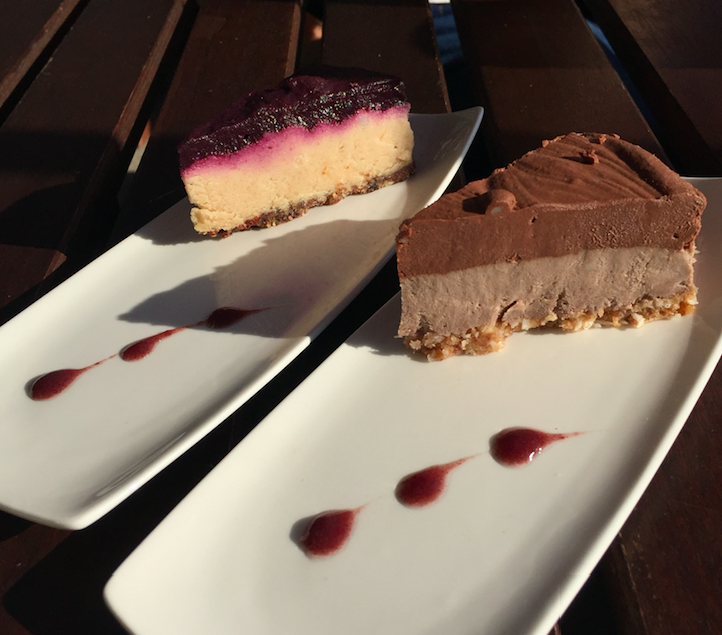 The mother and daughter team who own and operate Tao are very easy to speak with and you will feel right at home when you visit this wonderful cafe. Agathe who is the mother part of the team, even gave us a hug at the end of the meals that we sampled, and insisted that we hug heart to heart so we can share positive energy together. Now that is beautiful. In fact divine.
We strongly encourage you to visit Tao Cafe with your friends and family to have a delicious, healthy and filling meal that supports the community and oneness with yourself. They also have a vegan grocery store and local delivery and work with amazing local companies who support their vision.
Below we asked Agathe a few questions so our readers can get a better sense of what to expect and hear directly from the owner herself, after all we want to be transparent and authentic with our article publishing.
Q. What do you love most about operating your cafe in Lower Lonsdale?
Agathe. Lower Lonsdale offers such a large array of services, one can get most if not all needs covered .. and that keeps people in our community. Often, while out for an errand, I meet people I know on their way to do an errand or to an appointment just like me. That is precious, a simple wave or saying "hi, how's your day going?" and community is being created, established.
Q. What are some of the most asked questions that customers bring forward to you?
Agathe. Being a wellness café, one of the questions relate to our ingredients used in our café. They asked for themselves, their children or a friend. Another question is "do you give cooking classes?" luckily there all online. Or we are asked "please come open one downtown" or places they live and we deliver.
Q. Having a Vegan Market with vendors in North Vancouver is one of your dreams, can you talk about what you hope to create?
Agathe. Rogers Plaza adjacent to our café is the perfect location to create an Organic Holistic Vegan Market, thousands of people walk by the plaza and it is minutes form the Seabus. There are many talented holistic practitioners, farmers, artisans and the market becomes a platform to connect with our community and beyond. Information on our community board; business cards, flyers.
Q. What are some of the most popular dishes on your menu that locals seem to love?
Agathe. So hard to say .. our quinoa bowls, nori rolls, our cold pressed juices, butternut velvet soup .. You know customers keep coming back and we know which item they will order. Anna almond matcha latte, Gord gaia burger, Jin quinoa pad thai, Babak quiche, Noel hot chocolate, Mary butternut velvet .. we start before they even order, we say "I'll get in trouble if you change one day!"
Q. Your business social media is very sincere and authentic, do you manage the updates yourself?
Agathe. My wonderful daughter does it .. and she's to go back to school soon so we are on the lookout for someone to manage our social media.
Q. What is the best way for people to contact you about your food or taking part in the Vegan Market?
Agathe. The ideal way is to send us an email with Organic Holistic Vegan Market in the subject line. The goal is to gather vendors' list and we plan to start in April 2020.
If you like what you read in the article and want to try out the amazing food head over to their website, Yelp, TripAdvisor, or follow them on Instagram.
Tao Cafe is located at 210-150 Esplanade W, North Vancouver.