British Columbia has the highest per capita vegan, vegetarian and primarily plant based eating habits of all of the provinces in Canada as well as the lowest ratio of obesity. Which means restaurants and chefs throughout the Lower Mainland and Metro Vancouver need to understand how to overlap traditional food culture with the new wave of more plant focused menu items. Here on Vancouver's North Shore we have a great love for the outdoors, health and wellness in our community and many local restaurants offer at least one or two things that are vegan, but none of them seem to be executing at a high level of quality where a non-vegan would still enjoy eating the food without even knowing that it was plant based.
As a local business food based business owner you may want to consider having a vegan food consultant come into your eatery to teach you how to efficiently add plant based items to various areas of your menu including breakfast, brunch, lunch and dinner. This will open up your clientele to a wider audience and people who eat vegan are really loyal to restaurants who get their kind of food done right. Working with a plant based consultant is cost effective and rewarding as you get to lean on their years of experience preparing food for vegans and vegetarians instead of having to create everything from scratch yourself. Traditional menu items also don't necessarily translate directly into plant based options so you need to get creative to make things tasty for everyone.
In this article we get to speak with one of the best vegan chefs in Vancouver and her name is Aoife Carroll, she spent years as a private chef for yacht owners in Europe and around the world so she knows how to cook for large groups and be efficient in the kitchen with food prep and storage. You can learn about her in the interview we did below and consider getting in contact to take your restaurant menu to the next level or bring her into your yacht or event for catering. You can get in touch with her at the bottom of the article where her contact details are located.
What do you like most about cooking and planning plant based meals?
For me cooking plant based has always been about utilizing and elevating whole food ingredients. Eating seasonal, local and organic when possible are all vital in creating the most delicious and nutritious plant based meals. So planning changes within the weeks of the seasons, keeping me inspired and on my toes. I love to keep the integrity of the vegetable intact. Staying true to the plants original form allows the vegetable to do the talking, in this way I try to enhance the vegetable as opposed to change it entirely. I also am a firm believer in the saying 'you eat with your eyes'. Playing with colour, texture and getting to create the final plate that excites not only the taste-buds, but immediately draws the customer in is what keeps me going in the kitchen.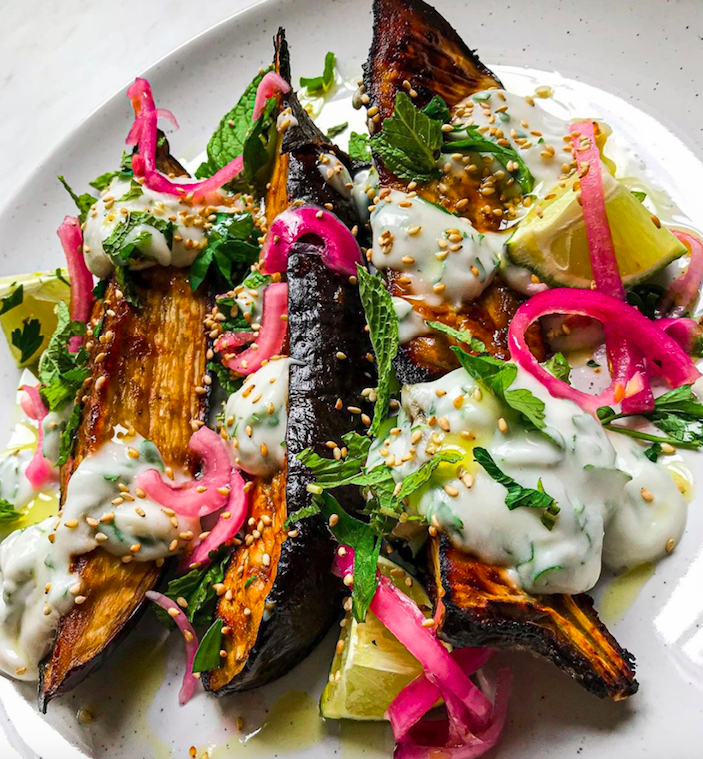 Why do you think so many millionaires and billionaires are now eating plant based?
I think knowledge is power and that exposing ourselves to factual information in all aspects of our lives enables us to live a more conscientious and purposeful life. The many wealthy people that I have cooked for have asked for me to prepare plant based meals for them because they have read about, listened to or watched documentaries on how it is scientifically proven that a plant based diet is key to living a healthy and long life. There are many books that I could refer to here but one of my favourites is 'How Not To Die' by Dr Michael Greger. I think it is worth reading every page at least three times when considering not only your health but also our planet too. Hence the timeless saying 'Health is Wealth'.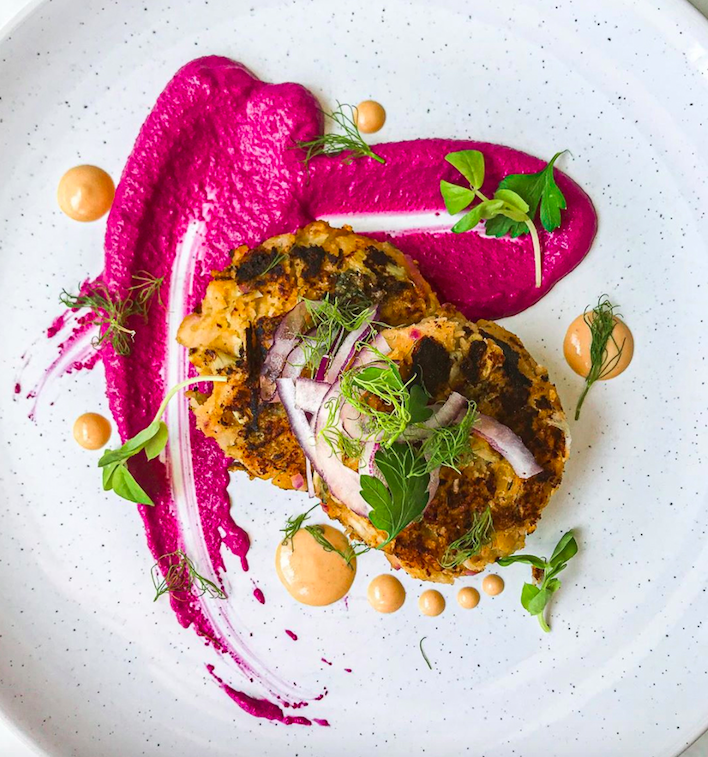 How was your experience cooking on yachts for some of the worlds business elite?
I absolutely loved my job working as a private chef on super-yachts. The daily challenge was exhilarating and two days were never the same. Satisfying the guests every culinary need and ensuring that they are extremely happy with the quality of food is so important to me. I loved to set up a meeting on the first day of their charter and get a personal feel for what they expect and wish and then go above and beyond their expectations and wishes. Getting to play with the different local ingredients of the Mediterranean and Caribbean was also a joy. To me the Mediterranean is where I feel the most inspired. Getting creative with the best ingredients from some of my favourite places like Capri, Sardinia, Cannes and Mallorca makes me feel truly lucky to do the job I do.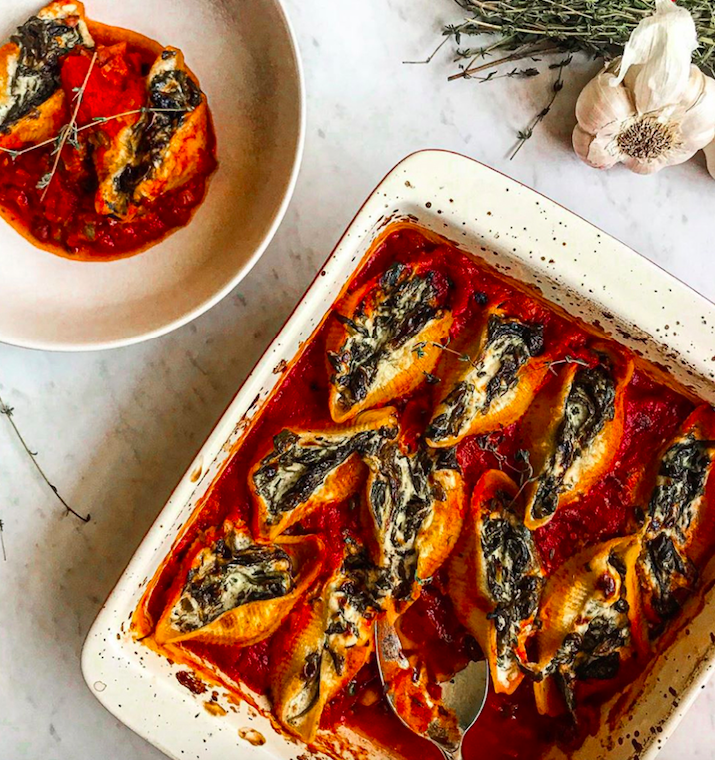 How do you work with restaurants and food brands to refine their plant based menu items?
There are many factors to consider when designing a menu. The most important is who is the target audience and what kind of message you want the food to say about the restaurant. Defining this from the beginning is vital in maintaining a clear and concise message and image for the restaurant. Once this is set I then look at the existing plant based options (if any) and come up with solutions on how to elevate these dishes, keeping a fluid style throughout. Or I design new and exciting complete plant based menu options.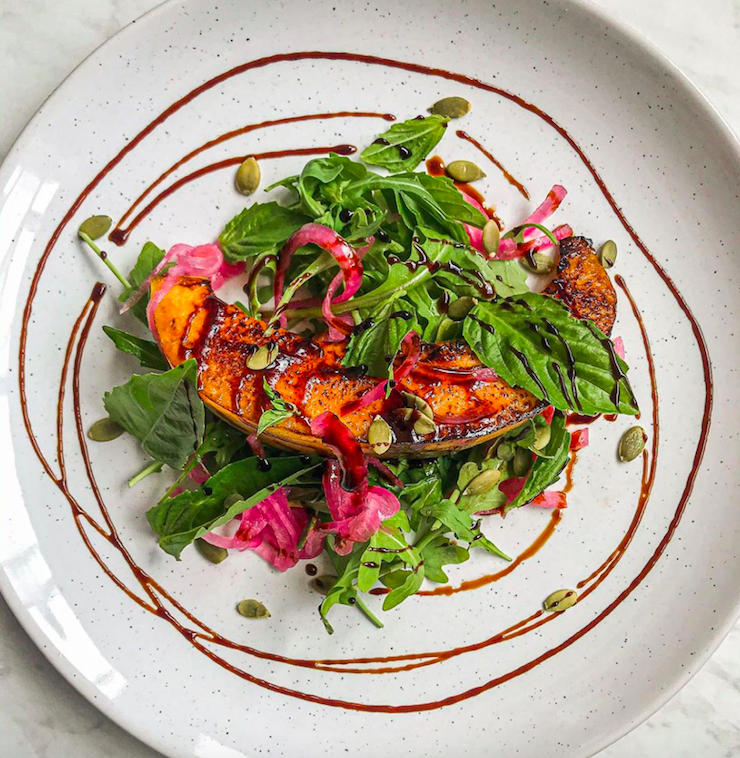 How do locally available and seasonable vegetables and fruits play a role in your planning?
As mentioned above seasonality is a crucial part of my thought process. Obtaining the freshest seasonal ingredients ensures that the client is getting the most amount of nutrition possible from these whole foods. Keeping that nutritional content intact as much as possible is always a subconscious thought for me. Eating locally not only is best for your health but is also a great way to support small local businesses, eliminate as much of the carbon footprint of the produce as possible and helps create sustainable food sources. On top of all that, there is no denying that a tomato picked from your neighbours garden or bought from your local farmers market is going to be one hundred times tastier than the frozen, bland, watery tomato that has travelled hundreds of miles to get to you.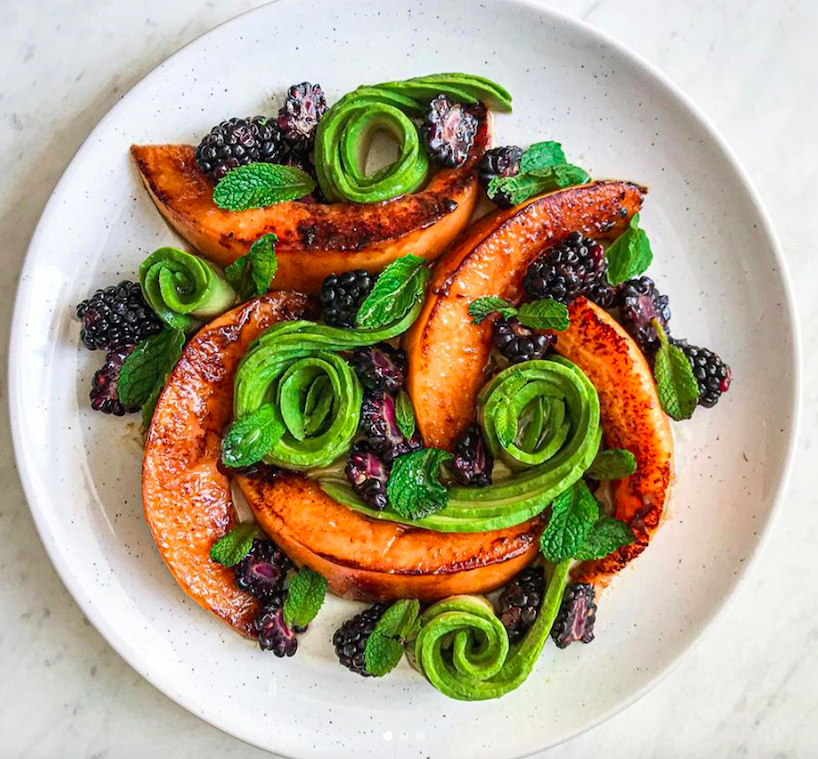 If a local restaurant in Metro Vancouver wanted you to consult for them what does that process look like?
I would take the restaurant through a number of steps to help them achieve this. Firstly I would look at the preexisting menu. After getting a feel for where they are coming from the second step is setting up the initial meeting where we discuss the ethos and branding of the restaurant to get a feel for their plant based vision. In the third stage of this process I then create dishes to suit the restaurants brand. This can be anything from changing a few of their already plant based dishes to creating a completely separate plant based menu. Fourthly a full tasting of these dishes would happen next to decide which dishes work best and to ensure that the restaurant owner/manager is 100% happy with the newly designed dishes. Fifthly I then demonstrate to their staff and chefs how these dishes should look and taste and provide a detailed menu listing the new dishes. Having all employees taste and experience the dish is vital so that they can explain in detail every ingredient in each dish to the customer.
Lastly, I assist in the promotion of the new menu through social media and events. Supporting the soft launches and promotions of these new plant based dishes gives me a front row seat in observing and noting the anticipation and reaction of the menu from customers.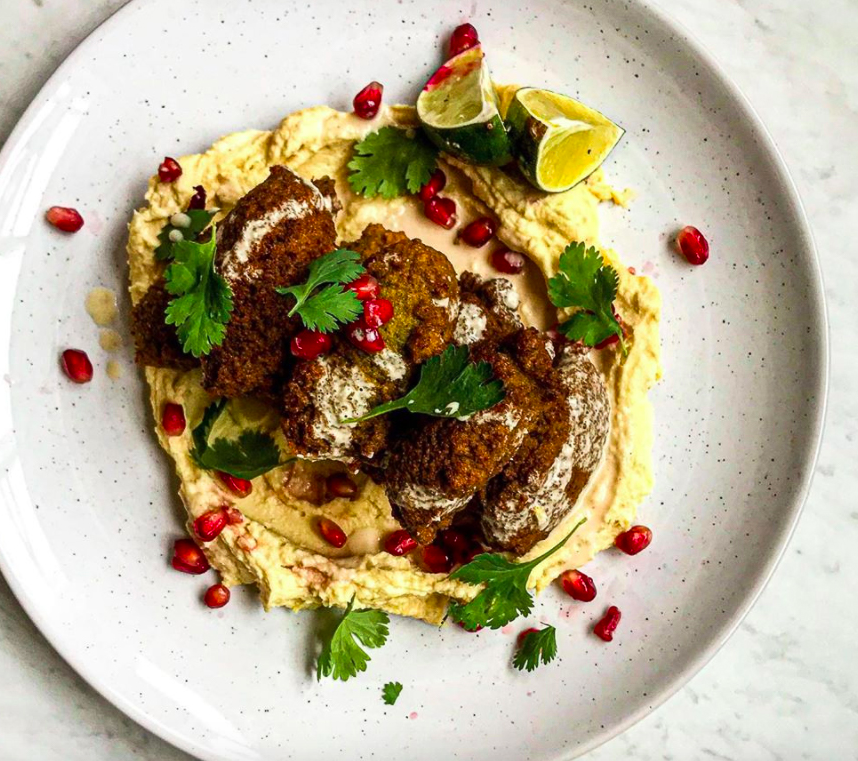 When working with local yacht owners here in Metro Vancouver what does the planning process look like?
The planning process for working with local yacht owners starts with getting a very clear idea of how and what they wish to eat. This can be incredibly varied. I have had some clients request for American comfort classics like vegan mac and cheese, crispy buffalo cauliflower wings and juicy vegetable burgers and other clients request for the most refined fine dining experience two or three times a day. After discussing how the guests would like to eat, I then create a menu plan, this can be as simple as a one day trip with three different meals or as long as a 4 week charter with 4 different meal times throughout the day, consisting of several dishes. Within this detailed menu plan I create a new and exciting dish for every single meal of every single day, this can result in up to 18 dishes per day depending on the guests (6x breakfast options, 6x lunch options and a 6 course menu for dinner).
An excel spread sheet is then created with an extensive list of every ingredient measured out and accounted for. I then contact a local provisioner who can source the highest quality of products, as this is a key element to my cooking while on yachts. I ensure the best standard of fresh ingredients arrive to the vessel no matter what the budget. The day before the charter or owner is set to use the boat, the provisions arrive and I cook!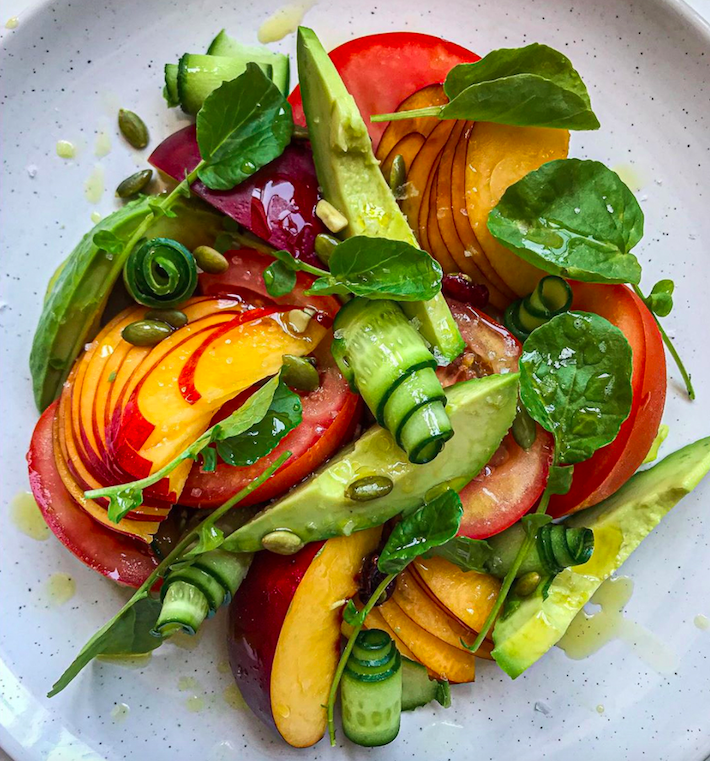 What are some plant based chefs and Instagram influencers who inspire you?
Infamous chef Yotam Ottolenghi has been my inspiration for as long as I can remember. Although he is not a vegan chef, the way he plays with Mediterranean and Middle Eastern flavours is undeniably genius. I have all of his cookbooks and they have been thoroughly used, stained and read front to back. Another one of my favourite chefs is Derek Sarno from Wicked Healthy Kitchen. He, alongside his brother Chad have created a fantastic cookbook 'The Wicked Healthy Kitchen' which would entice any carnivorous meat lover. They manipulate vegetables in a way that gives them a meaty texture and have created hearty recipes to feed hungry family and friends.
I could go on and list a whole load of my favourite chefs but I will try and limit it to my ultimate favourite. So lastly, for me, the ultimate vegan fine dining chef is Tal Ronnen who has created one of my favourite plant based fine dining cookbooks called 'Crossroads'. Here he shares his technical and methodical recipes that always result in the most mouthwatering divine dishes.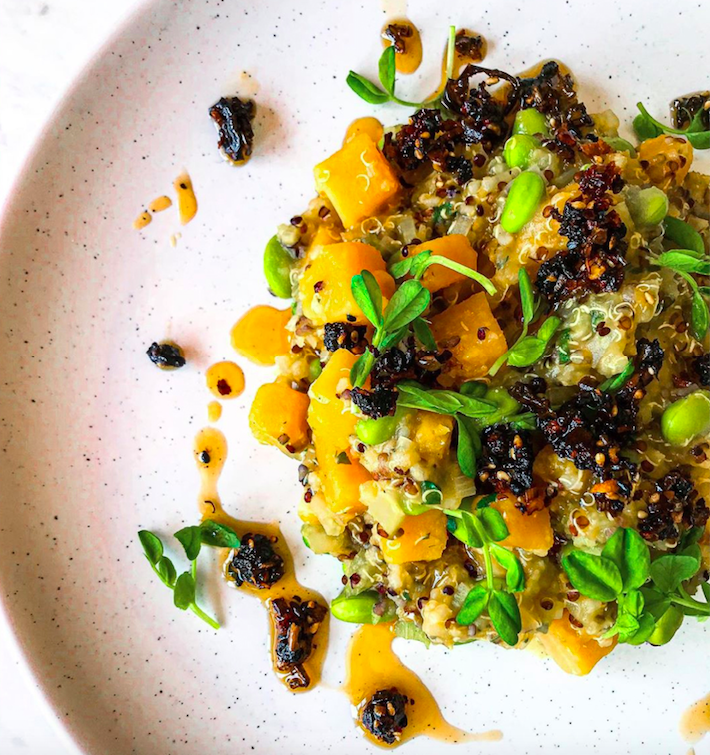 What are the names of your favourite books about cooking vegan or vegetarian style meals?
I think that the Middle Eastern cuisine unintentionally lends itself so well to the plant based diet. Think whole roasted egg plants marinated in pomegranate molasses, green herby baked falafel, creamy spiced hummus, delicious thick and sweet chickpea tagine, big chopped fresh salads with citrus dressings and packed full of herbs. Without having to alter any of those dishes you have wholesome and satisfying plant based meals. So with that being said, some of my favourite Ottolenghi cookbooks are SIMPLE, PLENTY and NOPI. I love to pickle, cure and ferment when possible so one of my most loved and used books is 'The Art Of Fermentation' by Sandor Katz, this book is an encyclopedia of knowledge and my go to when it comes to preserving and fermenting.
Lastly, I recently came across a book called 'Vegan Street Food' by Jackie Kearney. I recommend this book because it is a great book for anyone curious about plant based cuisine. It is approachable, has an amazing variety of recipes from all over the world and includes a fantastic section on pantry staples and the different ingredients used when transforming your diet and pantry into a plant based one.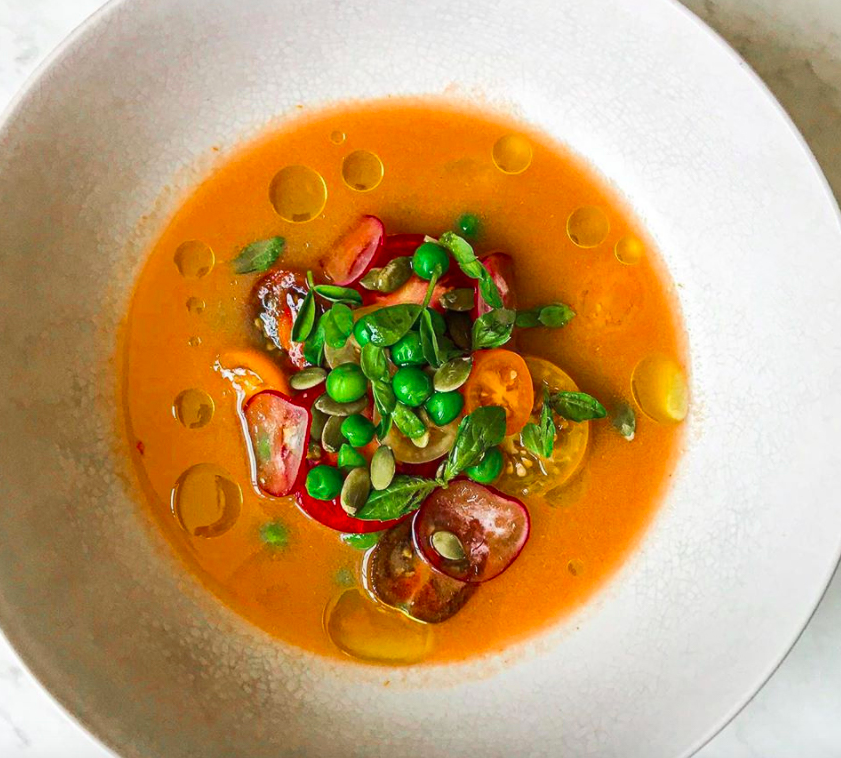 Outside of being North Shore Vancouver's top vegan chef consultant, what do you do for fun?
I wish I could say that this wasn't the thing I do most when I am not at work cooking or developing menus, but honestly what relaxes me after a busy day is coming home to my own kitchen, pouring a lovely glass of slightly chilled red and preparing my partner and I dinner. Cooking for me is how I like to unwind and take my mind off any little worries from the day. Besides that, I absolutely love to run, trail run in particular. My partner Rob and I love to pack our trail bags full of delicious snacks and lots of water and set out for the day on a super run. Yoga has always been a big part of my life also. There are few better feelings than leaving your mat feeling both lifted and calmed simultaneously. I love a vigorous power flow in the morning and then winding down with slow breathing techniques and meditation in the evening.
If you would like to discuss plant based food preparation, restaurant menu consulting or having Aoife manage your nutrition program on your yacht or at your private event, you can contact her below. She is in high demand so make sure to get in touch with her well in advance of needing her.
Plant-Based Chef Consultant Aoife Carroll
Contact details: flourish.cuisine.chef@gmail.com or 236-335-8691