Update June 9th 2020 – we had the distinct pleasure to checkout the office for the rental community at The Lonsdale where you can go to get your questions answered and have a virtual tour, enjoy the photos added below and know that they are setup well for covid19 risk mitigation and everything is clean, organized and engaging. We had tons of fun learning more and you can as well, setup an appointment today.
---
It's an exciting time to live, work and play on the North Shore.
The Lonsdale building is getting ready to open to residents starting in 2020. Situated in Central Lonsdale at 1301 Lonsdale Avenue beside City Hall, this rental building from Hollyburn Properties is quickly becoming the pillar of the North Vancouver skyline and setting the precedent for high quality condo living in Metro Vancouver. 
The Lonsdale rental development will be a 19 storey tower designed with impeccable quality details and execution with 144 purpose built rental units serving the needs of families who require places to rent locally here on the North Shore. The mix of units will be 112 one bedrooms, 16 two bedrooms, and 16 three bedrooms. As well there will be 22 electric vehicle charging stations and 13 visitor parking spots.
On the first floor of the building there will be 13,700 sq ft of commercial space for lease which will be anchored by Starbucks Coffee. And on the second floor will be 15,400 sq ft of office space for local business owners and entrepreneurs. This would be an exceptional place for a high quality board room for your business meetings. And of course centrally located for your staff to make it to work as needed.
As the building is situated right across the street from Blueshore Financial, Whole Foods, Steve Nash Sports Club, and others there will be plenty of foot traffic through this area. Not to mention Lonsdale Avenue is bustling with domestic and international tourists looking for local services and products.
The City of North Vancouver is also set to launch a rapid transit system, that will help with an abundance of people coming through the area. Currently over 6 million people annually come to North Vancouver on the Lonsdale Quay Seabus, not to mention the traffic flow from Highway 1 which crosses under Lonsdale Avenue.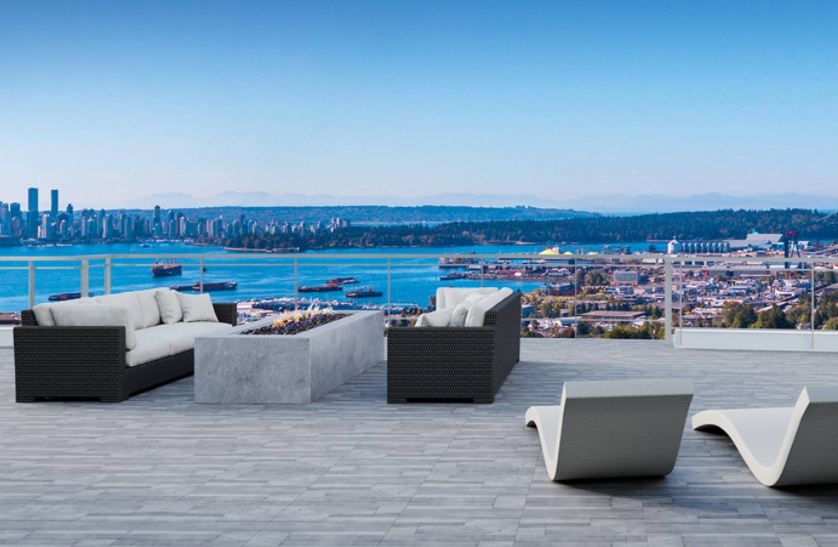 Residents of The Lonsdale building will have access to a panoramic rooftop terrace which allows a 360 degree view of the Burrard Inlet, downtown Vancouver, and the North Shore mountains which have world class hiking and mountain biking at Grouse Mountain, Mount Seymour, and more. There is also going to be a complete fitness centre and media lounge for usage by residents of the building.
Making it truly feel like a luxurious metropolis in the sky.
For more info about The Lonsdale by Hollyburn Properties please visit the official website RentLonsdale.com. You can submit your name for consideration as a renter in the building as there is of course a waitlist for such a high quality condo rental building.

---
Virtual Walk-through of The Lonsdale
Photos of The Lonsdale Rental Office