When you think of Vancouver's North Shore the first things that usually come to mind are the Lions Gate Bridge, the Lonsdale Quay Seabus, exploring the mountains such as Grouse Mountain and of course Sailor Hagar's Pub! Which has been in business since 1986 and was one of the first craft breweries in British Columbia. They have quite the legacy and we are stoked to be able to interview Rene who is the manager at the pub.
Recently the pub was featured in a SeabusMemes post on Instagram, it's hilarious and you should check it out. They are offering delivery and takeout food options in the Lower Lonsdale Shipyards District and throughout North Vancouver. Sundays they have special meals like roast and turkey plates.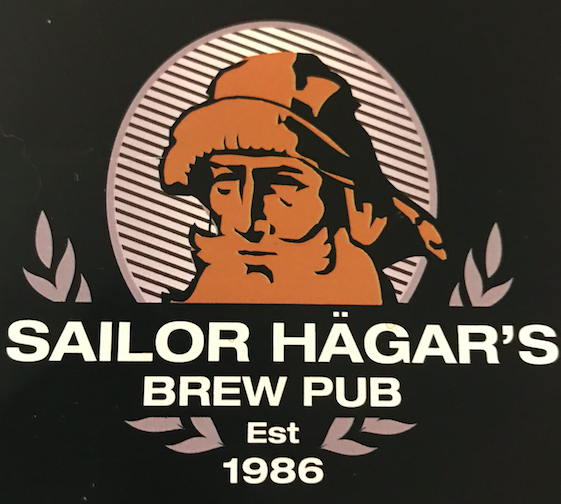 What is the origin story of Sailor Hagar's Pub and how did it become an institution in North Vancouver?
Sailor Hagar's opened in May 1986, Allan and Brian Riedlinger are the principals. With the help of their parents they saw their dreams come true to open the first brewpub on the mainland of British Columbia. The original brewery was located in what is now Sailor Hagar's Liquor store. Due to changes in the provincial laws (the brewery had to be physically attached to the restaurant in order to continue as a brewpub) the brewery was closed down in 2002 and became the liquor store.
Most recently Al and Brian have opened 1st Cannabis, the north shore's first licensed cannabis retail store.
What are some of your best memories working with Sailor Hagar's Pub over the years?
I started working here in late October of 2019 and would be considered among the newest staff, there are current staff members such as Guy in the kitchen that have been here almost since the beginning. Guy started working the kitchen in June of 86. There is a sense of family working here with most staff counting their employment in terms of years rather than months.
The clientele that comes through the door are true to what you would call regulars, everyone knows everyone's names. There is a great sense of community among the guests.
How has the covid19 lock down of businesses impacted the day to day workflow at the pub?
The closure has been hard for local businesses and we of course have not been immune to this fact. We have started offering a slimmed down menu available for take out or delivery with some online partners. The hardest part of it is not the lack of business, because we know that one day we will re-open, it's not having the staff and the guests coming in daily. The simple act of hearing how someone's day is going, knowing that we are all in a state of limbo.
What are a few of the most popular delivery and takeout food items that are currently offered?
The most popular delivery items have been fish and chips #1, burgers #2 and chicken strips at #3. I think at this point everyone is getting tired of pizza and the usual delivery options. We offered a turkey dinner for Easter Sunday and it sold out before we opened, we roasted 3 whole turkeys! We are planning to reintroduce our Sunday roast in limited supply with the hopes that it may bring some normalcy for people and extra business our way would be helpful.
What kinds of specials does the pub have right now in terms of liquor and beer sales?
We do offer take away beer and wine however its not available for delivery as the delivery partners are not set up to do alcohol delivery with food purchase for the most part. There have been some changes about alcohol delivery so this issue may be resolved in the near future.
How has it been working with Skip The Dishes as your local delivery provider?
The online partnerships that we have entered into for delivery are with Uber Eats, Skip the Dishes, Door Dash and a start-up called exploretock.com, explore tock is interesting in that you would pre-order and prepay your meals through their website choosing a pickup time in advance, to make for a truly contactless order.
In your spare time outside of managing the pub what do you get up to for activities?
Most of my personal time is spent at home with my wife regardless of the lock down, we would normally try to get up to Whistler as often as we can to go visit friends in the area, I lived up there for over 10 years. However with the travel restrictions my video game time has increased quite a bit.
Lastly, is there anything else you might want our readers to know about you or Sailor Hagar's Pub?
Sailor Hagar's will weather this storm and we hope that our neighbours in the community will come out on top also. Time will tell but in the mean time we are here and doing our best to continue to be a gathering place for friends and neighbours long into the future.
We suggest that you contact Sailor Hagar's to get takeout or delivery food between 4pm and 8pm Wednesday to Sunday by calling 604-984-3087.
You can connect with them on social media using Facebook and Instagram.
As well visit their website if you want to checkout more information.
The address location of the pub is 86 Semisch Avenue.