Hey dog owners and caretakers guess what? The new off leash dog park pilot project from the City of North Vancouver is now open for use at Waterfront Park in the Lower Lonsdale Shipyards District. It's on the North end of the park right beside the Chiba Japanese Garden and the overpass that leads to the BCIT Marine Campus. It looks somewhat like a cattle ranch fence.
This is great news as it benefits the dogs of the community and also allows dog owners and caretakers to have a place to bring their dogs to socialize with other dogs, while at the same time meeting new friends and neighbours. Please do keep in mind that this is a pilot project and it's very important to be a respectful dog owner and pick up your dogs feces.
Over the past few weeks the North Shore News published a number of articles where people from the community have been writing in to complain that there is a serious dog feces problem near the Shipyards in Lower Lonsdale, so once again please do pick up your dogs feces. You wouldn't walk over to your neighbours house and drop your pants and take a number 2 on their front yard and then leave it, so why allow your dog to do this?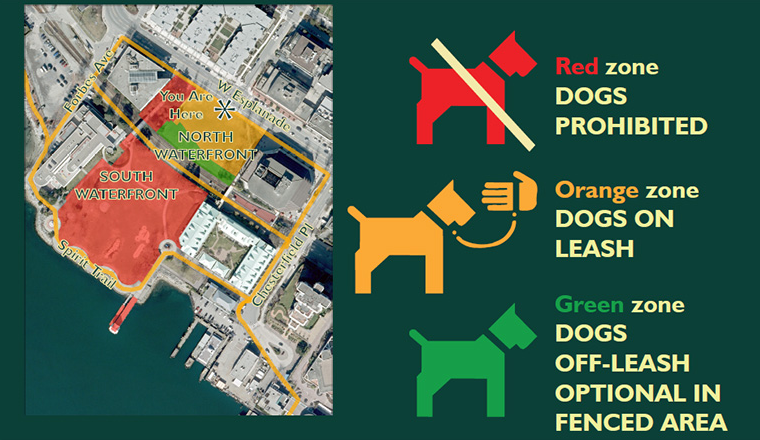 Dog culture is a big part of the North Shore lifestyle as you can find many people hiking in the mountains above Lonsdale Avenue with their dogs, and of course as the waterfront area is quite trendy, you find plenty of small lap dogs that are somewhat like fashion accessories for the hipsters of the area.
Something to keep in mind when you bring your dog to the off leash dog park in Lower Lonsdale is watch their behaviour to see if they do a little bow before playing with other dogs, this is a sign that they are playful and not aggressive. It's called the "play bow" and you can easily see it if you are looking. Dogs have a lot of body language that they give off and once you understand it you can know which dogs are friendly and which are not.
Another thing to keep in mind is if you bring a young puppy to the off leash dog park, do not let them drink the water on the ground unless they have had all of their vaccinations and shots, as puppies are prone to getting worms and having issues from contaminated water if they have not had their medical stuff taken care of. This is critical and something to talk about openly.
For more information about dog parks in North Vancouver you can visit the District of North Vancouver website and the City of North Vancouver website. Plus keep in mind that you need an annual dog license to have your dog.