When you operate a business, cafe, restaurant or have a housing building what makes it stand out more than anything? A beautiful well designed mural. As it adds to the ambience and attractiveness of the space if it is done correctly and makes people feel welcome.
Vancouver is a well known mural destination (PDF) as you can see many dozens of them downtown Vancouver and across the Lower Mainland. The founder of Daily Hive Karm Sumal is even on the Board of Directors for the Mural Festival which is the premier supporter of local mural artists.
With that said we had the opportunity to sit down with a well known and successful mural artist named Lukas Lundberg who has done murals here in North Vancouver, and is also an FX designer in the film and movie industry.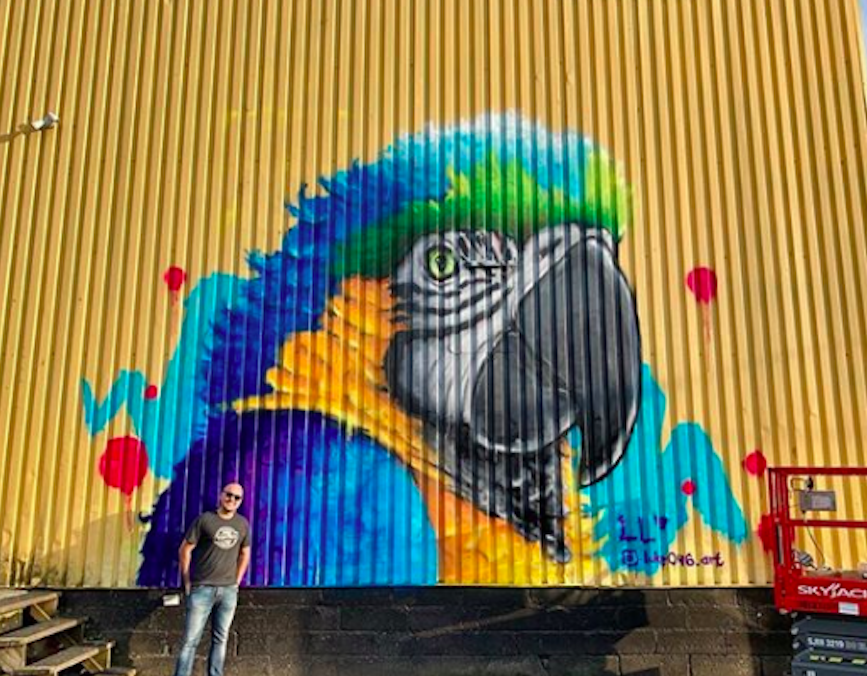 Q. How long have you been doing murals and when did you get started?
Lukas. I'm originally from Sweden, and did my first murals there in the late 90s. I later taught spray painting workshops in Sweden, and have been active with murals on and off since then. I've had periods over the years where I've focused mainly on acrylics and canvas, but these days I'm focusing again on murals.
Q. What do you like about doing murals in North Vancouver and where have you done them?
Lukas. It's inspiring and fun to paint a mural. Painting a mural adds more dimensions to the artwork that you don't get with painting a canvas at home. A mural is a dynamic medium – the environment around it is also a part of the piece. It's interesting to see how people react when they see the piece, and these days you get direct feedback from social media, such as when people post and tag the work on Instagram.
I think North Vancouver is a great place for murals as it's a vibrant community that is growing with lots of unique local businesses such as breweries, cafes, restaurants and other shops, so there's a lot of space for mural projects.
In North Vancouver I recently did a mural at Cinco de Mayo, Mexican restaurant on 200 Esplanade West, and on November 1st I will be painting a public piece at the Shipyards for the Dia de los Muertos Festival.
Q. Where do you hope to do murals in the future in North Vancouver?
Lukas. I enjoy painting exterior and interior walls. I think for example that breweries and local cafes have walls that are a great place for art, and they're often big walls and the companies seem open to showcasing original art. I also like the process of working up a concept for a client that would fit their business or the area.
Q. Do you have any special processes that are different then other mural artists?
Lukas. I always do a sketch beforehand. Recently I've started doing digital sketches as well. The app I'm using on my tablet records my strokes so I review beforehand where I spend the most time on the sketch. I use both paint brushes and spray paint: they work well together and you can achieve different effects with the two mediums.
Q. In your personal time what do you get up to for activities outside of being an artist?
Lukas. I work as an FX artist in the film industry. My job is to create visual effects for movies, including explosions, fire, smoke, water, destructive effects such as buildings falling apart or some kind of magic. Apart from my day job, I enjoy being out in the nature here on the North Shore and skiing and snowboarding the local mountains with friends.
Q. How can our readers get in contact with you about your work or hiring you for mural design?
You can contact me on Instagram or email me: lukaslundberg@hotmail.com