The main goal in life I think is to be happy and to feel good. That transpires through clothing as well. I have a wardrobe full of clothes and there are definite trends that I see when I look at what I've kept in my closet throughout the years as well as what I always seem to be buying. Those pieces you may have guessed are the ones I feel best in.

Silk has always been an absolute favourite of mine. The feeling you get when you have it fall over your skin is divine, not to mention very cooling. In the summers having a silky dress, shirt, or pants is the ultimate statement because not only are you feeling good, but the fabric itself is very elevated. The main thing to keep in mind when buying silk is that if it is not true silk, the rayon or polyester is not particularly breathable. I have found myself very sweaty on summer days when I did not know better and as a result, know when not to wear the "silk type" materials. Men and women alike I think can have so much creativity with fabrics and incorporating silk into their wardrobes. With the latter half of 2020 and early 2021 showing all signs of silk being a staple in the trends, take a look at the increasing availability of styles and colours that are coming out. Hopefully, you too will feel as good in this fabric as I do.

A tip for shopping for silk is to try and find it in consignment because pure silk does come more expensive than the rayon and polyester alternatives. I have found countless skirts, dresses and shirts in thrift and consignment stores which eases the strain on the wallet. However, if you are a person who does not need many things in their wardrobe or does not particularly love shopping as a hobby (not myself, I cannot stop shopping) then finding that staple piece is worth it if you found the perfect item and intend to use and keep it for years. The amount of silk content can give different looks and feels so when shopping for a silk item, note the fabric content and see which suits you the best. There are varying blends of silk fabrics with some being mixed with cotton for example. After all, we are shopping for what makes you the happiest so see what works best for you.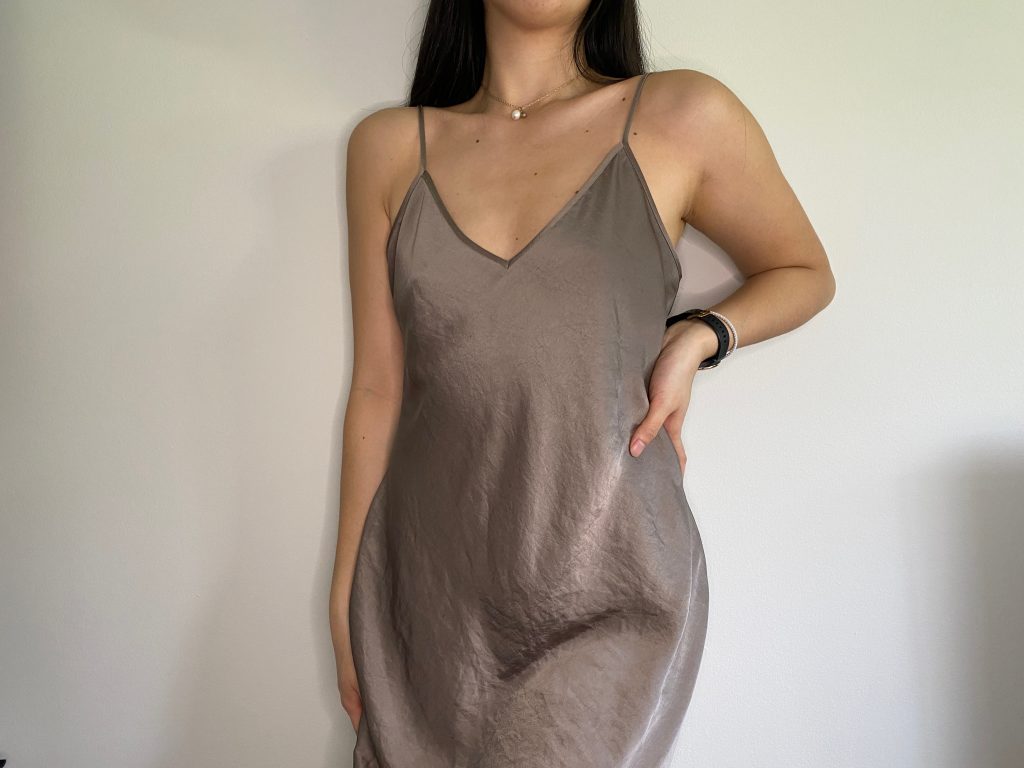 Linen has always excited and intrigued me. From what I can remember, linen first made its place in my heart when I wore it in the summer heat. I had gotten it by chance most likely as a thrifted item or from hand-me-downs, but I loved the feeling. In the hot summer, you want to feel cool at the same time getting sun protection because let's be honest, a burn is never a good time. As I grew older and started figuring out what I liked or lacked in my closet, linen staples started making their way into my fashion must-haves. I have a pair of 3-4-year-old linen pants I got from the sale section of Forever 21 and they are one of my most worn pieces. They happened to be very plain, had pockets and drawstring waist all for $19. I am not condoning fast fashion but it is important to shop within your budget and at the time that was mine. The endless styles I could create with this one pair of pants benefitted my wardrobe as they are such an easy staple to have. Life has enough stress, so having clothing that you stress about is just something that shouldn't happen. Linen brings an organic feel which I love yet at the same time can be dressed up if needed. Most people think of linen as a summer fabric, which I agree on but honestly, I love disregarding fashion faux pas. I wear white year-round, I wear linen year-round and I mix black and browns. Do what you like and disregard what others think. To that statement, I say I love linen in the winter, so I shall wear linen outside of the summer seasons if I want. The beauty of linen is that there are so many different shades, styles and qualities so you can make linen work for your wardrobe no matter what your budget or style is.

Moving into colours, a few favourites of mine are ice blue, pistachio green, deep forest green and pastel yellows. I think with so many dark and heavy things in the world nowadays people are looking for some light. Being able to bring light into my wardrobe is uplifting and an easy way to steer my day in a good direction. My attraction to yellow has grown throughout the years as I found my shades that work well with my skin tone and hair colour. Previously I had only tried one or two pieces of yellow which I had found did not work with my skin and scared me away from shopping for the colour for some time. Different shades can bring different moods to your wardrobe. Let's take green as an example. The dark emerald or forest green can bring a feel of royalty, whereas pale green or pistachio feels fresh. A mossy or army green airs on the more casual earthy feel. The fun in colours is that no matter your style whether it be minimalist, boho, or modern, each colour has shades that will work. The colour combinations that I always go for are pastels with white, grey and white, and also dark greens with black. Other more vibrant shades are jewel tones which I choose blues and corals with a more muted colour like pale grey. The key is to try out what works for yourself and go from there. Styling is all about seeing what works and I greatly encourage you to find what sparks excitement and confidence. You can read all the articles and look through all the Pinterest pages, but at the end of the day, you must find your style.
Article thanks to Erin Siqueira, follow on Instagram or email erin.siqueira@gmail.com