As the economy starts to get back to normal and restaurants and eateries open their doors for dine in service, we are all looking forward to social time with friends in person face to face. After 2 months of being locked down, siting on the patio at a local cafe and enjoying the sunshine over a cup of coffee and a cinnamon bun sounds about perfect.
With that said we are excited to have had the opportunity to chat with Paul MacKenzie of Covert Neighbourhood Cafe based here in Deep Cove North Vancouver. To learn more about their business and what you can enjoy at their local cafe. Checkout what was discussed below and connect with them at the bottom of the article through their website and social media accounts.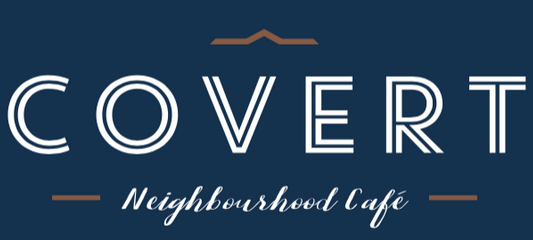 How did you get started with your cafe and what do you like about operating in North Vancouver?
Opened in June 2016 in Deep Cove. I started the business because I was ready to make a change from the corporate life I was living. I was a regional manager and trainer for a national restaurant chain and decided I wanted to put my time towards building a business I owned. I have a passion for real food and enjoy scratch cooking and baking. I like Deep Cove because it is a beautiful part of the city with a small town community feel. I have gotten to know a lot of people in the area that have become regular guests to my business.
What are your most popular food or drink items and your inspiration(s) in creating them?
The most popular items we offer are our homemade cinnamon buns. The dough is from a family recipe .We prepare them in 2 sizes, the classic large cinnamon bun finished with cream cheese icing. We also make a mini cinnamon bun which offers all the ooey gooey goodness, with less calories, lol. We make the mini buns in different flavors like caramel and chocolate for those who want something different. Our brownies are fudge brownies as opposed to cake brownies, which have a fudgy lite texture. Our cookies are also popular, we make killer ginger snaps filled with plenty of ginger, people from all over the city come to get these ones. Chocolate chip, peanut butter and salted caramel snickerdoodles round out the selection.

Throughout the year we offer different items. In the summer months we offer lemonade made from a secret family recipe. Pumpkin cinnamon buns with maple cream cheese icing in the Fall, at Christmas shortbread cookies, another secret family recipe that my Aunt Patricia made me swear not to divulge. I like to try different things. My biggest inspiration was my Grandmother Mary, she taught me how to cook and bake when I was boy. I paid tribute to her on the website. We use quality ingredients and have partnered with other quality businesses, like Match Stick who supplies our coffee, they are a local roaster and offer excellent coffee, I am proud to use their coffee beans in my store. We offer panini's as well supplied by La Grotta Del Formaggio, they are an institution on Commercial Drive and have the best quality fresh sandwiches in the city.
What do you currently offer for ongoing day to day specials or happy hour promotions?
We vary baked good specials depending on the availability of fresh ingredients. For example in the summer our fresh blueberry, strawberry or raspberry scones. You will have to check with us weekly to see what we have for promotions.
Before operating your cafe what were you doing for work or a career?
I most recently worked as a regional manager and trainer for a national restaurant chain. I spent most of my work weeks travelling throughout Western Canada. I was there for 10 years, opened up 29 locations across the country. It was hard work, extremely gratifying and fun helping the thousands of owners, managers and staff throughout that time. I sometimes miss it, but I am lucky to have formed lasting friendships with many like minded individuals.
Outside of operating your cafe what do you get up to for activities in your personal time?
Operating my own business doesn't leave tons of spare time, but when I have it I like to stay active, cooking at home, lol yes I cook a lot at home too. I like to see movies and plays and travel. In the past few years I have been to Europe, France, Italy and Spain (amazing places for cafe inspiration), Egypt, Vietnam, Thailand and Cambodia. I believe travelling the world, visiting historical places and experiencing different cultures is one of the best sources of education.
Lastly, is there anything else you might want our readers to know about you or your business?
We are proud of our store and staff especially Fardou and grateful to all our guests and regulars for supporting us over the last 4 years. If you have not visited our cafe come on down and say hello as we are looking forward to meeting you and sharing in discussion about the community.
For more information visit the cafe website and connect with them using social media on Instagram, Facebook, Yelp and TripAdvisor.
The cafe is located at 4387 Gallant Avenue in Deep Cove
Customer service is covertbistro@gmail.com or 604-984-2683