What is the number 1 issue facing not only entrepreneurs and business owners in North Vancouver but also everyone generally? Transportation.
And there is no better example then this past Thursday evening when we were supposed to be attending the 22nd Annual North Vancouver Chamber of Commerce Business Excellence Awards at the Pinnacle Hotel in Lower Lonsdale.
Lonsdale Avenue magazine was invited to cover the event in a media article which we are doing now even though we did not attend, and were going to be seated at the audio/video station for the evening to take notes and get photos. This media access was granted by Patrick, Debbie, Shelley, and others from the Chamber and we were super stoked for the invitation and to cover the awards for them and us.
However, Thursday evening around 5pm the entire North Vancouver region was a complete gridlock where no buses, cars, or taxi cabs could move around the city or surrounding areas. That means we were all dressed up to head out to the awards and then quickly realized we could not make it from Upper Lonsdale down to the waterfront in time for the start at 6pm. In some cases local buses were 2 hours behind schedule as a result of the gridlock.
CBC News and Daily Hive have great articles which outline in detail what happened on Thursday evening to completely gridlock all of North Vancouver. They even mention that this could be one of the worst traffic jams of all time and a great reminder of the difficulty we would face in the advent of a real emergency.
In the video below Cooper Quinn who is the President of the North Shore Mountain Bike Association had to use his eBike to even make it to the awards on time. Check out this embedded Tweet below from his profile.
How about that #NorthVan traffic yesterday?

Unfortunately the @NSMBA didn't win an #NVChamberBEA award last night but an ebike meant I got there on time and my tux was sweat free!

(I wanted to bus, honestly. But w/o priority lanes they weren't going to be faster than driving.) pic.twitter.com/IRzXzZ7aWP

— Cooper Quinn (@CooperQuinn_WY) November 8, 2019
Now with all of the above said it is clear that transportation on the North Shore is a major issue for all of us. As a business owner if your employees cannot make it to and from work, you will have a hard time running your business. Clearly there needs to be much improvement, but also considering the heritage of the North Shore and doing things in a controlled manner.
Getting back to the 2019 Business Excellence Awards which is the premise of this article, it looks like everyone had an awesome time and there were smiles all around and champagne flowing to celebrate the evenings winners.
You can checkout all of the social media updates shared from the awards evening attendees by checking out the hashtag #nvchamberbea both on Twitter and on Instagram. And the other hashtag being #nvchamberbea2019 which is also on Twitter and Instagram as above.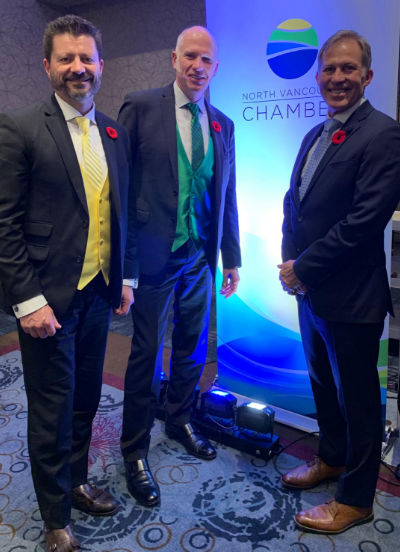 Below is a roundup of some of our absolute favourite social media posts and hats off to Brian Szabo, Patrick Stafford-Smith and Paul Dangerfield for hosting the Business Excellence Awards evening. Click here to learn more about how to get involved with the chamber awards for next year.
Loved the heartfelt appreciation for our film and business faculty at the ⁦@nvchamber⁩ business excellence awards. Thanks to Richard, David, Andrea and all involved for supporting and mentoring our students! #film ⁦@CapUBusiness⁩ pic.twitter.com/DOGpqB5sc6

— Ted Gervan (@ted_esg) November 8, 2019
Pleased to attend the 22nd annual @nvchamber Business Excellence Awards – congrats to all of the finalists & winners. We have such a diverse and vibrant business community in #NorthVan #NVChamberBEA pic.twitter.com/Ibi833gR2O

— Jordan Back (@jordanback) November 8, 2019
Congrats student film makers! @CapUFilm at #NVChamberBEA @CapUBusiness who made #NSEC #CoastPerformanceRehab @MEC films and sponsors #PaulDavis #NorthShoreStudios #northvan pic.twitter.com/W9OcHX4waW

— Jane Thornthwaite (@jthornthwaite) November 8, 2019
Congratulations to all the winners and finalists of the @nvchamber 2019 Business Excellence Awards. These businesses provide more than just jobs and economic opportunity on the North Shore, they focus on people and sustainability and contribute to building our amazing community pic.twitter.com/6ZyfTFOPlV

— Jessica McIlroy (@jessicamcilroy) November 8, 2019