Do you love fresh hand made Italian pasta, sauces and dressings? Then you are in luck as we get to interview the husband and wife founders of Basilico Foods located at the Lonsdale Quay Market in the Lower Lonsdale Shipyards District of North Vancouver. They make everything in house using only the most fresh organic and natural ingredients. Their names are Siavash and Nasrin, and you can tell they are passionate the moment you speak with them.
The pasta is made daily, and same with the sauces and dressings. You can even get pasta salads and other delicious items to-go from their salad bar or order pasta unprepared and cook it at home. The other cool thing about them is they do custom orders so if you want to do catering for an event or have something specially made for a party or similar, you can work with them to do just that. For people who are gluten free and vegan you will find something great to enjoy here too. Checkout what we learned about them below in this detailed interview.
What do you like about operating out of Lonsdale Quay Market in North Vancouver?
When we visited the market for the first time, we found it charismatic and attractive, with the best views from the North Shore waterfront.
The range of stores provide everything from artisan craft beer to fresh baked bread, local produce, west coast fish, beautiful art, flowers, an international food court, restaurants, and a boutique hotel and spa… but there was something missing! Italian Pasta. We have to fill the gap.
Besides, as everybody knows the marketplace draws crowds, is easily accessible, and has the potential for growth in every area to establish a successful business.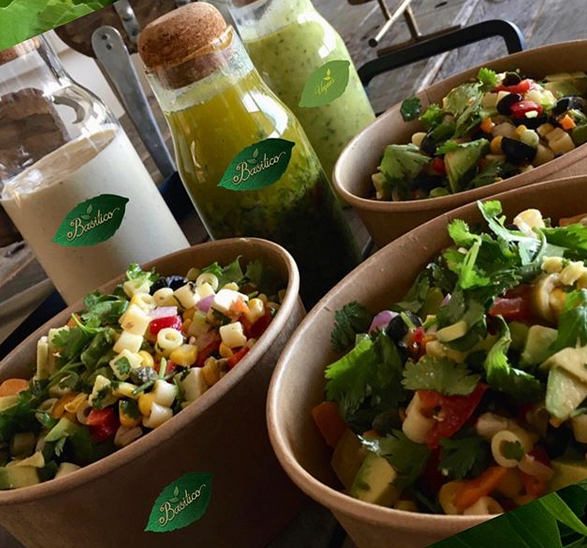 How did you decide to open Basilico Foods and what are your inspirations in creating your products?
If you want to start a business as an owner, firstly, you have to love what you are going to do. We knew it was the right path for us, because we have a deep affection for making fresh pasta.
We wanted to make fresh cut pasta and sauces, more than anything else in life. So the sacrifices were endless and we never minded making them, we just had to work hard to make the end result reach our high expectations
Our inspiration was our knowledge, experience and confidence in importing and exporting products from previous businesses we were involved with. In addition, we love cooking food, it's a chance to share creativity and feed our surroundings with something unforgettable. We also wanted to express our love and fondness for the community.
We are passionate in creating scrumptious and healthy foods.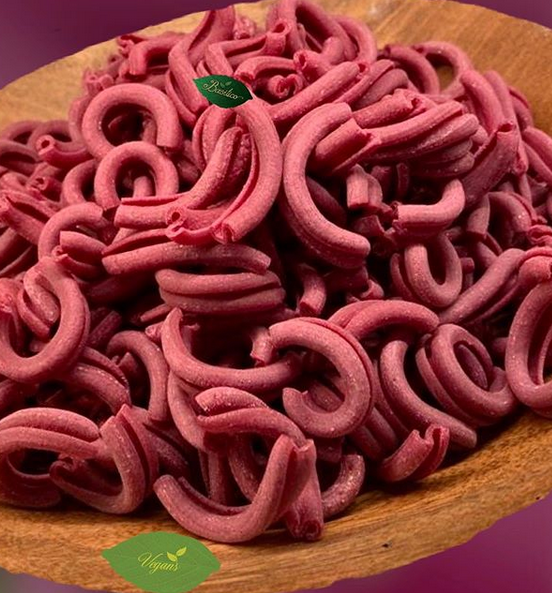 What makes the pastas, sauces and dressings unique at your storefront?
Basilico's most important factor for healthy cooking is to avoid processed food and focus on using real, natural ingredients, all made fresh in house every day. Fresh means quality and everyone loves that.
Our food is pure from additives, preservatives, artificial colourants, flavourings and sugar. There's so many amazing colours in vegetables, fruit, and spices which is why we take advantage using that natural approach.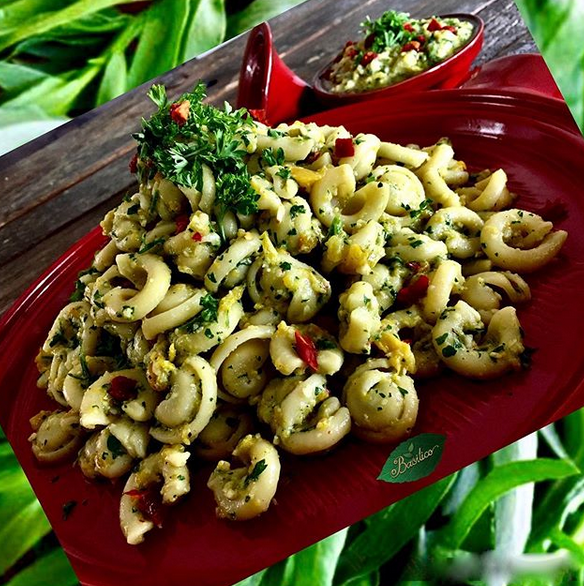 How did you pick the machines that you use for making your pasta?
We had to figure out what kind of environment we wanted to work in, what machines would make us feel the way we want to feel.
Basilico needed machines that were stainless steel and that would allow changing the attachments to produce many shapes of pasta, such as spaghetti, tagliatelle, fusilli, macaroni, gnocchetti, and more.
Automatic extruders and continuous kneaders of simple design, high flexibility, bronze cutting tips, noiseless, with a small size and robust construction.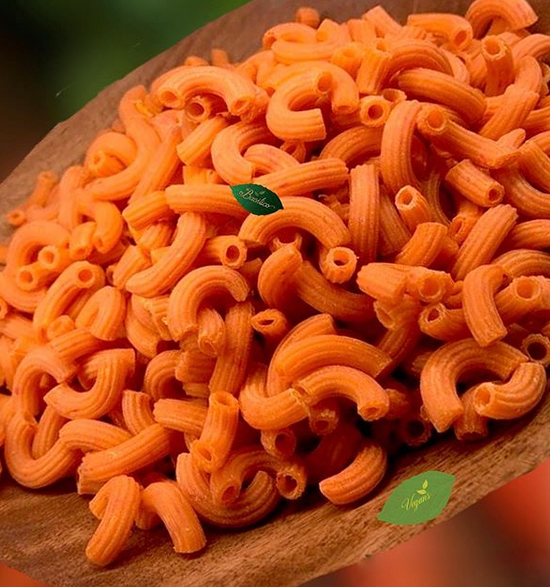 Why do you make everything fresh and never use preservatives or artificial ingredients?
That's because preservatives or artificial ingredients are not natural with no counterpart similar to them in nature.They are just food chemicals and food engineering, synthesized in the lab. Many flavours are extracted from herbs or spices so as a result are close as possible to their natural state.
For example; Basilico salad dressings have tarty taste, derived from the acetic acid found naturally in Apples, Grapes and Date vinegar. The red beetroot has yellow pigments known as betalains, which is an antioxidant, anti-inflammatory and detoxification support, we use it in most products.
Another example; beta-carotenes which gives Basilico pasta and dressing an orange colour, is found naturally in bell peppers, carrots, pumpkins and mangos and our body converts into vitamin A.
Pigment lycopene in the red colour of tomatoes is a powerful antioxidant, or chlorophyll in the spinach improves health, boosts energy and enhances our body's natural detoxification system.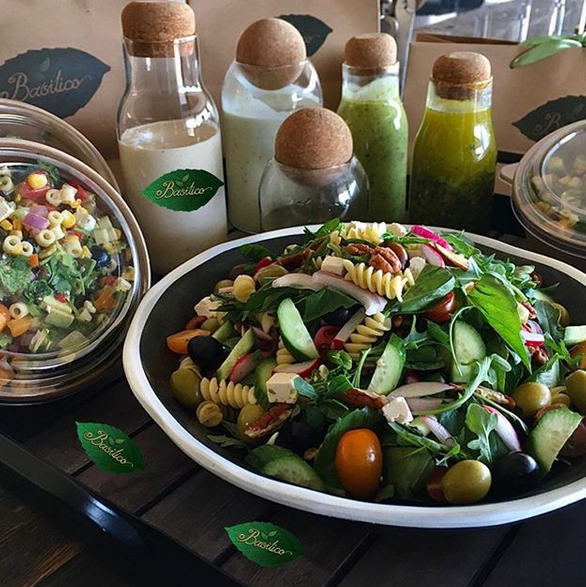 If local families or offices want catering, what does that process look like?
At Basilico, we strive for being of service to our customers who will find the foods we make provide feelings of nobility. We can design food for customers events tastefully, with simple concepts or excitingly extravagant. Catering all types of occasions, elegant parties, formal or casual business meetings, all day corporate or training events, presenting a gift package, christmas, thanksgiving… all that we require is simply booking three to five working days in advance.
Can people contact you for custom ordered food items for their specific needs?
Of course, Basilico has custom order requests, we can adapt our client's requests for custom ingredients, flavours and fillings. At the present time most pastas are eggless and made of genuine vegetables and fruit puree. A client's desired and special products are available upon request, at least in quarter batches (1kg) and with 48 hour lead time.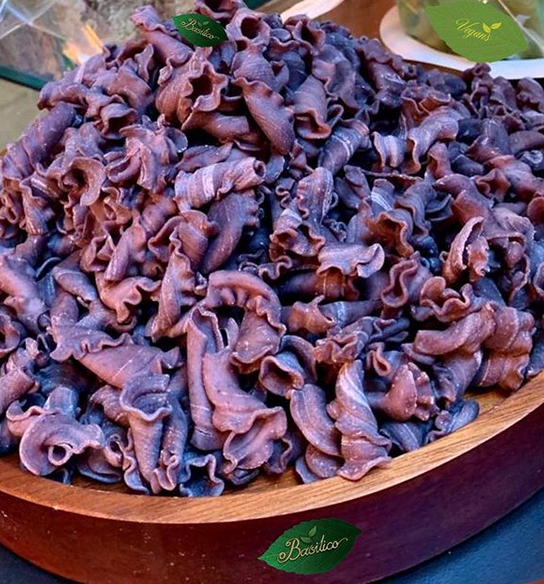 Do you cater to people who are vegan or may have allergies?
There are dozens of Basilico products that are vegan, gluten-free, and vegetarian which are produced fresh in house daily. We take seriously every precaution to avoid crossing of allergenic materials.
On the other hand, many of our products do contain tree nuts, wheat flour or may have come in contact with allergen products, as there is not a separate dedicated gluten free or allergen free facility.
We advise that people with a family history of allergies or gluten intolerance or celiac disease, use the utmost caution and refrain from eating our products. Our customer's well-being is our greatest concern.
Outside of operating your business what do you get up to for fun in your personal time?
We love walking at least 45 minutes a day, that's leaves a great effect on our mood and overall well-being and the North Shore mountains and forests have plenty of amazing places to explore.
As well as strongly believe in, If we want to develop our skills from the ground up, we have to always read, search, and learn to update our cooking skills. It's one of our most passionate and relaxing hobbies and good to have this learning alongside some of our favourite music.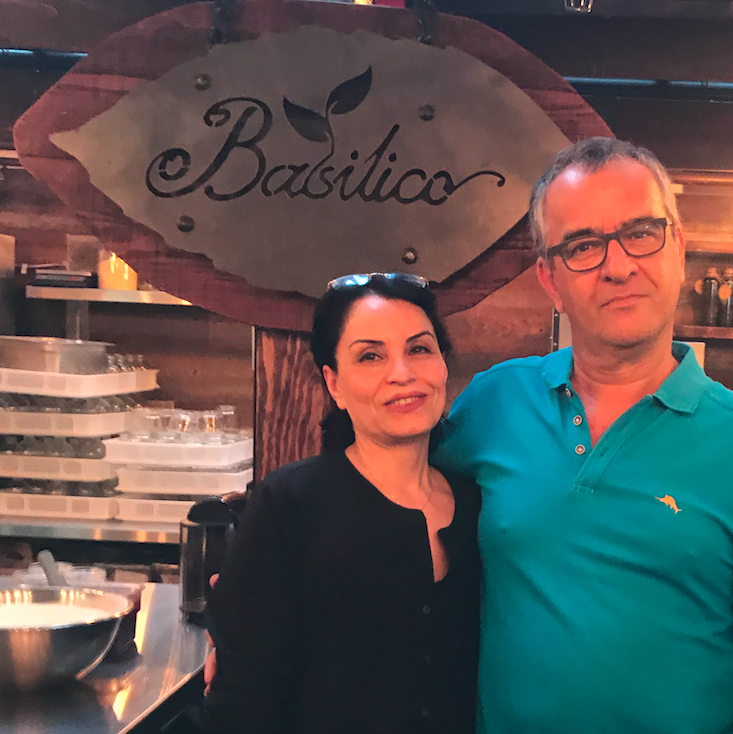 Lastly, is there anything else you would like the community to know about you or your business?
We are super excited about this opportunity, and dedicated to reaching our full potential. Our passion is to serve our community, without them we can't thrive, simply shop locally – each employee is encouraged to give back to the community as they see fit. We want to thank you so much for taking the time to speak with us today and are also thankful for the communities we serve.
For more info you can visit their website and connect on Instagram.
They are located at 123 Carrie Cates Ct in Lonsdale Quay Market
Customer service is siavash@basilicofood.ca or (604) 725-9667