Many people have heard of this outstanding product called Akuspike as the founder is from West Vancouver and used to play hockey locally here on Vancouver's North Shore, and it was also featured on the well known Dragons Den television series. But we wanted to reshare this product as it's more important now then ever before to stay on top of your health and wellness. Especially as many of us are spending more time indoors and at home, a lot of the time in a seated position, which can negatively effect circulation and lend itself to sore joints. Acupressure products can help immensely with this.
When you are seated at your desk or workspace you can use the Akuspike mat or ball underneath your feet to keep the blood flow moving around. And from time to time you can stand up and use the roller on your legs, joints, back and hips to help with aches and pains. If you want to get the best of all possibilities, you should buy all of the products available from Akuspike as you can use them at different times for various reasons. In this magazine feature we get the chance to speak with owner and founder Paul de Jersey to learn more about his business. You can contact them at the bottom of the article with your questions and also visit their website to buy products online in Canada. He lives right here in the Lower Lonsdale Shipyards District.
How did you get started with AkuSpike and what do you like about being based in North Vancouver?
The idea for Akuspike was born while I was playing hockey and pursuing a business degree at Providence College in Rhode Island. Like many entrepreneurs, I had always known that I wanted to start my own business and create something I was passionate about. In that sense, Akuspike serendipitously fell into my lap when my trainer (and now business partner) – Sergey Nazarov – recommended I try this crazy spike Mat after I hurt my back in the gym one day. The Mat worked wonders for my back and the first thing I thought was "why isn't this available in North America? I know at least 100 people who would want to buy this".
After doing some research, I found a Ukrainian supplier that could make them for us and deliver to our "warehouse" in North Vancouver. By warehouse, I, of course, mean my apartment building in the shipyards. Right away, people started to show interest in the products and I was receiving unbelievable testimonials from people suffering with real pain. At this point, I was done playing hockey and committed myself full time to Akuspike.

Where can our readers find your products locally on the North Shore and for sale online?
We predominantly sell online, however, readers in North Van can go to Larry's Market or Vitasave to purchase the products there.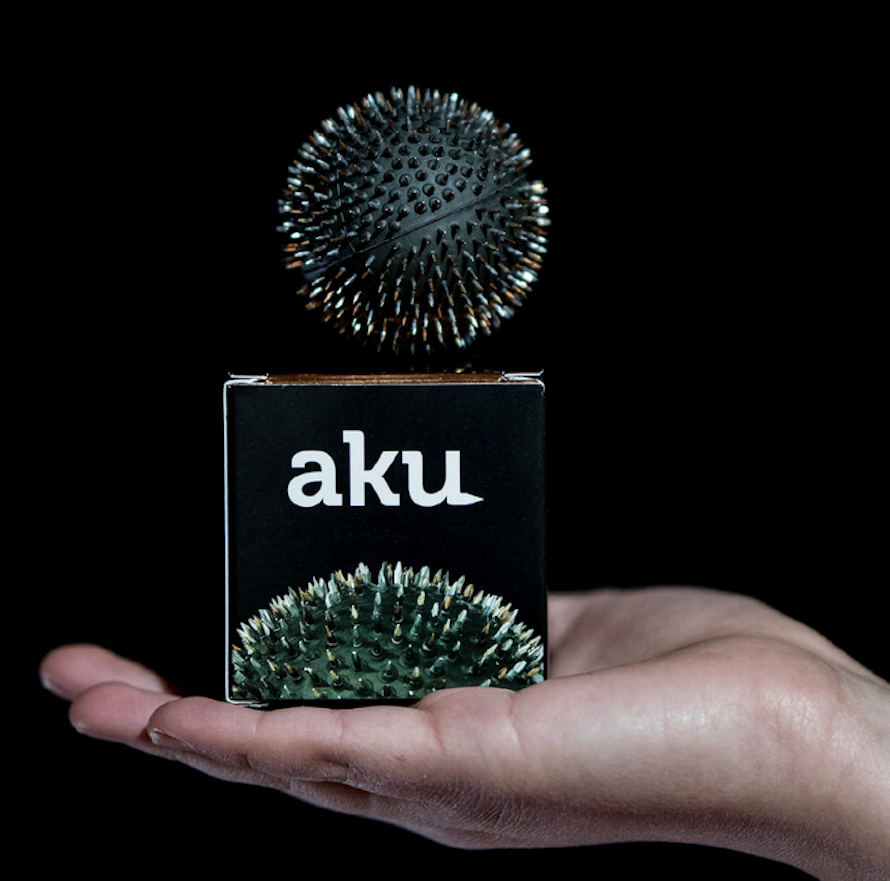 What are your short term and long term goals for the business in Canada and globally?
Short term goal: continue growing the business while weathering the inevitable storms that come throughout the startup journey.
Long term goal: sell the business or at least part of it, to free up some cash-flow to keep being an entrepreneur.
What can customers gain from using your product in terms of health and wellness benefits?
Aku's products are used as wellness tools for overall health and vitality. Most commonly they are used to support deep sleep, healthy circulation, relaxation of tense muscles, relief from stress and anxiety and general vitality. These benefits are accessible through the principles of acupressure.
Outside of running AkuSpike what do you get up to for fun in your personal time?
I love to stay active and enjoy the beautiful outdoors! Biking, running and walking around the waterfront areas of North Vancouver.
Lastly, is there anything else you might want our readers to know about you or AkuSpike?
We were recently featured on CBC's Dragon Den and landed a deal with Arlene Dickinson, which we are incredibly proud of.
For more information and to buy products visit their website
Connect with them on Instagram and Facebook
Customer service is paul@akuspike.com or 604-992-6137