Louis Gervais Fine Foods and Catering is Vancouver's most inspired local caterer. Conceived from Chef Louis Gervais' dynamic character and passion for fine wine and cuisine, this Vancouver catering company has earned a reputation for custom menu designs and creative presentation that distinguishes it from other caterers in Metro Vancouver. Blending European classics with flavours from around the world and the finest and freshest ingredients, the catering menus nurture inspiration, community and laughter. All fish and seafood used in the catering menus are Ocean Wise approved and they use local organic products whenever possible.
In addition to inspired catering menus and delicious food, Louis Gervais provides professionally trained event chefs, efficient and friendly service professionals and enthusiastic event planners. As a full-service Vancouver caterer, they can help you plan and execute every detail of your event in your home or at a local event venue of your choice. Leading up to your event, they will work with you to create a custom menu, coordinate rentals of glassware, tableware, bar supplies, tenting and more as well as manage service and bar staff. And, on the day of the event, they will set up and prepare for your guests, provide impeccable catering and beverage services throughout, and clean up after everyone has gone home.
Louis launched Louis Gervais Fine Foods and Catering in 1998 with the goal of making five-diamond catering accessible and entertaining. He has created menus that span multiple cultures and catered events with fantastic themes. He prides himself on thinking outside the box and doing whatever it takes to make his client's vision a reality. Over the past 15+ years, Louis' original business model has evolved to include private cooking classes, office lunch deliveries, and a bistro and cafe. His dynamic personality, passion for fine cuisine, and high standards are evident in every aspect of his business. And, his classic European training and playful nature result in recipes and menus that nurture inspiration, community and laughter. As a result, Louis is one of the most sought after Vancouver caterers.
We had the pleasure to speak with Louis during a recent interview which you can read below to hear about his company and get inspired to use them for a future event, catering your office lunch or similar.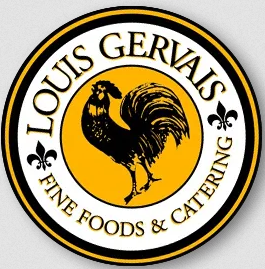 How did the business get started and what do you like about operating in North Vancouver?
I worked at the Sutton Place Hotel (formerly the Meridian Hotel) in Vancouver for 12 years eventually working my way up to the Executive Chef position. It was an amazing opportunity and an incredible learning experience working at a Five-Diamond Hotel. However, I found myself spending most of my time in meetings and doing paperwork in a very small windowless office in the middle of the kitchen. I missed what initially drew me to a career in the culinary world: working with food and creating recipes and menus that taste amazing and look beautiful.
I decided to start my own business. I lived in Central Lonsdale with my wife and two young daughters. We love the North Shore so it was logical that I would launch my business here. Louis Gervais Fine Foods and Catering was conceived in 1998 in a transformed automotive garage in the Lower Lonsdale area. It had lane access only and no bathroom, or dishwasher. I started catering events, taught cooking classes, and sold sandwiches out the back door to locals and businesses in the area. Ten year's ago, we moved the operation to Harbourside Drive and opened the Louis Gervais Fine Foods Bistro.
What are some of the most popular menu items that your customers enjoy?
In the bistro, we are well know for my signature Tomato Vodka Soup, our gourmet sandwiches and salads, house-baked comfort desserts like the apple carrot cake with vanilla cream cheese icing, and hot daily lunch features that have included inspirations ranging from seafood bouillabaisse and beef bourguignon, to bacon cheese burgers with house cut French fries.
The catering side of the business includes breakfast and lunch delivery to local business, and event catering including weddings, private parties and corporate receptions. Our menus are always changing and evolving with the seasons and the availability of fresh local ingredients.
What is the inspiration behind your menu in terms of food and drink offerings?
I was born in Quebec and trained at the Institut d'Hotelerie & Tourisme so my dishes are influenced by the continental flavour of the city I grew up in. I also love blending European classics with flavours from around the world and using fresh local ingredients wherever possible. But mostly, I find inspiration in my client's vision for their event – more on this in the next answer.
For 2020 what are some events that you are really excited about catering?
Sadly, many of our events in 2020 have been cancelled, or likely will be cancelled, due to the Covid–19 pandemic. But the events that excite me most are ones where my team and I get to think outside the box to make a client's vision come true. We have created menus that span multiple cultures and fantastic themes. One corporate dinner reception had to be entirely black and white – who knew squid ink would turn Alfredo sauce black and still taste delicious? Another menu had to work with a graffiti theme – all plates splashed with colour and each course a work of abstract art. A newly engaged couple wanted a menu that merged Trinidadian cuisine with Chinese – we created mini curry-rubbed shark sliders topped with Asian slaw. They were amazing! 
In your spare time outside of running the business what do you do for activities?
I took up golf a few years ago and can't get enough time on the course now. We love to travel in the off season. I also work out at Level 10, the gym next door to our bistro and spend lots of time with my 2 year old granddaughter playing with her toys, running up and down the hallway in my home, and watching Paw Patrol on rainy days. She calls me Papa Lou!
For more information you can visit their website and connect with them using social media on Facebook and Instagram.
The store location is 850 Harbourside Drive in North Vancouver
Customer service is louis@louisgervais.com and 604-359-5628