Vancouver and the rest of the Lower Mainland and throughout British Columbia Canada, has access to some of the best wines made anywhere in the world. And the cool thing about it is, many if not most of the wine served in the hospitality industry here is locally produced and sourced. There are a few regions that have solid wineries throughout the province and the Government works hard to support the industry growth and stability. Wine is one of the oldest drinks in the world and brings people together through conversation and laughter. Whether you like red wine, white wine, rosé or cider.
If you want to take your wine drinking to the next level this summer and ongoing, consider making your own wine in a 'you brew' format with our friends at 'Cork It Winemaking', who have been in the industry for 20 years and are located right here in North Vancouver adjacent to the Iron Workers Memorial. They take the concepts of winemaking in Vancouver and make it their own unique experience, in that their storefront is well appointed and decorated and you can tell they are lots of fun as they have DJ and music equipment in their warehouse.
Of course covid has changed the game for local entertaining, but in the near future we are looking forward to fun parties here. Checkout what we chatted about below with Melanie Gagnon who is the owner and operator of the business. She is super easy to speak with and very sincere.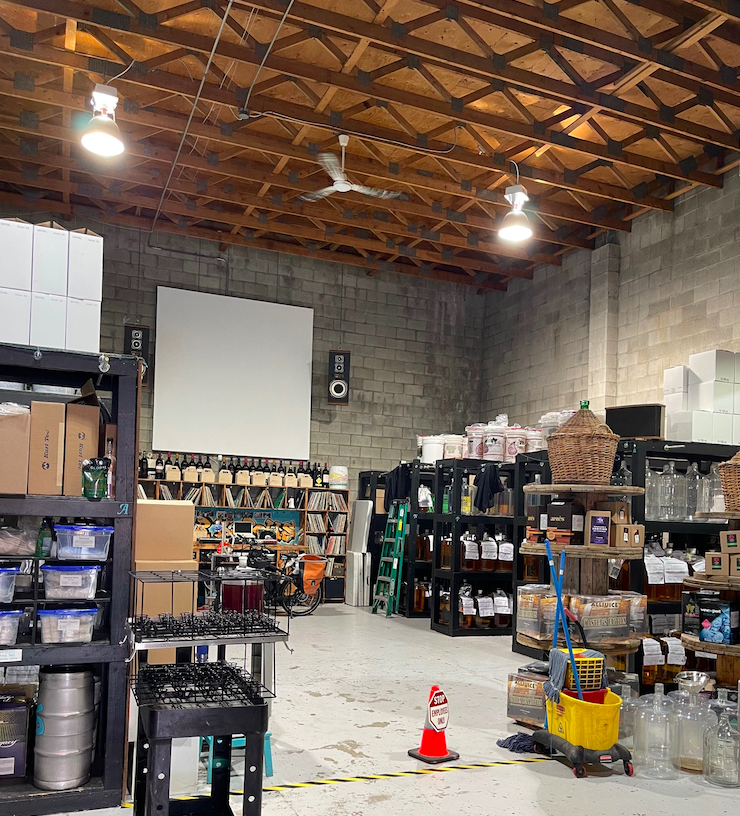 How did 'Cork It Wine Making' get started and what do you like about operating in North Vancouver? 
Cork It Wine Making was started in November of 2000 by my late husband, David Bataille. He had worked as an employee at Rack It Wine Making which used to be located in Park and Tilford. He passed away suddenly in April of 2011 and I took the reins of the company. North Vancouver has been my home for nearly 18 years. I love being able to skip out of work early and hit the local slopes and finish the day with a glass of wine on the beach. We are surrounded by such a diverse landscape. I love nature and I feel grateful to live right in the heart of it.
What makes your 'you brew' wine business different from others in the space throughout the Lower Mainland?
Aside from making award winning wines and ciders, our clients comment frequently on our space. It has a very fun and hip vibe. From our extensive vinyl collection and turntables to the skateboards adorning the walls, this isn't your average wine making shop. We wanted to create a space that our customers would want to stay and enjoy a glass or two. We also offer community events in our space and we are very passionate about bringing people together and I think people really feel that.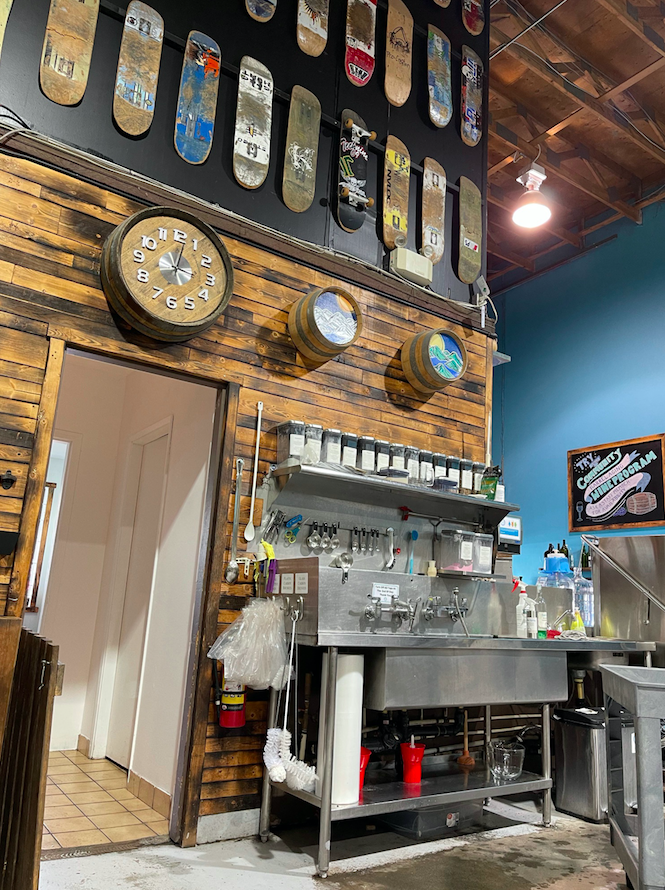 What are all of the product variations and services that you offer on location at your shop?
Currently we offer an extensive wine list as well as custom blending and community barrel aging programs. We also recommend our organic dry craft cider that is made from 100% B.C. apples. With so many fruits and flavours, options are limitless. Customers can customize their products right down to the label. Adding a personal touch is perfect for weddings and events. We want you to brew something you are proud of.
For wine pairings with food, what do you like to do for red, white, rose and cider?
I love a big bold glass of red wine like Amarone. It's basically a meal in a glass, but if I'm pairing it with food, I would opt for meat dishes like braised beef to match the intensity of this wine. For white, my go to is a Pinot Gris or Pinot Grigio. With summer upon us, this zesty citrus varietal resembles a cold glass of lemonade on a hot summer's day and is the number one choice by our customers for white wine. I would match this wine with B.C. spot prawns in a citrus butter sauce and a nice fresh garden salad. A light dry Rosé would partner well with something like a warm beet salad topped with pistachios and herbed soft goat chevre. Depending on the cider, a nice cheese fondue using cider instead of wine for the base marrys up well. Gosh, now I'm hungry!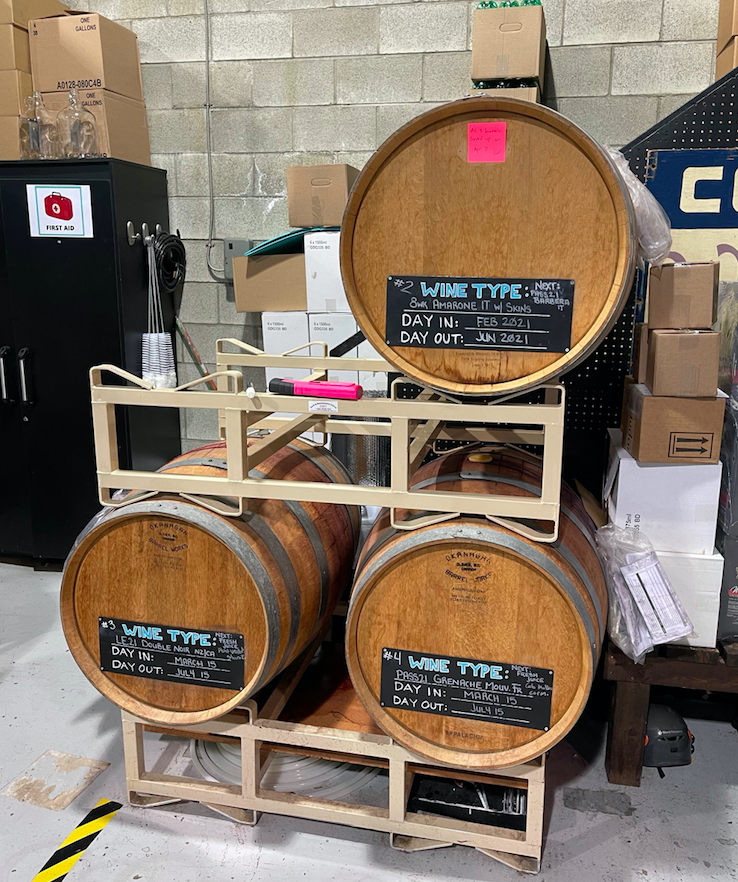 For events, parties and gatherings what did you have going on pre-covid, you have awesome DJ equipment?
Before covid, we had weekly events in our space. We have hosted Jamaican cooking classes, Bob Ross paint nights, yoga events, cheese making classes, art shows and more. It's important to me that i use this space not only as a creative vessel to make great wine and cider, but to also create a sense of community.
With regards to barrel aging and distinguished flavoured wines, how do customers take advantage of that?
Our barrel aging program only features big bold reds that benefit from a process called micro oxidation. This allows tannic wines to breathe slowly over time resulting in a much smoother finish and softer tannins. There are only 10 batches of wine added to each barrel and the wine will age anywhere from 3-6 months. A little patience is required, but we promise, it's worth it!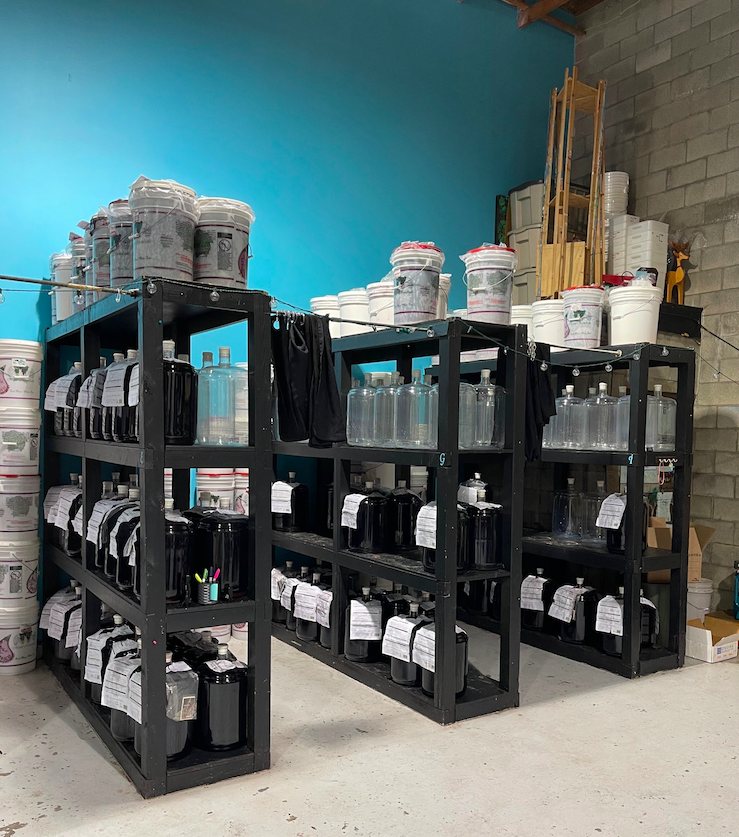 You sell various supplies for wine and cider making, what are all of these items?
Our items range from fermentation vessels to yeast and additives. We have essentially everything you need to make your home brewing experience a breeze. We also offer our expertise to the basement brewer if any troubleshooting is needed. We are here to help.
You have an awesome blog on your website, why do you think that's important for brand storytelling?
Our blog is currently being revamped along with our website, but we plan on having a monthly blog as well as wine pairing tutorials and videos about the wine making process itself….. So stay tuned!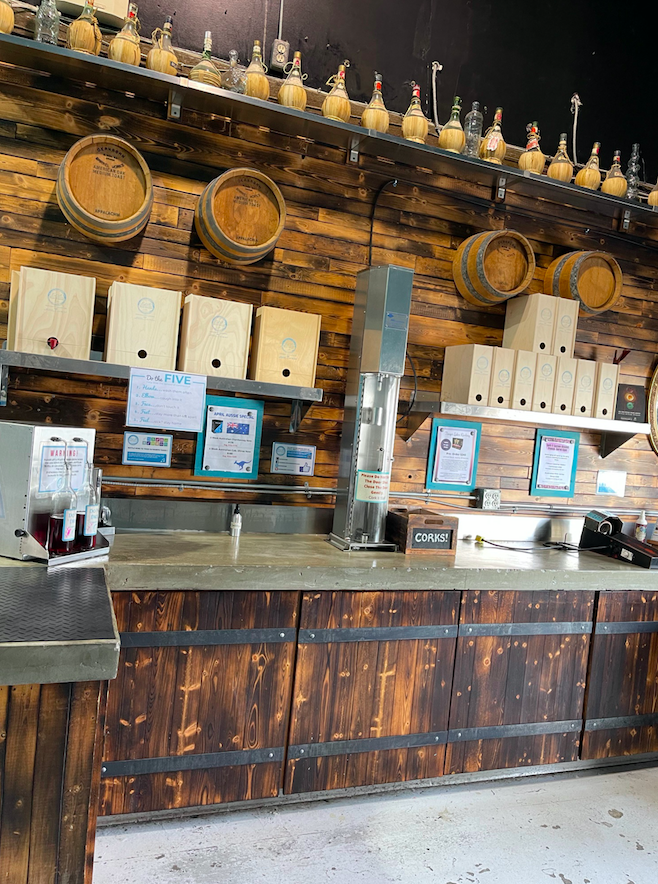 Outside of running your wine making business, what do you do for activities in your personal time?
Whenever I'm not wine hustling, you will find me on an off-road adventure. I spend a lot of my time camping down FSR's and exploring new territory. I also love foraging, fishing and being in nature in general. It's where I recharge my batteries. I think when you are a busy business owner, it's really crucial to balance a busy lifestyle by taking time for yourself. For me, being outdoors and out of cell reception is self care.
Lastly, is there anything else you would like the community to know about you or your business?
We really feel blessed to be where we are.  As things develop, and new folks move into the community, we want people to feel welcomed and we look forward to seeing new faces in the neighbourhood. If you're looking for a great place to make wine or a space for future local events, come and visit us.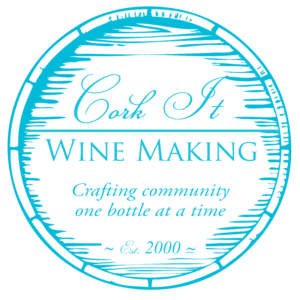 For more info and to make a reservation for winemaking, visit their website
You can connect with them on social apps Instagram and Facebook
The address location is 1427 Crown Street in North Vancouver
Customer service is info@corkitwinemaking.com and 604 986 7475