Are you looking for a one of a kind unique experience with a luxury vacation rental for short term weekend stays? You may want to checkout The Retreat at Camp Murray, which is a waterfront cabin-style lodge with a boat dock and tons of fun things to do and see on location, near Deep Cove on Indian Arm. When you think of all-inclusive style experiences that leave you saying 'wow', this is absolutely one of those places. The perfect getaway only a short boat ride from downtown Vancouver and everything is included for the rental, nothing is left to chance.
In this article we get the pleasure to chat with Shaun Ghavami who is the President of Iconic Retreats, a globally facing luxury vacation rental platform in which we will be working closely with moving forward. In combination with our relationship with Nick Barnes at Sotheby's West Vancouver, we are going to have lots of fun highlighting not only fun places to stay for the weekend, but also best in class properties for sale across Vancouver's North Shore. Checkout what we discussed in the magazine interview feature below and contact them at the bottom of the article for rates and availability.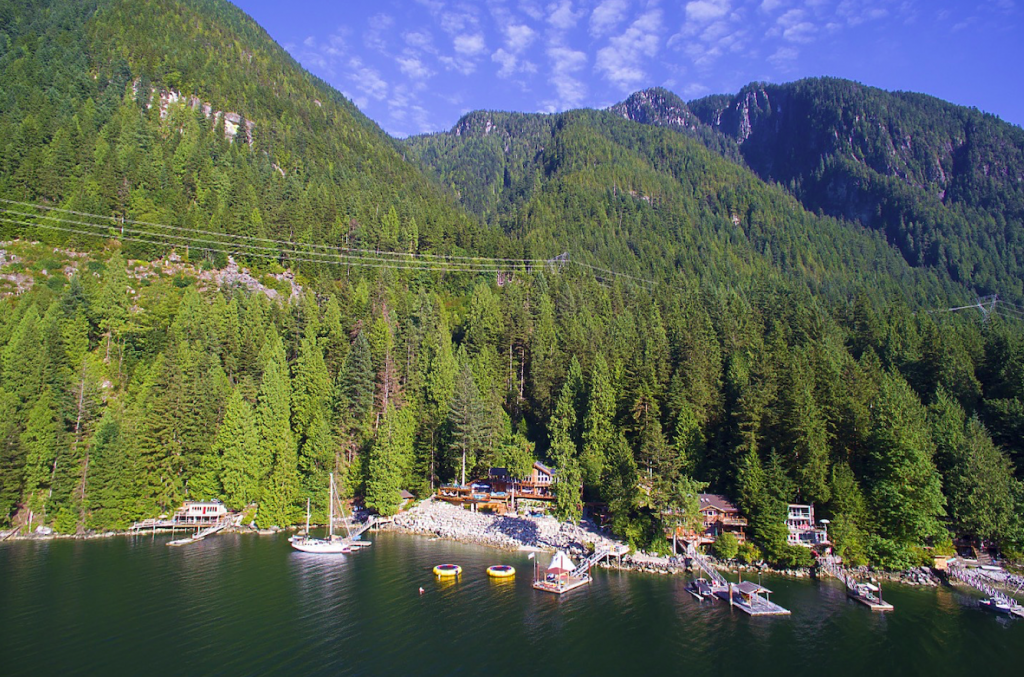 What makes Camp Murray one of the best vacation rentals in North Vancouver and where is it located?
The property is located in the Deep Cove region of North Vancouver. It's one of the best vacation rentals in the area due to its uniqueness. It's a one-of-a-kind, all-inclusive waterfront wilderness resort. Our 2-star Michelin trained chef will prepare a 3 course meal for you and your family during the duration of your stay. We've searched throughout AirBnB and can't find anything that comes even close to Camp Murray from a vacation rental standpoint. The property sits on 2 acres (86,000 square feet) and has 6 bedrooms/3 bathrooms, which will comfortably fit a large group/family. The best part: the property is a quick 20 minute boat ride from Downtown Vancouver. From jet skiing, boating, fishing charters, a wood fired hot tub, wood fired sauna, a therapeutic cold tub, and many more amenities, Camp Murray has something for everyone to enjoy. If you have children in the family, they'll love the inflatable waterpark located in front of the property.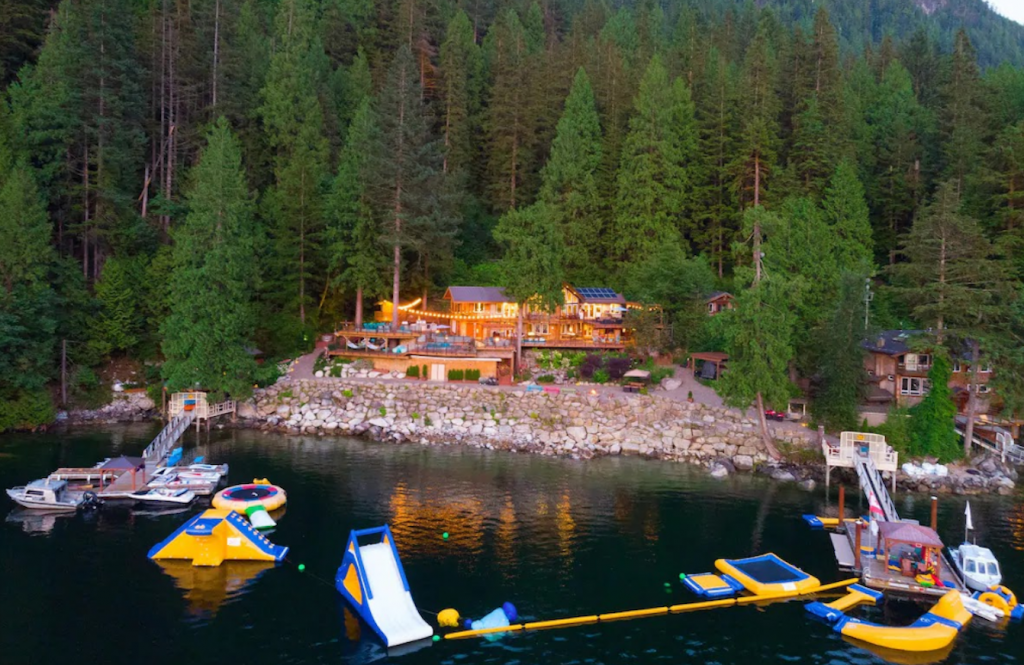 In terms of amenities and things to do and see on location and nearby, what does the offering look like?
In addition to what I mentioned above, there are two waterfalls near the property as well as various hiking trails. It's also a great location to go mountain biking. If guests are interested in specific tours (e.g. crabbing, fishing charters, etc), we can also facilitate that.
How are the common quarters, sleeping spaces and social areas furnished in terms of design?
A boho-chic aesthetic is the predominant theme in terms of design throughout the property. Elements of nature and wildlife are also incorporated throughout the property. For example, a $50,000 cowhide couch dominates the living room space. It's a great space to hang out and relax with your friends and family. 6 bedrooms/3 full bathrooms and 27 beds provides plenty of space for a large group.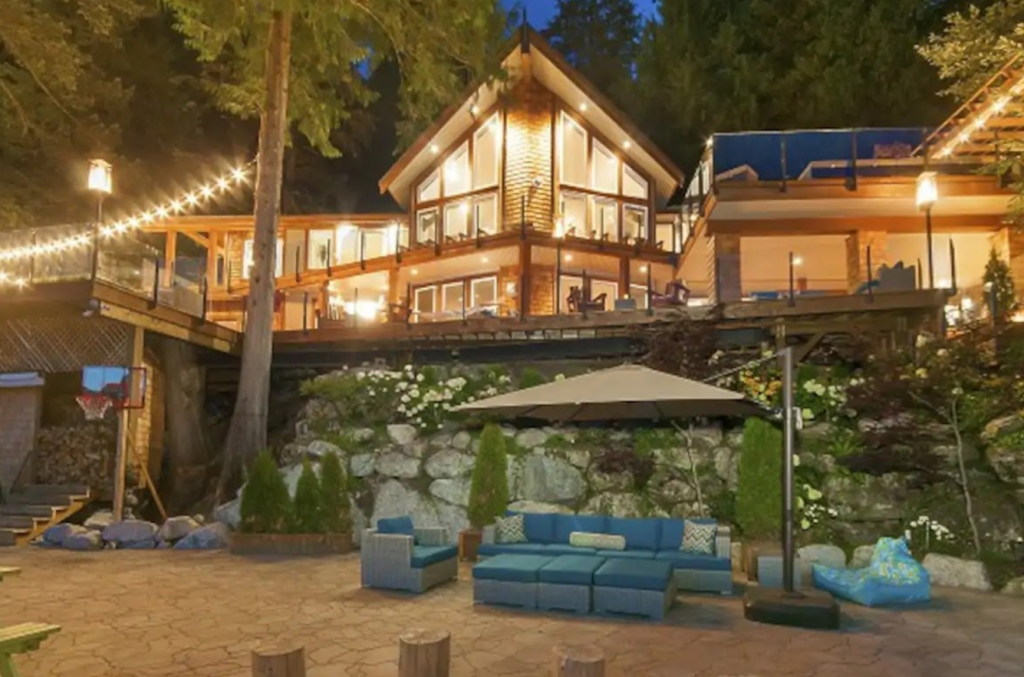 What are all of the rooms and bathrooms and how are the layouts for each of them?
The main floor of the property has 1 bedroom/1 bathroom. The lower portion of the property has 4 bedrooms and a large communal bathroom (2 bathroom stalls and 3 showers). There is also an outdoor bathroom as well as an outdoor shower on the property line.
If people are flying into the area by helicopter from around the region, what do you recommend for landing nearby?
Helicopter landing is not an option. Guests can fly in via float plane (Harbour Air) or we can pick them up at the Deep Cove Marina with our own boat. If guests have their own boat, they are welcome to dock it at Camp Murray.
For meals and drinks what do you recommend to make the process as easy and seamless as possible?
The property is all-inclusive. 3 course meals are prepared by our executive chef on a daily basis. Alcohol is sold separately.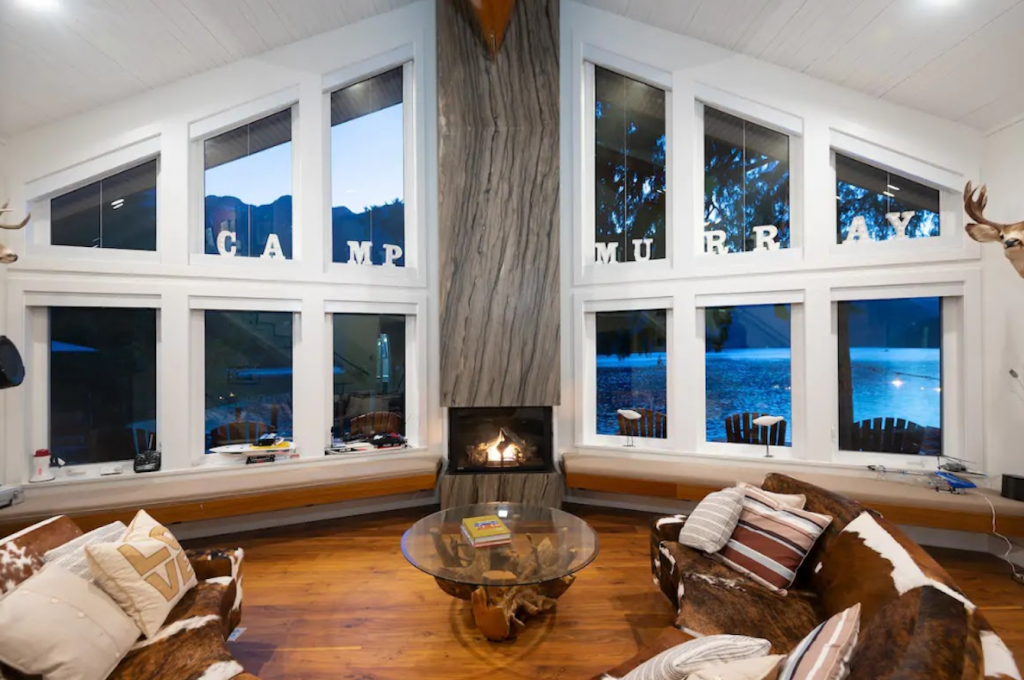 When going out on the water either in boats or jetskis, what's available for toys at Camp Murray?
Boats, jet skis, and banana boating are available for rental on the property. Kayaks and paddle boards are provided free of charge. A small electric boat is also available for children. As alluded to above, there is an inflatable waterpark located in front of the property line that children love to jump and play on as well.
What are some of the unknown, quirky or unique aspects of this vacation rental property?
It's the only property on AirBnB in BC that has an inflatable waterpark included in the rental. This is a great feature for a family looking for a fun outing.
Lastly, is there anything else you would like our readers to know about yourself or Camp Murray?
Overall, your family will love staying at Camp Murray. The property is the perfect staycation and escape from the city. Camp Murray: where eco-adventure meets 5 star accommodations. All within a short 20 minute boat ride from Downtown Vancouver.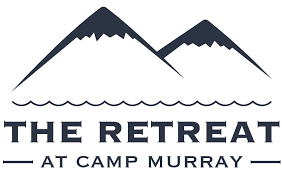 For more info about this luxury vacation rental visit their website
Connect with them using social media apps on Instagram and Facebook
The location for Camp Murray is near Iron Bay on Indian Arm
Customer service for rates and availability is info@hosticonic.com